Big Ten football fans claim the passion they show for their favorite team runs deeper than any other group in the country.
Too often, though, that passion turns into an encounter with law enforcement on a fall Saturday afternoon. Tailgating scenes provide delicious food and spirits for consumption, often all day affairs if the game scheduled to take place doesn't kick off until sunset or later.
As a result, universities enact a thicker police force on game days in an effort to contain the mayhem — especially if the home team hosts a rival that weekend. The police blotter fills up at a rapid rate on those Saturdays, be it for public intoxication, obstruction, trespassing, or anything else a fan with a stockpile of liquid courage can concoct.
No group is immune to looking or feeling foolish after a mistake that puts an individual in handcuffs or gets them sent home. It doesn't matter if incidents occur inside the stadium or in the parking lot — things happen everywhere.
As done two summers ago after Ohio State won the inaugural College Football Playoff National Championship, Eleven Warriors attempted to put a finger on which fanbase might need a bit of an intervention due to crimes committed on those sacred fall Saturdays. Mostly alcohol induced, we dove into the data and other information the 14 Big Ten member institutions chose to provide.
That number shrunk to 10 over the last few months data was compiled. Northwestern is a private institution, so like two years ago, legally withheld the requested information. The same goes for Penn State. The Nittany Lions sat behind Pennsylvania state law as they declined the petition for the numbers because the University is not considered a state agency.
Additionally, Rutgers sent a notification that stated, "no responsive records exist, as the University does not maintain the information sought." Indiana acknowledged receipt of the request on April 24 but did not respond with the data by the time of publication.
Each request to Big Ten schools was made under the Freedom of Information Act (FOIA) in accordance with state law. Not every response provided grave detail but we will dissect what each institution released below. First some, numbers.
| School | GAMES | Ejections | Arrests | Attendance | Ejections/1,000 | Arrests/1,000 |
| --- | --- | --- | --- | --- | --- | --- |
| ILLINOIS | 7 | 28 | 1 | 319,445 | 0.088 | 0.003 |
| INDIANA | 7 | N/A | N/A | 301,190 | N/A | N/A |
| IOWA | 7 | 55 | 37 | 487,591 | 0.113 | 0.076 |
| MARYLAND | 6 | 13 | 0 | 237,690 | 0.055 | 0 |
| MICHIGAN | 8 | 236 | 28 | 883,741 | 0.267 | 0.032 |
| MICHIGAN STATE | 7 | N/A | 223 | 522,666 | N/A | 0.427 |
| MINNESOTA | 7 | 11 | 0 | 306,697 | 0.036 | 0 |
| NEBRASKA | 7 | 238* | N/A | 631,402 | 0.377 | N/A |
| NORTHWESTERN | 7 | N/A | N/A | 243,586 | N/A | N/A |
| OHIO STATE | 7 | 25 | 32 | 750,944 | 0.033 | 0.043 |
| PENN STATE | 7 | N/A | N/A | 701,800 | N/A | N/A |
| PURDUE | 7 | N/A | 4 | 241,158 | N/A | 0.017 |
| RUTGERS | 7 | N/A | N/A | 313,629 | N/A | N/A |
| WISCONSIN | 6 | 152 | 0 | 476,144 | 0.319 | 0 |
*Additional information on Nebraska's data can be found in its subhead below. A total of 238 incidents were reported during the seven home games but most of them did not result in an arrest.
East Division
OHIO STATE
​Ohio State's ejections and arrests numbers took a drastic dip from the last time we compiled this data. The Buckeyes played the same amount of games in Ohio Stadium that year as in 2016 but saw nearly 80 fewer fans ejected and more than 150 fewer arrested.
The majority of the arrests were, to no surprise, for having alcohol in the stadium. Of the 32 cuffs, 22 came inside the hallowed walls of The Horseshoe for possessing alcohol. The highest number of arrests (10) for alcohol came during the Rutgers game — nine inside the stadium and one outside. An outlier was the four alcohol citations during the Tulsa game; police did not issue another citation for alcohol the rest of the season, according to the data provided.
The team's lone home night game, Nov. 5 against Nebraska, resulted in far more ejections than any other. Twelve patrons were forced to leave the stadium after the 8 p.m. kickoff, a game won 62-3 by the Buckeyes. The next closest came two weeks later in the annual regular-season finale against rival Michigan. Seven people were kicked out that afternoon.
Eleven Warriors requested additional details on each arrest but the information had not been provided at the time of publication.
MARYLAND
Maryland did not provide reasons for any of the 13 ejections noted from the 2016 football season. It also did not report any arrests during the six home games for the Terrapins.
Both are drastic drops from 2014. That year, the Terrapins reported 62 ejections and three arrests from Byrd Stadium, renamed Maryland Stadium in late 2015.
The highest number of ejections (four) from one single game this past fall came on Oct. 22. The Terrapins defeated Michigan State 28-17 that day, a game that kicked off at 7:30 p.m.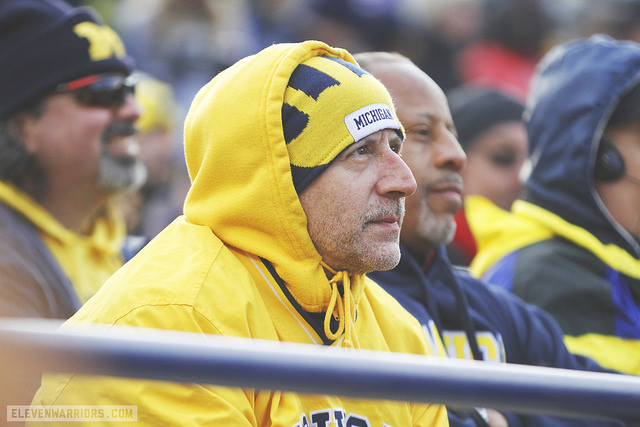 MICHIGAN
Michigan's number of home games, attendance totals and number of ejections (236) were the highest among Big Ten schools that provided such data. Nebraska reported 238 incidents, though not every one resulted in an ejection.
Most of the arrests came as a result of a minor in possession of alcohol, drugs or resisting and obstructing police business. One intriguing statistic: five arrests for pocket picking during Michigan's 14-7 victory over Wisconsin on Oct. 1. Forty-one patrons were kicked out after being found to be in possession of someone else's identification during that game, by far the greatest total for that ejection reason.
Other reported reasons for ejections: alcohol in the stadium, disorderly conduct, possessing a fake identification, violating stadium rules, throwing something, passing back identification to someone else trying to get into the game, possessing fake tickets, urinating in public and for not having the proper credentials to be on the field.
MICHIGAN STATE
The Spartans noted the statistics they provided are representative for the entire 24-hour period on the day of each game. The Wisconsin and Michigan games tied for the highest number of arrests, with 49 apiece. Second was the Oct. 8 game against BYU, which saw 42 arrests. Those three games kicked off at noon, noon and 3:30 p.m. In what rapidly grew into a nightmare season for Mark Dantonio and Co., the Spartans finished 3-9 in 2016.
Suspects were arrested for a wide range of violations in East Lansing last season. Among them: minor in possession of alcohol or drugs, outstanding warrants, violating Michigan State ordinances, trespassing, operating a vehicle while intoxicated, driving with a suspended license, possession and use of marijuana, possession of open alcoholic container in a vehicle, simple assault, vehicle registration violation, possession of a synthetic narcotic, possession of methamphetamine, possession of a firearm while intoxicated fleeing and eluding police, disorderly conduct and retail fraud.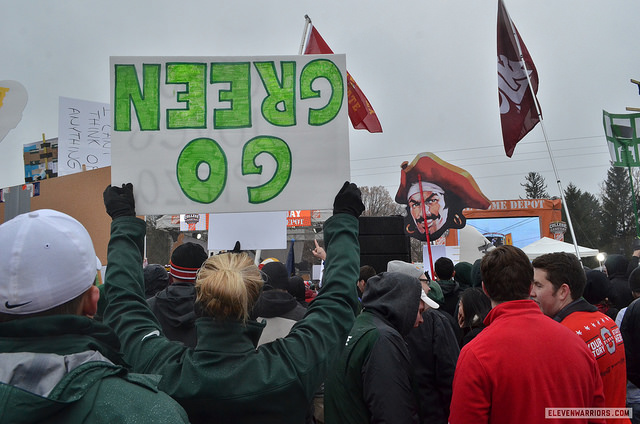 The Spartans reported the most arrests in 2014 with 258. It followed that up this year with 223, again the highest among Big Ten schools that reported data.
West Division
ILLINOIS
The lone arrest reported by the Fighting Illini came during its 48-23 loss to North Carolina on Sept. 10. That individual was arrested and later released after being found in possession of a controlled substance.
During four of Illinois's seven home games in what ended up as a 3-9 campaign, no arrests or ejections were reported. The four games: a 52-3 victory over Murray State on Sept. 3, a 34-10 loss to Western Michigan on Sept. 17, the 40-17 loss to Minnesota on Oct. 29 and the 31-27 victory over Michigan State on Nov. 5.
Nine people were ejected during the North Carolina game, three for drinking alcohol in the stands, one for specifically pouring Captain Morgan into a Coca-Cola, two for entering Memorial Stadium when it was not open, one for standing and sitting on a ledge inside after multiple warnings not to and another for being drunk and not having a ticket for the seat in which they were sitting.
Nine more were ejected during the Purdue game, a 34-31 overtime victory by the Illini. All were kicked out for having an open container of alcohol except one, who got the boot after being drunk and disorderly.
Finally, 10 ejections occurred during Illinois's 31-0 loss to Iowa in its home finale on Nov. 19. A noon kickoff, the patrons were removed for having open alcoholic containers and one for not having a ticket after police approached them.
IOWA
Iowa noted the number of tailgating hours each game provided fans in its report. The Hawkeyes also released some juicy details, much like they did in 2014.
Thirteen of the 37 arrests came during the Iowa State game when 13 hours of tailgating culminated in a 6:30 p.m. CT kickoff. Eight people were transported to jail by police, the most of any game day in 2016.
Police took 10 people into custody during the Nebraska game (11 a.m. CT kickoff) and six were sent to jail. The highest number of stadium ejections came from the Michigan game on Nov. 12, though, when 14 people got sent home. That makes some sense, being that the contest with the Wolverines kicked off at 7 p.m. CT and ended with the Hawkeyes kicking a game-winning field goal as time expired to win 14-13.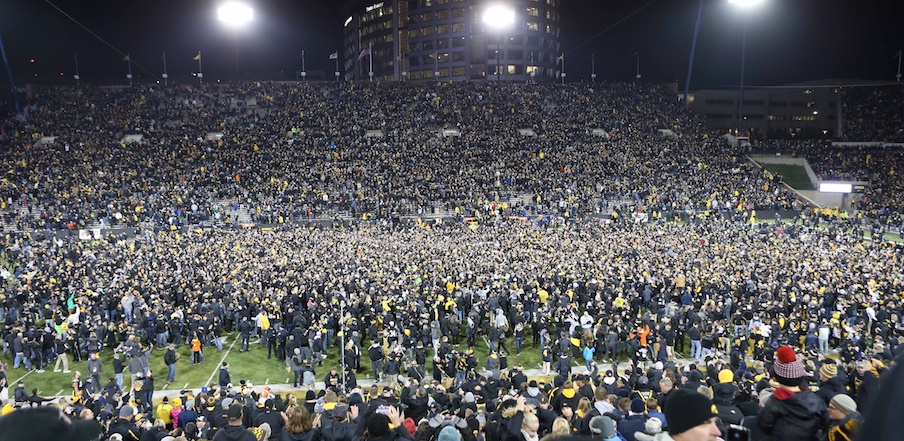 The majority of incidents reported — 42 of 55 — were a result of public intoxication or a minor in possession of alcohol. Iowa's 37 arrests ranked third in the league.
Below are some notable details from arrests the police news releases provided. To no surprise, the highest number came during the rivalry game against Iowa State on Sept. 10, a 42-3 win for the Hawkeyes that started at 6:30 CT. Second-highest was the upset of Michigan:
A 21-year-old male was arrested for intoxication inside Kinnick Stadium. Police recorded a .255 BAC from a breathalyzer test after the male admitted he had been drinking;
A 43-year-old male was arrested after not cooperating with police when his female companion was highly intoxicated and too drunk to walk. The male smelled of alcohol, was belligerent and refused to adhere to the officer's requests;
After showing signs of intoxication inside Kinnick Stadium, police asked a 22-year-old male to leave the stadium. He obliged, only to attempt to re-enter which resulted in his arrest. He blew a .272 into a breathalyzer;
Police responded to a drunk 29-year-old male lying under a Suburban doing what he described as "checking the hydraulic lines." He refused a breathalyzer test and was arrested for drunk and disorderly conduct;
A 27-year-old male was kicked out of Kinnick Stadium twice after showing signs of severe public intoxication. Upon attempt to enter a third time, he was arrested and blew a .207 into a breathalyzer;
Police found an 18-year-old male passed out on campus after Iowa's game against Iowa State. After waking him up, the suspect refused medical treatment and then recorded a .168 BAC and was arrested;
Police arrested a 40-year-old male who was working concessions after he fell twice during Iowa's game against North Dakota State, a noon kickoff. The male admitted he drank two beers before work and had signs of intoxication. It resulted in a recorded .169 BAC;
A 23-year-old male attempted to give a high-five to an officer inside Kinnick Stadium and upon being told to behave, the patron "disagreed" with the officer. He refused to leave the stadium and was arrested after recording a .230 BAC;
After being asked to leave the stadium due to appearing intoxicated, a 46-year-old woman called an officer a racial epithet and was arrested. She had a .145 BAC;
A 35-year-old woman was approached by police after appearing intoxicated. She spoke in incoherent sentences and slurred speech and told officers she thought she was in Ames, Iowa, at the Iowa State-Arizona football game. She had a .225 BAC. The last time those two teams played in Ames (or ever) happened in 1968; and
A 21-year-old male recorded the highest BAC after police issued a breathalyzer test because he was stumbling around Kinnick Stadium. The patron blew a .310.
Iowa City: It's lit.
MINNESOTA
Of the 15 total incidents Minnesota reported, 11 resulted in ejections from the stadium. Police issued citations in seven of the cases, mostly for drunk and disorderly conduct or because of a minor consuming alcohol.
Six incidents — five males, one female — and citations came from the Iowa game on Oct. 8. That game also provided the highest BAC level recorded from the season: 0.283. The individual was a minor, a Minnesota student and received his citation in the Victory Lot at 1 p.m. — an hour after kickoff.
Alcohol was noted to be involved in every individual except four — three males were ejected for fighting shortly after the season opener against Oregon State began and another got kicked out for pulling down the goal post after the Purdue game. Eight of the 13 BACs listed were 0.2 or higher.
NEBRASKA
Nebraska's incident count was the highest of all Big Ten schools polled. The majority of them involved — you guessed it — alcohol. The Cornhuskers police force liberally used what they call "The Bridge," which is described as a civilian, non-profit alcohol and drug treatment facility that functions as a detox center for intoxicated persons in the short term.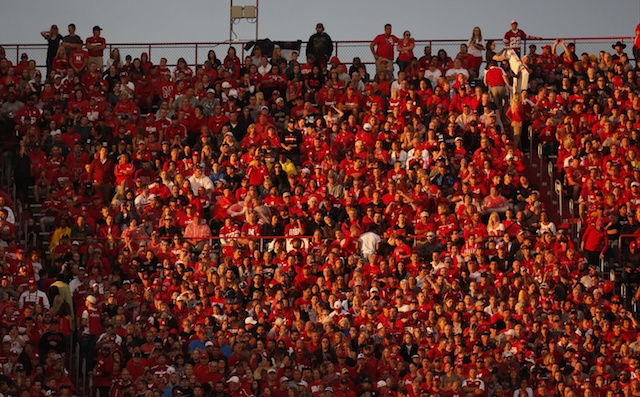 Basically, if someone is too drunk to know what they are doing during a tailgate or game, they go there to cool off before being sent on their way. In their email response, Nebraska said The Bridge is not affiliated with jail time and is not considered an arrest.
Of the 238 occasions where police were involved, the force sent the patron to The Bridge 122 times. Roughly half of the incidents included Nebraska students with the Minnesota, Oregon and Purdue games having the highest numbers. If a patron was not sent to The Bridge, other courses of action included HBO (Handled By Officer) or TOT Responsible Party. A person could decide to leave on their own, their friends and family members took care of them if they were too drunk, or something similar.
PURDUE
Purdue's response was brief — the Boilermakers did not have documentation of ejections from in and around the stadium.
With a bad team that fired its coach midway through the season, attention to Purdue football wasn't too high. In any event, the four arrests recorded happened at one of two games: Nevada on Sept. 24 or Iowa on Oct. 15. Three arrests were made for public intoxication and the other for marijuana possession.
Carry on.
WISCONSIN
Everything reported by the Badgers was related to alcohol use and anytime a citation was issued, the person was then escorted out of the stadium. Wisconsin did not issue an arrest for the entire season.
It did, however, mention a slew of "Field Contacts" in its response. A total of 142, to be exact. Eleven Warriors inquired about what that specifically meant but did not hear back.
Games with the highest number of citations issued were Oct. 15 against Ohio State and Oct. 29 against Nebraska, a pair of overtime games the Badgers split. Police handed out 29 citations apiece for those two games.
Nov. 26 against Minnesota yielded the highest number of field contacts, though, with 33.
---
Variables like stadium capacities, kickoff times, team quality and opponent prowess instigate different ranges for numbers for data shown in this story. There also could be more information on incidents on game days that resulted in arrests or ejections that were not reported. As you can see, not every school keeps the same quality of records.
Like in 2014, Iowa, Wisconsin, Michigan, Michigan State and Ohio State's numbers and details stick out. Those schools boast some of the largest stadiums in the league (and the country) and up until last season for the Spartans, the Big Ten's best teams.
Ohio State travels to Iowa City for the first time since 2010 this fall. The Nov. 4 matchup could end up being a night game, which as we saw has a bearing on incident numbers. Longer time to tailgate = usually more run-ins with the boys in blue.
Fans will share their opinions on these numbers representative of each group of supporters for a particular school. In the end, though, they are just numbers.