It's certainly not uncommon for those left behind at a lesser school to lash out in emotionally charged tirades after a coach bolts for a better opportunity. 
Tom Herman, who is just the latest hot coach to smartly move to greener career pastures is getting his first tastes of this reality after leaving the Houston Cougars for a college football bluebood program in the Texas Longhorns. 
Instead of being grateful for Herman putting the Cougs back on the map, Houston booster Darryl Schroeder decided to take a different tack. 
In his defense, if what he's saying is true about Herman then shame on Tom but this type of reaction from a booster is still a poor look.
Though Darryl may be acting like a #teen, he's clearly an adult considering he chose Facebook to display his ill-will toward Herman: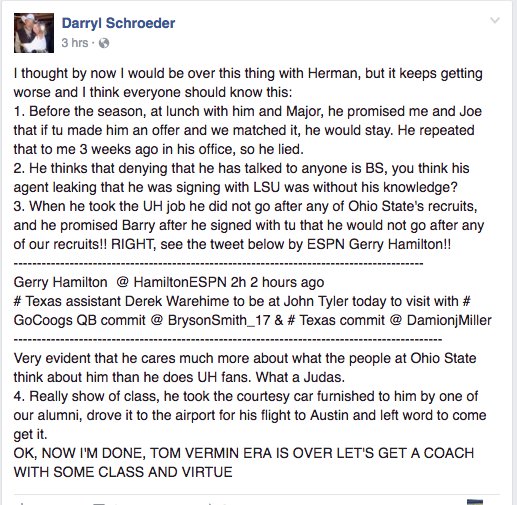 Look, I get it. We've all reacted poorly after feeling scorned but for someone to reach elite booster status, you'd think it would be a little easier to control one's emotions or at least be funnier. Judas? Tom Vermin? 
C'mon, man. 
In related news, Houston is reportedly set to interview Art Briles, epitome of class and virtue, this weekend.