After today, just nine games will remain in this college football season. This omits the national championship game with teams to be determined.
I hope your New Year's celebration includes preparations for a long winter.
A bit of melancholy pervades the end of the season, but January contains the most action of all the bowl games. This is still true despite the move of games like the Cactus Bowl, Taxslayer (Gator) Bowl, and Alamo Bowl from December to January 2nd.
Here's your viewing guide for January.
JANUARY 1
Northwestern vs. Tennessee [Outback Bowl] (ESPN2, 12 p.m.). Northwestern and Tennessee meet in the Outback Bowl for their first game against each other since the 1997 Citrus Bowl. Northwestern's head coach was then the two-time Big Ten Defensive Player of the Year, consensus All-American, and two-time Nagurski and Bednarik winner. Peyton Manning was Tennessee's quarterback.
Tennessee won 48-28. 
Despite Northwestern's 10-2 record and Tennessee's 8-4 record, Vegas expects a similar outcome. Tennessee is a nine-point favorite.
The disparity between records belies that Tennessee is quietly having one of the better second half surges of any team this season. The Volunteers began 2015 with a 2-3 record before a season-saving win against Georgia. The Volunteers lost its next game at Alabama, 19-14. It won out since.
Northwestern beat Stanford to begin the season. Maybe you remember that. However, Northwestern has not meaningfully improved since. The shutout loss against Michigan is more informative about Northwestern's football team than the Stanford win. The Wildcats have the No. 115 offense in college football.
Northwestern does have the No. 11 total defense in the country this season. It will hope to keep Tennessee under 14 points to gives its offense a chance.
Michigan vs. Florida [Citrus Bowl] (ABC, 1 p.m.). Few bowl game matchups outside the semifinals this bowl season are as good of a fit as the Citrus Bowl. The No. 3 team in the Big Ten East will take on the SEC East champion Florida Gators.
The first things casual fans remember is probably their 2008 meeting. That was the 2008 Capital One Bowl, in which a Michigan team that lost to Appalachian State at the Big Ten's competitive nadir beat the defending national champion Florida Gators, which had Heisman Trophy winner Tim Tebow. That was Lloyd Carr's last game and the first of just two bowl losses for Urban Meyer in his coaching career.
Michigan is a four-point favorite largely because Florida's offense is all-points terrible. The offense was blanked by Florida State in the regular season finale. Florida lost 27-2 in Gainesville to the Seminoles. It totaled just 180 yards and one touchdown in the SEC Championship Game loss to Alabama.
Michigan's offense is not a panacea either. However, it's occasionally formidable. Jim Harbaugh has done well his first year in Ann Arbor to transform the Wolverines' offense into a decent pro-style attack with Iowa transfer Jake Rudock. 
The Wolverines struggle to run the ball, though. They are the No. 93 rushing offense in college football. Only Central Michigan is worse in its own state.
Defense should be the star of the show. Michigan has the country's No. 4 total defense. Florida has the No. 6 total defense.
Both teams will meet again in AT&T Stadium to start the 2017 season.
Notre Dame vs. Ohio State [Fiesta Bowl] (ESPN, 1 p.m.). This is your personal game of the week. Stay tuned to Eleven Warriors for comprehensive coverage of this contest.
Stanford vs. Iowa [Rose Bowl] (ESPN, 5 p.m.). Iowa is playing in its first Rose Bowl since the 1990 season. It will try for its first win in this game since 1959.
Iowa may be the most snakebitten Big Ten team in Rose Bowls of late. The Hawkeyes made the Rose Bowl three times under Hayden Fry. It lost 28-0 to Washington in 1982, lost 45-28 to UCLA in 1986, and lost 46-34 to Washington in 1991. If not for a furious fourth-quarter rally against Washington in 1991, that 57-point combined margin of defeat could be as large as 70 points.
Iowa had an undefeated regular season, which no one expected in the preseason. It did well to even get to Pasadena. But, Iowa has yet to play a team like Stanford with a player as dynamic as Christian McCaffrey, the AP Player of the Year. 
The Hawkeyes have the No. 21 total defense. Iowa fans in attendance will need it to play well to win as an underdog. Stanford is a 6.5-point favorite.
Oklahoma State vs. Ole Miss [Sugar Bowl] (ESPN, 8:30 p.m.). Ole Miss finished second in the SEC West while Oklahoma State finished second in the Big XII. Still, this feels like a bowl game that should have been played yesterday and not tomorrow.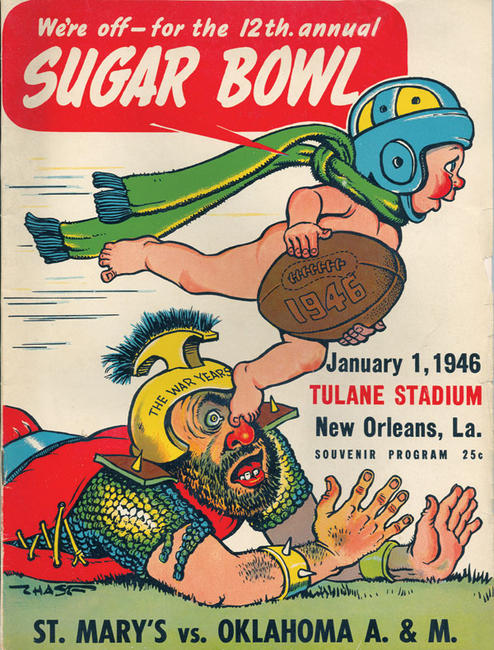 Recall there is no more BCS. With the move to the playoff structure, this bowl game will always be Big XII against the SEC even if the Big XII and SEC teams you would want to see are playing in the Orange Bowl and Cotton Bowl this season. The Sugar Bowl people grabbed the best they could get, given the circumstances.
Ole Miss is a touchdown favorite in a bowl game in which it has not appeared since 1970. The Rebels played like a team that could not play itself out the AP Top 25 despite losing by two touchdowns at Memphis and by four touchdowns at Florida. However, Ole Miss quietly had a solid second half of its season. If not for a lateral play in regulation, Ole Miss, not Alabama, would be the SEC West champion. We forget the Rebels handed Alabama its only loss on the season.
However, Ole Miss will be without Robert Nkemdiche for this game. The star defensive tackle was suspended for this contest and has opted to go pro anyway.
Oklahoma State started this season 10-0 and was threatening to make it into the playoff if it won out. However, it lost its final two games, both at home. Oklahoma State lost to Baylor by ten points and lost Bedlam to Oklahoma by 35 points. It could put a shiny bow on this season with a Sugar Bowl win in just its second ever appearance in this contest.
That first appearance, by the way, was the 1946 Sugar Bowl in which it beat the AP No. 7 Saint Mary's (CA) Gaels, 33-13. Times have changed.
JANUARY 2
Penn State vs. Georgia [Taxslayer Bowl] (ESPN, 12 p.m.). Oof, oh boy. Well, where do we start with this one.
Penn State's defense was again fantastic this year. Carl Nassib even cleaned house on the award circuit. However, Penn State's offense was so inept that it finished No. 106 in the country this season. James Franklin inherited a future first-round draft pick at quarterback and proceeded to void his warranty over the past two seasons. The Nittany Lions even have a freshman phenom at running back who ran for almost 200 yard against Ohio State. Still, Penn State has the No. 106 rushing offense this year.
Georgia, meanwhile, just wants this season to be over. The preseason pick to win the SEC East finished the season by firing its head coach. Alabama's defensive coordinator will take the job after Alabama's season ends.
Still, Georgia is a seven-point favorite this game. I'd take Penn State, though. This game is best enjoyed with a buzz, though. Bring booze.
Kansas State vs. Arkansas [Liberty Bowl] (ESPN, 3:20 p.m.). Arkansas did well to make a bowl game this year. Recall, this is the same team that lost to Texas Tech and Toledo. It started 2-4 and made it to a 7-5 record.
Kansas State brings a 6-6 record, which is somewhat remarkable. The Wildcats lost six-straight games in the middle of the season. This happened to include the murderer's row of Big XII opponents (i.e. Oklahoma State, TCU, Oklahoma, Texas, Baylor, and, well, Texas Tech). Kansas State won its final three games—Iowa State, Kansas, and West Virginia—to salvage a .500 record.
Arkansas is a 13-point favorite, which, well, is reasonable. I'm sure it was also a similar favorite against Texas Tech and Toledo as well.
Oregon vs. TCU [Alamo Bowl] (ESPN, 6:45 p.m.). Here is a bowl game between two teams that wish it were still last year.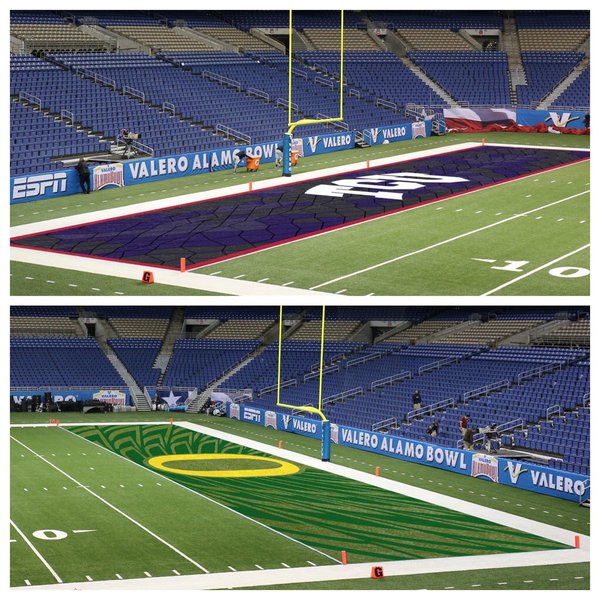 Oregon started the season 3-3 with a three-point loss at Michigan State, a 42-point home loss to Utah, and a seven-point home loss to Washington State. Thereafter, its schedule included games against resurgent programs like Washington, Arizona State, and California. It had still yet to play Stanford or USC. I just assumed Oregon would finish with a record below .500.
It actually won out. The 9-3 Ducks handed Stanford its only conference loss and looked like the Ducks of late to get to the Alamo Bowl.
TCU is 10-2 but just didn't look like the team it was last year. It needed a furious second-half rally to beat Kansas State and a last-second touchdown to beat Texas Tech. There was already considerable skepticism from AP voters and the playoff committee before the 20-point loss at Oklahoma State. It also lost to Oklahoma.
It did beat Baylor though, which is some small measure of satisfaction.
TCU is a one-point favorite.
West Virginia vs. Arizona State [Cactus Bowl] (ESPN, 10:15 p.m.). Several teams this season played well below its preseason expectations. These includes teams from Ohio State to Auburn.
The disappointing seasons from prominent teams like Ohio State and Auburn belie just how poorly Arizona State played this season. 
A trendy pre-season pick to win the Pac-12 South, Arizona State limped to a 6-6 record. It was even tied in the fourth quarter with Cal Poly San Luis Obispo, an FCS team, in the fourth quarter of its second game this year.
7-5 West Virginia had a disappointing season as well. Just four seasons removed from the Orange Bowl championship campaign, Dana Holgorsen had a disappointing season that rattled a few sabers about his job security. His season included a four-game losing stretch and a loss to Kansas State at the end of the regular season. That loss allowed Kansas State to become bowl-eligible.
West Virginia is a one-point favorite in a bowl game, though I'm not sold. The Mountaineers lost four contributors to academic ineligibility. Further, Arizona State is effectively hosting this game at Chase Field in Phoenix.