Big Ten football is back, and it's a bit like sweet and sour pork.
After eight months without football, the Big Ten's 14 opening week games are like juicy morsels of food. The sweetness comes from the loyalty and kindness for which Big Ten fans are known, and the tang comes the gleeful schadenfreude against other teams for which Big Ten fans are just as well-known. Knowing where one starts and the other stops can be tricky, but it's a fine dish no matter what.
No. 13 LSU 28, No. 14 Wisconsin 24
The Big Ten's biggest game of the week was Wisconsin-LSU, and Wisconsin came to play – for 33 minutes. Over the last 27 minutes, the Badgers blew a chance to burnish the Big Ten's resume.
Wisconsin's veteran offensive line outmuscled LSU's defensive line and provided holes for the running game from the first snap. The Badgers overpowered LSU for the first half and the first drive of the second half, building a surprising 24-7 lead in a  semi-road game. And then the lead fell apart.
The Badgers' pass defense came slightly unmoored, which the Tigers exploited for two field goals and a long touchdown pass on 3rd & 20 to make it 24-21. Wisconsin's starting QB Tanner McEvoy became erratic, throwing a pick deep in Wisconsin territory that LSU converted into the go-ahead score. The Badgers did nothing over their last two drives and made an eyebrow-raising punt with under two minutes left in regulation, after which LSU ran out the clock.
Though Wisconsin's trip to Houston could have gone worse, the Badgers could and should have won the game. Lousy quarterback play from McEvoy (8-24 passing for 50 yards, no touchdowns and two interceptions) and third down failures (4 of 15) undermined a good rushing performance from Melvin Gordon (16 carries for 140 yards and one touchdown), who only got two carries down the stretch. Why didn't Gordon get the ball more during McEvoy's immolation? Good question, said Wisconsin coach Gary Andersen.
Gary Andersen said Melvin Gordon was fine. Doesn't know why he didn't carry the ball more than two times.

— Zach Heilprin (@ZachHeilprin) August 31, 2014
When you're the head coach, the correct response is "I made a mistake," not buck-passing.
Minnesota 42, Eastern Illinois 20
In the first of 56 nonconference Big Ten games, Minnesota earned an easy win over Eastern Illinois on Thursday night.
Aside from an athletic hurdle by Maxx Williams, Minnesota didn't do much on offense. Still, the game was never in jeopardy. Special teams blocked a punt for a touchdown, the defense held strong and it was 35-0 before Eastern Illinois got on the board in garbage time.
The Golden Gophers were outgained 409-338 on the day; winning ugly may be their modus operandi in 2014.
Rutgers 41, Washington State 38
Showing much more fight than expected, Rutgers pulled out a back-and-forth win against Washington State in Seattle.
Although the Scarlet Knights' defense was no better than it was in 2013, the offense made up for it. Paul James tore up Washington State's defense for 173 rushing yards and three touchdowns, while Gary Nova was a better field general than advertised. I'm not willing to say Nova is a good quarterback yet, but he did enough to win on Thursday night.
No. 9 Michigan State 45, Jacksonville State 7
Michigan State took over as the Big Ten favorites after Braxton Miller's injury, and he Spartans looked every bit the champs in a demolition of Jacksonville State.
The Spartans' typically dominant defense stifled the Jaguars. Connor Cook had a splendid day: 12-13 passing for 285 yards, three touchdowns and one grievous knee injury avoided.
Inexcusable cheap shots aside, Jacksonville State posed no threat to Michigan State. Oregon awaits.
Michigan 52, Appalachian State 14
At long last, Goliath has vanquished David. In a rematch from 2007, Michigan finally rectified its shame and defeated Appalachian State. 
The Wolverines accumulated 350 rushing yards, more than their last six games of 2013 combined. It was 42-0 before the Mountaineers made a sustained drive. All the key offensive players (Devin Gardner, Derrick Green, De'Veon Smith, Devin Funchess, Dennis Norfleet – save some D's for the rest of us!) had efficient days, and the defense smothered an outmatched Mountaineers team.
If it were any other opponent, the Wolverines would be getting credit for a dominating victory. For scheduling a grudge match against a school with an endowment 1/106th the size of Michigan's, they receive only ridicule.
Penn State 26, Central Florida 24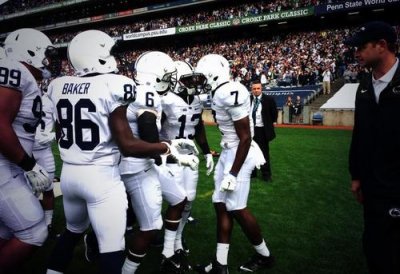 Penn State doubled up Central Florida on yardage and dominated much of the game, but it took a 36-yard field goal by Sam Ficken as time expired to beat the Knights in Dublin, Ireland.
Saddled with a nonexistent running game and iffy offensive line, Christian Hackenberg carried the PSU offense to a win. Hackenberg threw for school record 454 yards and a touchdown, leading Penn State on its game-winning drive in little over a minute. He did so in spite of atrocious clock management from James Franklin, who won his first game as the Nittany Lions head coach.
Indiana 28, Indiana State 10
The Hoosier offense didn't display the firepower it did in last year's 73-35 win over the Sycamores, but the defense held up remarkably well as Indiana ground out a comfortable win over Indiana State.
Led by Conn Underwood (nine tackles, three tackles for loss) and Mark Sewall (11 tackles), Indiana's defense held the Sycamores to a paltry three yards per play. The Hoosier offense couldn't convert 566 yards into many points, but Tevin Coleman ran for a career-high 247 yards and two touchdowns.
In past years, head coach Kevin Wilson's Indiana teams have been all sizzle and no steak. Do the Hoosiers finally have a complete team in 2014?
Iowa 31, Northern Iowa 23
The Hawkeyes staggered to a humdrum win against Northern Iowa in their season debut.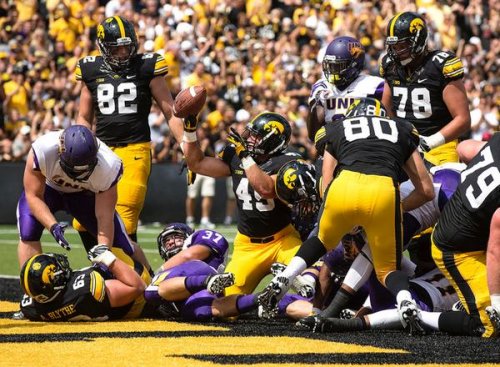 It was a typical Iowa offensive performance: boring and mediocre (6.1 yards per pass, 4.2 per run) while preserving a small lead for much of the game. Northern Iowa drew within 24-23 early in the fourth quarter, but a Damond Powell touchdown catch provided the final margin for the Hawkeyes.
Iowa might be concerned about allowing 380 passing yards to Sawyer Kollmorgen, though NIU's 1.0 yards per carry is a reassuring counterpoint.
Purdue 43, Western Michigan 34
In a game more exciting than Purdue would have liked, the Boilermakers held off Western Michigan for their first win against an FBS team since 2012.
The Boilermakers found some purchase with the run game, as Raheem Mostert and Akeem Hunt combined for 224 yards and two touchdowns. Danny Etling threw for an anemic 4.8 yards per pass, but his two touchdowns and zero interceptions helped Purdue control the ball.
Even though Western Michigan shredded its rushing defense, Purdue took a lead midway through the second quarter and never relinquished it. The Boilermakers won't go bowling, but any signs of life after 2013 are encouraging.
Illinois 28, Youngstown State 17
Illinois scored three fourth-quarter touchdowns to survive a scare from Youngstown State.
The Illini had trouble establishing the run game early, which allowed Youngstown State to take a 9-7 lead to the half. The Penguins were in the game the whole way and even took a 17-14 lead with 10:57 remaining, but Illinois responded with two touchdowns to pull out the win. Wes Lunt performed well in his Illinois debut, passing for 284 yards and four touchdowns.
No. 22 Nebraska 55, Florida Atlantic 7
Florida Atlantic fired Carl Pelini last year for alleged cocaine use. Carl is Nebraska coach Bo Pelini's brother. The Owls should have known what was coming.
The Cornhuskers ran, ran, and ran some more: 498 rushing yards, thanks in large part to a career high from Ameer Abdullah and a strong effort from Terrell Newby. Tommy Armstrong Jr. was effective if not accurate, while the Blackshirts clamped down in the final three quarters after conceding an early touchdown to give FAU the illusion of hope.
Nebraska's 784 yards of total offense were the fifth-most in Cornhuskers history and the most since 1991. Don't cross the Pelinis.
Maryland 52, James Madison 7
James Madison's team names are the Dukes. Maryland hates Duke. In retrospect, the blowout should have been obvious.
Maryland used a strong running game to stake an insurmountable lead. Quarterback C.J. Brown ran for three first-half scores, and the Terrapins halted James Madison's only promising drive with an interception. JMU got on the board early in the fourth quarter, but by that point Maryland was giving its backups some seasoning.
Up to point, the conference sported a flawless 12-0 record in Week 1. Could the Big Ten really pull off an undefeated opening week?
California 31, Northwestern 24
B1G Power Rankings: Week 1

| School | W-L | Rank | Prev. |
| --- | --- | --- | --- |
| Nebraska | 1-0 | 1 | -- |
| Michigan State | 1-0 | 2 | -- |
| Maryland | 1-0 | 3 | -- |
| Michigan | 1-0 | 4 | -- |
| Wisconsin | 0-1 | 5 | -- |
| Indiana | 1-0 | 6 | -- |
| Ohio State | 1-0 | 7 | -- |
| Rutgers | 1-0 | 8 | -- |
| Penn State | 1-0 | 9 | -- |
| Minnesota | 1-0 | 10 | -- |
| Iowa | 1-0 | 11 | -- |
| Purdue | 1-0 | 12 | -- |
| Illinois | 1-0 | 13 | -- |
| Northwestern | 0-1 | 14 | -- |
Well, somebody had to be the first to let the conference down.
After displaying all the ineptitude that made Northwestern infamous in the 1970s and 1980s, the Wildcats found themselves in a 31-7 hole early in the third quarter. They scored 17 points in the second half to get within a touchdown, but they blew numerous chances to tie or take the lead.
It's a depressing result for the Wildcats, who came into the game as a 10-14 point favorite. If Northwestern can't beat the presumed cellar-dweller of the Pac-12 in Evanston, their bowl prospects look iffy at best.
For Week 2, there's one matchup that stands above all: Michigan State-Oregon. Make sure to see as much of that and Michigan-Notre Dame before OSU takes on Virginia Tech. Consider Northern Illinois-Northwestern and Maryland-South Florida, or even Akron-Penn State and Middle Tennessee-Minnesota as well.
As for the power rankings to the side, they're a weekly ranking of how well each team performed in their most recent game and nothing else. The rankings are subject to my whims, so don't put too much stock into them.