Last week we explored the possibility that Tim Beckman would be the next Big Ten head coach let go and the difficult road he will have putting up a decent season in his third year at Illinois. Today we take a look at another coach who may be feeling the warmth of the chair beneath him—a man named Brady.
After the Rich Rodriguez era in Ann Arbor, Wolverine fans seem to have adjusted their expectations a bit. Take a trip through the comments section at Michigan sites and optimism isn't at an all-time high.
And with good reason.
Brady Hoke is entering his fourth year in Ann Arbor and his record has diminished each year as Michigan's head football coach. He must have looked like a savior taking RichRod's kids to an 11-2 season and a Sugar Bowl win over Virginia Tech in 2011. The Wolverines beat Ohio State's worst squad in decades that year and Michigan fans got to blow off a lot of pent-up angst. Michigan was back, after all. Right?
Wellllll...
Michigan followed that bounce-back season with an 8-5 campaign, a return to their losing ways in The Game, and a loss to South Carolina in the Outback Bowl.  Then Hoke's team went 7-6 and lost the Buffalo Wild Wings Bowl badly to Kansas State last year. Even worse, after two 6-2 B1G seasons, the Wolverines went 3-5 in conference play in 2013, with back-to-back games held to negative yards rushing.
Hoke enters his fourth year with a 1-2 record against Ohio State, a 1-2 bowl record that could have been 0-3 had a Virginia Tech touchdown not been questionably overturned by replay, and a record of 7-11 away from Michigan Stadium. They aren't RichRod numbers, but clearly this is still not good enough for Michigan fans, nor should it be.
That fact has shown itself in dwindling attendance in the Big House, forcing Michigan to offer confectionary bribery and devalue "the Michigan experience."
In the off-season, Hoke replaced offensive coordinator Al Borges with Doug Nussmeier from Nick Saban's staff at Alabama. Meanwhile, although defensive coordinator Greg Mattison has cobbled together a better defense than Rodriguez ever had, the Wolverines have not been world beaters on that side of the ball and have had zero answers for the Buckeye offense—even the dreadful 2011 version, which came one overthrown pass from winning at the Big House.
The time has come for Hoke to put up or shut up. Does this season's schedule have enough wins for him to keep his job?
One would think Hoke needs at least eight wins to keep his job and he probably must either beat Ohio State, Michigan State or a decent bowl opponent. This is my opinion, although our friend Ace from MGoBlog doesn't think he's on the hot seat quite yet.
Michigan's schedule seems to favor Hoke, provided Nussmeier can fix the offensive line problems that have plagued the Wolverines the last couple of seasons—and if Mattison can upgrade the defense a bit.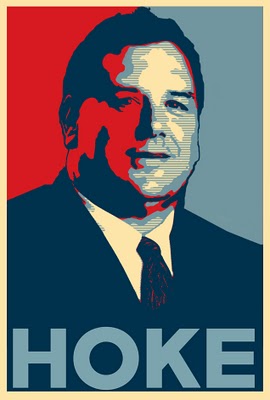 The season starts with a home rematch with Appalachian State on August 30. While it would be hilarious to see lightning strike twice in Ann Arbor, the odds favor the home team this time around. The Mountaineers are coming off a 4-8 season (4-4 in the Southern Conference). The Appalachian State team that stunned Michigan in 2007 was coming off an FCS National Championship and was en route to another. I think Hoke gets revenge on the hated rivals from Boone, N.C.
Week 2 is the soon-to-be-gone biannual trip to South Bend, Ind., to take on Notre Dame. The Irish are coming off a 9-4 season and a Pinstripe Bowl win over Rutgers. Notre Dame will have quarterback Everett Golson back after he spent a year away from the program for academic issues. This one won't be easy for Hoke, who has struggled on the road during his Michigan tenure.
Next up is Miami of Ohio. The Redhawks were dreadful last year, going 0-12 overall and 0-8 in the Mid-American Conference. Michigan should get the win here. The following week Utah comes to town. The Utes were just 5-7 overall and 2-7 in the Pac-12. Hoke figures to get the better of Kyle Whittingham's team at home.
Michigan stays home again Sept. 27 to welcome Minnesota. The Wolverines routed a decent Gophers team for the Little Brown Jug a year ago, 42-13. Jerry Kill's team is on the rise, but Minnesota has claimed the jug only once since 1986. History favors Michigan here.
A trip to Rutgers will be made difficult only by the fact that Hoke will be away from Ann Arbor. Still, it's not hard to imagine the Wolverines struggling in New Jersey. A loss here could put eight wins in jeopardy. I don't expect it, but it could happen.
The schedule toughens a little after that. Penn State visits on Oct. 11 and, after a bye week, Hoke takes his team to East Lansing for a date with Sparty on Oct. 25. The Wolverines could be 5-3 or 4-4 after the in-state game against "Little Brother"—or they could be 6-2. I don't see Michigan beating the Spartans, but Penn State may be ripe for the picking.
A visit from Indiana is a good chance for Michigan to bounce back should it lose to Michigan State. But the Hoosiers also visited Ann Arbor last year and they hung 47 points on the Michigan Stadium scoreboard before losing 63-47. A trip to Northwestern follows, where Michigan squeaked out a triple-overtime win over the reeling Wildcats a season ago.
I think the Wolverines can get past both teams. I expect their record to be 7-3 at this point, but they could be a game better or worse.
That only leaves a home game against Maryland and a trip to Columbus. The Terrapins may be that eighth win Hoke needs, but if he can't pull an upset in The Game, he may find himself 8-4 with no wins in rivalry games. At that point, it's anyone's guess what kind of opponent the Wolverines would draw in a bowl game on par with last year's Buffalo Wild Wings appearance.
If Michigan does go to a bowl of that level with an 8-4 mark and no rivalry game wins, I believe Hoke would need to win the bowl to keep his spot in Ann Arbor for another year. I think he gets it done and stays put for now.
Then again, I may be wrong. We'll find out in about seven months.