We've still got three months and just shy of three weeks remaining before the Buckeyes kick off against Navy and all is right with the world again.
That seems like a long time — and it is. It will seem even longer now that all pseudo football events (the Spring Game, the NFL Draft) have come and gone. Soon the NBA and NHL playoffs will be over and we'll be in the darkest timeline, in a world where Community has been cancelled by NBC and there's nothing to watch except mid-season baseball.
Seems like a good time to start thinking ahead.
This site does a good job of making sure all things Buckeye reach your hungry eyeballs in a timely manner.  So maybe the time has come to check in with the enemy.
Friend of the Eleven Dubcast and Michigan-fan-for-some-reason Ace Anbender, staff writer for MGoBlog graciously agreed to answer a few questions about That Team Up North and where things stand north of the civilization line.
This is what he had to say:
11W: Michigan is now 1-2 against Ohio State under Brady Hoke, the overall record has dipped each year, and his poor road record has been well publicized. (1) Is patience starting to run a little thin with the masses and (2) how warm do you honestly think his seat is?
Ace Anbender: Patience is certainly wearing thin, though I think Hoke bought himself a little time by getting rid of Al Borges, praise be to all of the deities. While a good deal of the responsibility doesn't fall on Hoke, the lack of success against non-Notre Dame rivals over the past several years has a lot of fans at their wit's end, and the fact that—outside of last year's Ohio State game—the team has been downright brutal to watch on a weekly basis isn't helping matters. (RichRod may have been a failed experiment, but at least the 2010 offense was a damn pleasure to witness. I'd be lying if I said I didn't feel a serious twinge of jealously every time I watch Urban's offense in action.)
Would I say he's on the hot seat? Not yet, barring a major collapse this season on par with the team falling apart at the end of 2010. Hoke's highly ranked recruits are just starting to reach the point when they can make a serious, team-wide impact; the program has two coordinators in place with excellent track records; perhaps most importantly, this team is still feeling the impact from a turbulent coaching change three years prior. While RichRod's one-OL recruiting class of 2010 gets most of the focus, the hybrid RR/Hoke class of 2011—in which they lost a commitment from starting Oregon tackle Jake Fisher during the transition, then saw the other two OL in the class wash out due to injury—had a similarly terrible effect on the talent and depth of the O-line, the single biggest area holding this program back at the moment. 
I think both Dave Brandon and the fans can agree* that another major coaching transition should be avoided if at all possible. That may not be the case if the offense is a complete disaster, so here's hoping (from this end of the rivalry, at least) that Doug Nussmeier is the home-run hire he's advertised to be.

*Mark this one down, as you won't hear me agree with the esteemed Donald R. Shepherd Director of Athletics on much.
11W: With the emphasis Hoke has put on offensive line, is it all on Borges that the line play has been such a problem? With Taylor Lewan gone, how will things improve up front in 2014?
Ace: Going for the jugular early, I see. I'm not happy about it, but I respect it, Michael.
The line is a complicated issue, as I touched on in the first question. It is not Al Borges' fault that RichRod recruited just one offensive lineman in the 2010 — a 260-pound center-only prospect who washed out due to injury — and the RichRod/Hoke transition class landed one tackle who was too out of shape to make it though his first fall camp and a behemoth guard who dealt with injury after injury before going on medical scholarship with a year of eligibility left. Two classes, zero real contributors on the O-line. Those two groups would make up the RS-seniors/seniors/RS-juniors this season; this fall's projected line features four sophomores and a junior former walk-on. That's...not ideal.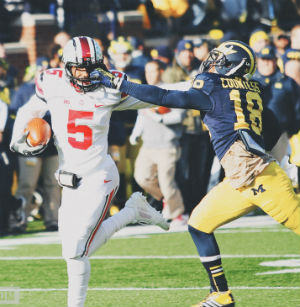 That said, Borges could've done a whole lot more with what he had. Last year's line had two NFL-level tackles and the guards cycling through were all hyped recruits. What the interior line lacked was experience, but instead of simplifying his offense, Borges constantly switched schemes; instead of getting decent at one thing—like, say, inside zone — they were terrible at many things. The adjustments Borges made, like the tackle over formation that screamed "WE'RE RUNNING IT RIGHT HERE," tended to be so predictable that Michigan fans were calling out their own failed plays before they occurred with disturbing consistency. It was time for him to go.
As for this year, I'm frankly terrified. The good news is it'd be difficult for the line to be any worse. The bad news is it's hard to foresee massive improvement when having to replace Lewan and the oft-overlooked Michael Schofield at the two tackle spots. If the line is going to take a serious step forward—there's a joke in there somewhere—it's going to come from...
Q: What is expected out of the new offense under Nussmeier?
Ace: Simplicity, at least in the run game. Yes, every new offensive coordinator since the dawn of time has promised to bring a simplified, more effective offense to their new home; when comparing Nussmeier to Borges, though, the platitude rings true. This team is going to run mostly inside zone, and if they don't run inside zone very well, they're going to keep at it until they do. (Thankfully, the non-conference schedule outside of Notre Dame is, let's say, well-suited for trial-and-error.)
How much they look to spread the field in Nussmeier's one-back offense—which can feature anything from four wideouts to three tight ends/H-backs—is the bigger question. Michigan's only proven true tight end, Jake Butt, is out until midseason with a torn ACL; the rest of the position group has combined for one career reception, and none are real receiving threats. Michigan's much deeper on the outside. In the spring game-ish thing, Nussmeier mostly trotted out sets with an inline TE and an H-back; I expect Michigan to be relatively conservative, but I think they'll look to spread the field a little more in actual games given the available personnel.
11W: The defense still hasn't been what Michigan fans are used to (pre-RichRod, anyway). Is this the year the Wolverines start playing old fashioned, physical defense?
Ace: That's the intention behind Michigan's switch from a base 4-3 under to a 4-3 over, and in doing so they've moved around the linebackers; Jake Ryan is now the starting MIKE after previously playing on the strong side, Desmond Morgan shifts from the middle to the weak side, and James Ross goes from WLB to SLB, where he'll get more protection from the D-line. 
With Ryan in the middle, I'd expect more—and more elaborate—blitzing from what was a very vanilla defense last year, and more aggression in general. Greg Mattison had his corners playing a lot more press coverage this spring—Jourdan Lewis, in particular, excelled in this regard—and also showed a lot more one-high looks with a safety creeping into the box.
There are still a lot of questions to be answered. The DTs are relatively unseasoned, nobody's sure who's going to start across from Jarrod Wilson at safety, moving Ryan to the middle seems like a panic move considering he's at his best in space ... I could go on, but suffice it to say there's creeping concern that Mattison is still trying to figure out how best to deal with increasingly spread-happy offenses.
This turned into a long way of saying your guess is as good as mine. Jabrill Peppers. Jabrill Peppers. Jabrill Peppers. Okay, I feel better now.
11W: Who are the new faces we'll be seeing as contributors on both sides of the ball in 2014?
Ace: JABRILL M'FING PEPPERS.
Okay, I'll calm down. Peppers is going to see the field this year; few defensive prospects in the last decade have been as college-ready. The big question is where he'll play. Blake Countess and Raymon Taylor were solid, albeit not lockdown guys, at cornerback last year, and they're getting a serious push for playing time by Lewis, who's adapted well to the greater emphasis on press coverage. 
It's possible Peppers steps into the open-for-competition safety spot, which would allow him to roam the field and make plays in space. The most likely scenario, in my opinion, is he gets worked in at the nickel spot—where he can make an impact in run support, coverage, and as a blitzer—while he gets acclimated to the college game, and perhaps sticks there for the year before taking on a bigger role in 2015. I don't expect the coaches to ask him to play both ways (yet), but I'd be surprised if he doesn't factor into the return game, as well. Having that guy available and not getting the ball in his hands would be criminally negligent.
Meanwhile, one freshman has already worked his way into a starting job: early enrollee WR Freddy Canteen, a speedy route-running technician capable of playing out wide or in the slot. Canteen started and starred in the spring exhibition (I can't call whatever that was a "game"), passing Jehu Chesson on the depth chart even after Chesson turned in a promising freshman campaign last season. Even if Amara Darboh, a former four-star recruit who sat out last season and was limited this spring due to a foot injury, returns and grabs a starting role on the outside, Canteen is going to get plenty of time working out of the slot. With Devin Funchess drawing lots of attention, he could be in for a truly impressive debut.
The good news is that, aside from those two, there isn't an obvious need for a freshman to play — a stark contrast to the last couple years. Another early enrollee, Bryan Mone, may work into the rotation at nose tackle. That's about it. For the most part, this is the same Michigan team as last year, just a year older and with some (welcome) change in scheme.
There are, of course, the two new starting tackles, though one — left tackle Erik Magnuson — played all 12 games last season and started seven at guard. The right tackle should be massive redshirt sophomore Ben Braden, with redshirt freshman David Dawson and true freshman (yeah, I lied a little) Mason Cole also competing for time.
11W: What is the mindset of a Michigan football fan at this point, compared to say, 10-12 years ago, and has the image of the program soured in light of not only on the field performance but those nagging off-field things (which all programs seem to face and we won't go into here)?
Ace: I think the fact that the athletic department is really, really struggling to sell both student and regular season tickets says a lot about the growing disillusionment among the fanbase. The fan expectation, one fed to us by the athletic department and coaches, is to compete for Big Ten titles and be a nationally relevant program. Aside from a pretty fluky 2011 season, that hasn't been the case since 2007. As someone brought up in an era in which nine-win seasons constituted a disappointment, this hasn't been a fun ride.
Even so, ticket prices are still going up, this year's home schedule is the worst in recent and not-so-recent memory, and the lack of on-field success—both in general and against their chief on-field and recruiting rivals—is beginning to affect recruiting. The premier program in the state currently resides in East Lansing, which is perhaps the most alarming development of them all. (Say this to the average Michigan fan and the torrent of denial tells you all you need to know.)
So, how's the mindset?
Perhaps the fanbase should consider opening a West Coast office.
11W: Do you have a way-too-early prediction for The Game?
Ace: If I'm being reasonable, I can't possibly predict a Michigan win given the matchup between the Wolverine offensive line and Ohio State's defensive line. Until I witness them neutralize Bennett, Bosa, Spence, Washington, et al, I have a hard time believing this group can pull it off.
If I'm being unreasonable...damn, I come up with the same thing. I think it takes another exceptional performance from Devin Gardner for Michigan to keep this one close. Here's hoping he doesn't break his foot this time around, and that our offensive coordinator doesn't save his mad genius, unstoppable two-point conversion play for when Michigan is down 17 points in the final two minutes of a December bowl game. Al Borges couldn't have trolled any harder on his way out the door.