Ohio State's pursuit of two tight ends in their 2015 class is well known, but there are a number of talented prospects on the horizon for 2016 and 2017. One of them, Mark Birmingham from Ashburn, Virginia (Briar Woods,) visited Ohio State last summer and camped for the Buckeyes.
Few 2016 prospects I've spoken to have a better handle on recruiting than Birmingham. He's big (6-foot-3, 230 pounds) and fast (ran a 4.71 at Ohio State last summer) and has excellent perspective on his opportunities.
"I didn't start playing sports until sixth grade and I never though something like Division One football would be possible," Birmingham said the dream of playing college football. "I feel very blessed and fortunate, but it's nothing to feel big headed about. There is still a lot left to be done and a lot could go wrong if you don't handle things well." 
One opportunity that could come his way is from Ohio State. He recalled his visit to their campus last summer and the chance to meet Buckeye coaches.
"I went to camp on their campus last summer," he said of his visit to the Buckeye state. "After the camp they wanted me to meet  (Urban) Meyer and we talked in his office with the Tim Hinton, the tight ends coach. It was a good meeting."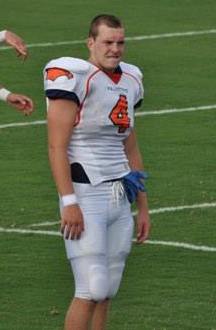 The chance to meet a legend like Ohio State's head coach Urban Meyer was not lost on the 6-foot-3, 230-pound tight end.
"It was insane," he added about getting to meet the two-time national championship winning coach. "It was really amazing to watch someone on TV and then be shaking their hand talking about football. A great experience."
Since the initial meeting with the Buckeyes, Birmingham has not heard from Ohio State. With NCAA regulations prevent much contact between the parties, and the Buckeyes are unable to initiate any conversations. He hopes that they get back in touch with him soon.
"It would be great to hear from them again," he said. "It's a wonderful school and would be a great experience to have an opportunity to go there on a visit, or to play there.I don't think I know someone who wouldn't be interested if Ohio State was interested in them."
One school that is expressing interest in Birmingham is Penn State. The Nittany Lions and new head coach James Franklin have already made impressive inroads into Briar Woods. Trace McSorley, a 2014 signee for Penn State followed Franklin from Vanderbilt to Happy Valley. Four-star 2015 speedburner Brandon Polk, a wide receiver for Briar Woods, committed to Penn State last weekend. It's natural to assume that Penn State will be a major player in Birmingham's recruitment. He says that the Nittany Lions, if they offer, will not hold any substantial advantage because of teammates at Beaver Stadium.
"It was great to see Coach Franklin again," Birmingham said of his recent Penn State visit. "But honestly, I'd be foolish to decide on a college based on where my friends go to school. I am nowhere close to knowing where I want to go but I think it's good to get to know the different kinds of schools out there." 
Birmingham is looking for more than just a football powerhouse, he's looking for a well-rounded collegiate opportunity. He's got six scholarship offers right now, including BCS offers from Virginia Tech, North Carolina, and Virginia, but more are coming as he prepares for a busy summer.
"I'm going to the Rivals and Nike combines coming up and a Stanford camp in June," he said of what's coming up for him and family. "I'll take a Virginia visit over spring break and possibly a visit to North Carolina. Education is always number one for me and my family when we look Into schools."