The college basketball season officially came to an end Monday night as Villanova topped Michigan in the national title game, 79-62, pushing the Big Ten's title drought to 18 seasons. 
Despite not winning a national championship since 2000, the Big Ten conference has sent plenty of premier players to the NBA draft over the years, and 2018 will be no different. A number of players from the conference appear poised to make a splash at the next level, as most of the top underclassmen have already declared themselves eligible to be selected in the June 21 draft. 
Now that the season has concluded, we take a look at the top five draft prospects from the Big Ten, starting with a freshman from Michigan State who declared for the draft Monday morning. 
1. Jaren Jackson, Michigan State, Freshman
Jackson's decision to declare for the draft on Monday didn't come as a surprise to anyone, as the 6-foot-11 forward is widely viewed as a top-five overall pick in the upcoming draft. 
Jackson's ability to score both in the paint and from the perimeter makes him a premier prospect for today's NBA. He shot 39.6 percent from beyond the arc, connected on 79.7 percent of his free throws and averaged 10.9 points per game. He also pulled down 5.8 boards per contest and blocked a Big Ten-best 106 shots in his only season as a Spartan on his way to being named the conference's freshman of the year. 
With his ability to stretch the floor on offense and provide a shot-blocking presence in the paint on defense, Jackson could easily be a top-five pick based on team need and is a lock to be a top-10 selection.
2. Miles Bridges, Michigan State, Sophomore
With all the talent Michigan State had on its roster, it is an extreme disappointment that the Spartans couldn't make it out of the first weekend in the NCAA Tournament. 
Bridges likely would have been a top-10 pick in the 2017 draft had he declared following his freshman season. He returned for his sophomore campaign, however, and didn't do himself many favors. He averaged a solid 17.1 points per game and was named a first team All-Big Ten selection, but was inconsistent for stretches during the year, and that might have cost him some money. 
Expect Bridges to be a top-15 pick. That is nothing to scoff at by any means, but with the hype he entered the 2017-18 season with, many thought he would be penciled in as a top-five pick before the season started.
3. Tony Carr, Penn State, Sophomore
Not many analysts have Carr very high on their draft boards, but for my money, Carr is a top-20 prospect. 
In three games against Ohio State this season, Carr averaged 27.6 points per game and showed that he loves the big stage. In the NIT title game against Utah, Carr collected 15 points, nine rebounds and a career-best 14 assists as the Nittany Lions claimed the NIT championship at Madison Square Garden.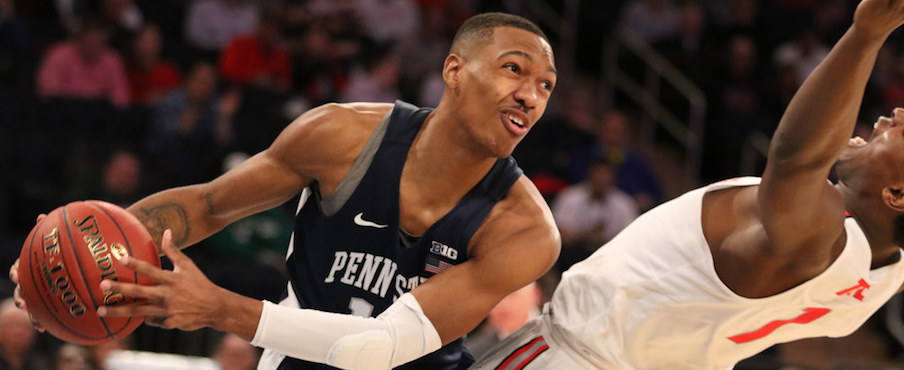 Carr has superstar ability on the offensive end with his ability to create his own shot and create shots for others. His NBA-ready jumper was deadly in college and translates well to the next level. Defensively, his 6-foot-5 frame at the point guard position gives him good size and length, which NBA teams will love. Carr is a fringe first-round prospect, but overall, I think Carr is a top-20 player. 
4. Keita Bates-Diop, Ohio State, Junior
Bates-Diop proved in his redshirt junior season at Ohio State that he is ready to play at the next level. The Big Ten Player of the Year, Bates-Diop averaged 19.7 points and hauled in 8.7 boards per game, leading the Buckeyes to a second-place finish in the conference. 
His mid-range jumper translates well to the next level, and he has shown the ability to hit from NBA range at the 3-point line. His length makes him a solid shot blocker, as his 1.6 blocked shots per game ranked sixth in the Big Ten. 
The knock on Bates-Diop has been and will continue to be his struggles against more physical players on both ends of the floor. When pushed around, Bates-Diop had a tendency to disappear, at least on the offensive end, and that will be something he will need to work on between now and draft time. 
Depending on team need, Bates-Diop is likely to be drafted in the late first or early second round, and will have to put together a solid summer league performance to make a roster and fit into a rotation. 
5. Moritz Wagner, Michigan, Junior
There isn't a player in the conference that ended his season better than Wagner did for Michigan. Had the Wolverines won the title game, he would have been the MVP for the game and the tournament without question. 
Wagner's ability to stretch the floor as a 6-foot-11 big man makes him a legitimate threat at the next level. He is fifth on our list because he has not yet made a decision on his basketball future, and could return for a final season in Ann Arbor. 
If he does declare for the draft, Wagner is in the same boat as both Carr and Bates-Diop. He could be a late first- or early second-round pick based on the needs of the teams picking in those slots. He plays a lot like Jackson does, but does not have the athleticism that the MSU forward does. That said, there might not be a player in the country that ended the season with more momentum than Wagner, and an NBA team would get a hard-working prospect with a high ceiling if it drafted him. 
Just Missed The Cut
James Palmer Jr., Nebraska, Junior – Palmer averaged 17.2 points per game for the Cornhuskers in 2017-18, and proved he can score with the best players in the country. However, he has only put it all together for one full season, as he averaged just 3.6 points per game in two years at Miami before transferring to Lincoln.
Nick Ward, Michigan State, Sophomore – A Gahanna, Ohio native, Ward declared for the draft but has not hired an agent, leaving the door open for a possible return to East Lansing. Ward averaged 12.4 points and 7.1 rebounds per game as a sophomore for the Spartans, but at 6-foot-8, is slightly undersized for his post position as it translates to the NBA.