​If this Big Ten season has taught me anything, it's that deciphering the conference hierarchy is a task too great for any one man.
Michigan was on top, but their flaws have been recently magnified. Only Joffrey Baratheon has proven to be less deserving of such a lofty throne.
Their mitten state brethren could be the Big Ten's best team, but some sort of pandemic has ripped through Michigan State's locker room. The Spartans haven't been particularly healthy all year, which should've allowed another team to take charge. Funny thing about that is, every other Big Ten school has tripped over themselves in a race to the top of the conference.
I tried to make sense of this mess, and even resorted to crowdsourcing this week's rankings. It didn't work out, but that was my fault, as Twitter is no place for reasonable discourse. 
Eleven Warriors' player of week wasn't an easy choice either. So, I settled on Aaron Craft because his smile is the only thing to keep us sane in the midst of all the chaos.
He had a tremendous game against Iowa with 17 points, six assists and six steals. That's in addition to shutting down Roy Devyn Marble, one of the Big Ten's best all-around scorers. He followed that up with a modest line against Purdue, but he also held Terone Johnson to only 3 points. 
On to the rankings:
1. N/A 

It's only a cop-out if you can come up with a reasonable option for this spot. I thought so. 
2. Michigan (17-6, 9-2)

Last week (1): 79-50 win vs Nebraska, 85-67 loss at Iowa
This week: at Ohio State, vs Wisconsin  
By default, they sit at this spot in the rankings.
I could easily dismiss their loss to Iowa as just an unlucky game against a team that hit every three they took. Of course, that would be disingenuous and, furthermore, would serve to mask their deficiencies.
The Wolverines are not the kind of team that can fall back on a dominant defense to keep them in games when they're not getting shots to fall. They're not even a team that can consistently count on anyone outside of Nik Stauskas and Caris LeVert.
In the the five games since taunting the MSU student section with a kiss (and we made him that week's MVP), Stauskas has only scored 10 field goals. He's struggled creating his own shots, while LeVert looks like the only player on the team capable of doing that.
LeVert picked up some of the scoring load, which will inevitably lead to the "why didn't Thad Matta recruit him?" narrative, but that's all the help they're getting. Glenn Robinson III looks like a player that should lose his starting spot and they continue to lack a post presence. 
3. Michigan State (20-4, 9-2) 

Last week (2): 82-67 win vs Penn State, 60-58 loss at Wisconsin
This week: vs Northwestern, vs Nebraska
Adreian Payne returned from injury and is immediately playing heavy minutes. So, everything is just swell in East – and, nope. There goes their point guard.
He wasn't playing particularly well by the time his wrist injury forced him to sit out, but the Spartans can't afford to lose Keith Appling. Branden Dawson's freak, broken hand incident already stretched Tom Izzo's lineup thin, but now he's forced to push the limited depth they have. 
Outside of a brilliantly drawn up three-point bucket by Payne, MSU looked lost on offense. Supposedly, losing a senior point guard doesn't help matters. Unfortunately, they might not get him back soon:
Izzo burying the lede: "I've got a feeling Appling is out a couple of weeks."

— Joe Rexrode (@joerexrode) February 9, 2014
In the meantime, their schedule is relatively soft. 
4. ohio state (19-5, 6-5)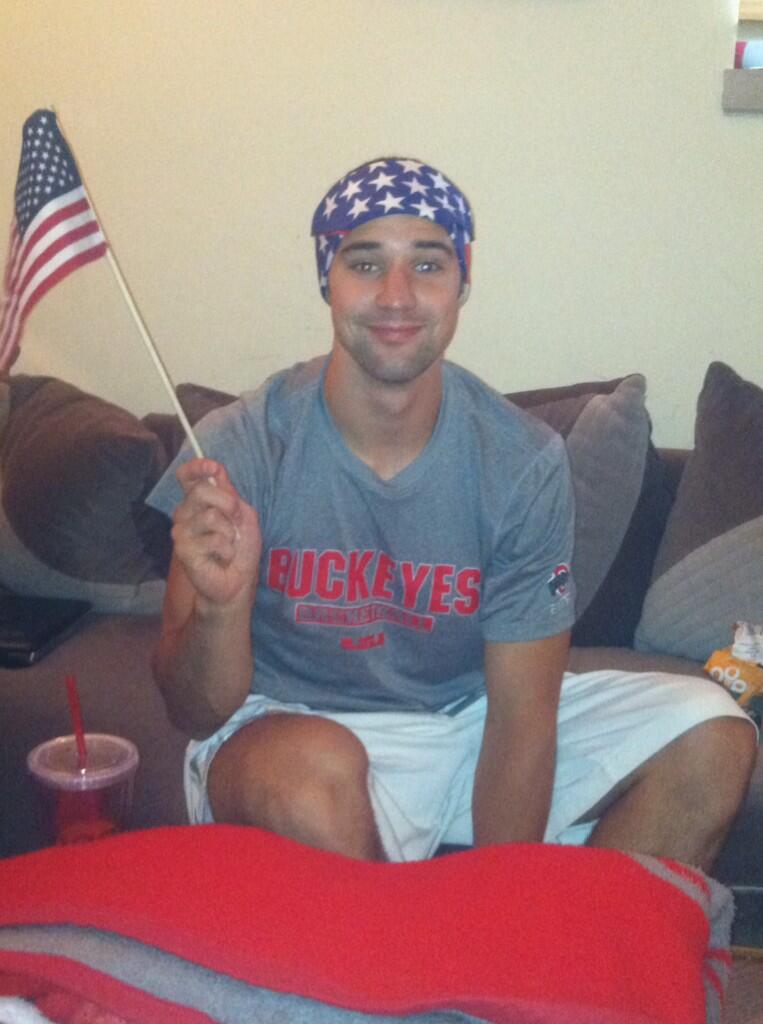 Last week (4): 76-69 win at Iowa, 67-49 win vs Purdue
This week: vs Michigan, at Illinois 
The last three games have revealed a simple formula for the Buckeyes. 
As Matta and Craft harped on during the losing streak, Ohio State just needed to take care of the ball. Turnovers created too many easy baskets for opposing teams and an offensively-challenged squad cannot afford to put their defense in such a poor spot. 
They got a little careless towards the end of the first half in Iowa City, but, overall, have suddenly stopped giving the ball away. OSU only turned the ball over seven times against Purdue, while forcing 15. 
The Buckeyes have gotten back to what worked in their first 15 games. Plus, Shannon Scott looks confident off the bench, while Craft leads a more assertive Buckeye offense. They might not always get the best looks in their half-court offense, but they're denying all the easy basket opportunities at the other end and that will keep them in every game.
5. iowa (18-6, 7-4)

Last week (3): 76-69 loss vs Ohio State, 85-67 win vs Michigan 
This week: at Penn State
Just when you thought Iowa was suddenly incapable of making threes, they go and do something like this and totally redeem themselves.
They still drop behind the Buckeyes, as OSU's resurgent, dominant defense gives them an edge in our rankings. The Hawkeyes made only three of their 20 long-range attempts against Ohio State, while Marble struggled in his matchup with Craft. Luckily, Iowa saved their vengeance for the Wolverines and drilled 10 of 17 triples, with Marble hitting six of them. 
Saturday's rebound performance not only shows this year's Iowa team has a completely different identity but they can also ride a torrid shooting stretch to beat any team in the country. 
Iowa also slowed down Michigan's offense, exposing them in the process:
Iowa coach Fran McCaffery: we were locked in collectively to go after Stauskas

— Mark Snyder (@Mark__Snyder) February 8, 2014
6. wisconsin (19-5, 6-5)

Last week (8): 75-63 win at Illinois, 60-58 win vs Michigan State
This week: vs Minnesota, at Michigan 
Everyone gets back on track when they play the Illini, but it was the game against Sparty that re-established the Kohl Center's magic.   
A wild finish capped of a 2-0 week for the Badgers, as they recover from a massive slide. They came into the week having lost four out of their last five games, but have now climbed back to tie Ohio State for fourth in the Big Ten standings.  
They almost blew a late lead versus Michigan State, but, unlike against OSU, Traevon Jackson bailed out his team: 
7. Northwestern (12-12, 5-6)

Last week (5): 53-49 loss vs Nebraska
This week: at Michigan State, vs Minnesota
When dealing with a limited amount of possessions, the key is to be efficient. Shooting 37 percent from the floor and turning the ball over 13 times is not the definition of "efficiency."
Drew Crawford has actually gotten a little bit of help from JerShon Cobb, but Crawford struggled against Nebraska. So, the theory that Crawford must single-handedly lead the Wildcats to victory has yet to be disproved. 
Even with Michigan State coming off a loss, I expect Northwestern to force a close game in what will be a grind-it-out battle. 
8. minnesota (16-8, 5-6)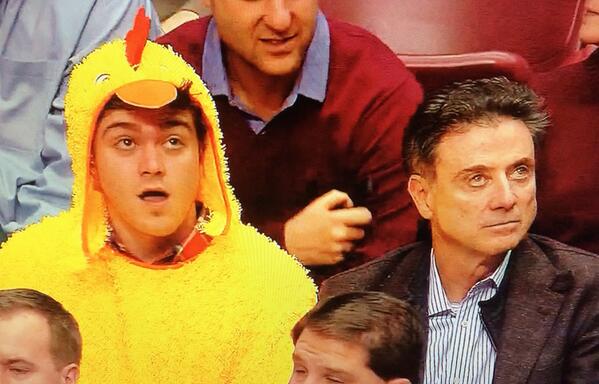 Last week (7): 77-74 3OT loss at Purdue, 66-60 win vs Indiana
This week: at Wisconsin, at Northwestern
Rick Pitino and his other son, Ryan, (who thought he could somehow further embarrass the family name by dressing up as a chicken) were in attendance for Minnesota's bounce-back win against Indiana.
Richard Pitino and the Gophers somehow survived a gruesome three-overtime game at Purdue, in that they were physically able to touch a basketball again without triggering PTSD symptoms (if you also watched that game, you know the pain). 
Minnesota returned home to score a solid win over the Hoosiers, as they attempt to stay off the "bubble" in March.
9. Indiana (14-9, 4-6)

Last week (6): 66-60 loss at Minnesota
This week: vs Penn State, at Purdue
The Hoosiers continue their trend of playing up or down to their competition, depending on who it is.
Since their only game this past week was against Minnesota, Indiana played like a middling Big Ten team. On average, that's about right for them.
Freshman stud Noah Vonleh recorded his tenth double-double of the season, but IU's chances at victory rarely hinge on his performance. The Gophers forced 18 turnovers, Saturday, sinking the Hoosiers' chances. 
10. Nebraska (12-10, 4-6)

Last week (10): 79-50 loss at Michigan, 53-49 win vs Purdue
This week: vs Illinois, at Michigan State
A win over Ohio State gave Nebraska their first conference win at home, but it took them until Saturday to get that elusive road victory.  
Behind a high shooting volume, yet strong all-around performance from Terran Petteway, the Huskers beat the Wildcats in Evanston. If the team's performance at Northwestern is indicative of the confidence they now have on the road, Nebraska might steal a game at one of the Big Ten's top teams.
Also, more shenanigans from head coach Tim Miles:
"I lost my SID, so I'm going to introduce myself. I'm Tim Miles. I coach Nebraska. I'm sweating." #Nebrasketball

— Steven Goldstein (@Steven_L_G) February 8, 2014
T-12. illinois (14-10, 3-8)

Last week (12): 75-63 loss vs Wisconsin, 60-55 win at Penn State
This week: at Nebraska, vs Ohio State  
It isn't easy to establish who is atop the conference, but at least the Big Ten's worst teams are readily apparent.
The Illini might be starting to turn it around, though. It's not just because of their first win in 9 games – head coach John Groce has also switched up his starting lineup. He inserted freshman Kendrick Nunn and Malcolm Hill, both of whom sparked a win over Penn State. Nunn was particularly impressive, scoring 19 points and hitting four three-pointers. 
T-12. Penn state (12-12, 3-8)

Last week (9): 82-67 loss at Michigan State, 60-55 loss vs Illinois
This week: at Michigan, at Northwestern
I don't have many rules, but Penn State violated a sacred one.
Having previously complimented Illinois, I still maintain that any loss to them merits a heavy drop in the rankings. Hence why PSU is now tied for last. Coming off three-straight victories, the Nittany Lions couldn't carry the momentum into this week – in case you were wondering if their win in Columbus was a fluke. 
T-12. purdue (14-10, 4-7)

Last week (11): 77-74 3OT win vs Minnesota, 67-49 loss at Ohio State
This week: vs Indiana 
Their record might not entirely reflect a team worthy of being the Big Ten's worst, but, trust me, they are definitely in the conversation.
Few Big Ten teams have the bodies to contain A.J. Hammons. However, he is blessed with Amir Williams-like coordination when it comes to handling the basketball. In the last two games, he's turned the ball over 10 times.
If his teammates could hit a free throw every once in a while (the Boilermakers are ranked No. 315 in the nation in free-throw percentage), maybe every Hammons mistake wouldn't be magnified.