Levy Restaurants, one of the premier stadium concession providers, has signed a seven-year deal with Ohio State, replacing longtime food service provider Sodexo.
"Ohio State is incredibly passionate about creating an exceptional experience for this vibrant community of students, faculty, family and fans," Andy Lansing, President and CEO of Levy Restaurants, told Eleven Warriors. "We are thrilled to work together with Ohio State in every aspect, from how we partner with the community and local businesses, to offering a new variety of culinary options and an exciting new level of hospitality that celebrates the spirit of this distinguished institution." 
Levy currently provides concessions for 21 sports venues around the country, including Churchill Downs and AmericanAirlines Arena. Iowa State and Purdue are the only colleges that use Levy's services. They also outfit the Grammy's with food items.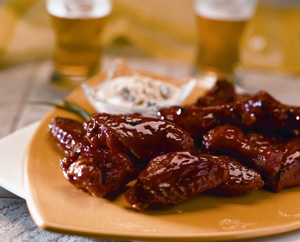 Levy recently provided the NBA All-Star Game with a special spicy grilled chicken wing recipe. Below, for your pleasure: 
Spicy Grilled Chicken Wings
16 chicken wings, de-jointed
4 tablespoons vegetable oil
2 teaspoons chipotle peppers, canned in adobo
2 tablespoons honey
½ cub green onions, chopped
2 teaspoons garlic, minced
1 teaspoon salt
2 teaspoons ground cumin
½ teaspoon cayenne pepper
Bamboo skewers for serving
Buttermilk Dip

In a food processor, add the vegetable oil, chipotle peppers, honey, green onions, garlic, salt, cumin and cayenne pepper and blend until just combined.
Using bamboo skewers, place 4 chicken wings on each skewer. Place the chicken wings in a plastic zipper bag and add the marinade. Refrigerate overnight.

Prepare a charcoal grill to medium-hot heat. Place chicken wings on the grill and cook for about 10-15 minutes, turning and basting constantly with marinade. Serve chicken wings with buttermilk dip.

Buttermilk Dip
1 cup sour cream
½ cup buttermilk
2 teaspoons garlic, minced
1 teaspoon Worcestershire sauce
1 teaspoon granulated sugar
1 teaspoon salt
½ teaspoon white pepper

Combine all of the ingredients and mix thoroughly. Adjust seasoning to taste. Chill and serve dip with spicy grilled chicken wings.
Sodexo has recently come under fire for violating workers' rights. Western Washington University was the first college to end its contract with Sodexo. 
United Students Against Sweatshops has been one of Sodexo's harshest critics.
"It is important to remember that the university is not directly involved in this matter," OSU spokesman Jim Lynch said in a May 18 email to The Lantern regarding the complaints against Sodexo. "We continue to maintain that every employer is entitled to its own views on unionization and employee relations, just as every employee is entitled to vote on representation; we should not infringe on the rights of either party."
Ohio State's new direction solves that problem, while also (we hope) upgrading the food options.