It took James Franklin a matter of minutes to lay out his plan for Penn State football. If a score was being kept, he would have won his introductory press conference 56-0, and that was before he commented on the Nittany Lions' future recruiting efforts.
"We're going to dominate the state. We're going to dominate the region," Franklin said.
He comes to Penn State after building Vanderbilt into a consistent winner, viewed by many as impossible. In the 21st century, college football coaches receive multimillion-dollar contracts because the pressure to win has never been greater. But they're also paid as recruiters, and Franklin's proven to be one of the best.
Armed with a charming, charismatic personality, his vision for Vanderbilt – and now Penn State – quickly won over recruits and their parents. Academics, character building and developing talent are three of the many prongs Franklin uses. It's how he built a top-25 class at Vanderbilt before leaving. It's also why five of the Commodores' 2014 commits followed Franklin to State College.
When he used words like "dominate" in regards to recruiting, it seemed like a shot across the bow at Urban Meyer and Ohio State. It's no secret the Buckeyes are the Big Ten kingpin with Meyer as the super recruiter who crushes anyone in his path.
Said Franklin: "You can take it as a guy that's passionate about being at Penn State."
Unfortunate for Franklin's sake, he received a double whammy soon after his hiring. Not only did longtime assistant and recruiting ace Larry Johnson decide to leave the program, but he chose to join Meyer and form one of the nation's most fearsome recruiting duos.
"[Johnson is] one of the best recruiters in the country. Now [Ohio State] has a guy who can help solidify the Eastern Seaboard," J.C. Shurburtt , national recruiting director for 247Sports, told Eleven Warriors. "That's huge, especially for a program that's located within a top-five talent-producing state and is always going to get the lion's share of the top talent in that state.
"Now you have the No. 1 recruiting school in the Big Ten with the No. 1 recruiter in that area."
The entire plan Franklin set forth – for Northeast, Midwest and Pennsylvania domination – will be tested by a group of assistant coaches clad in scarlet and gray jackets. It's a region already trademarked by Meyer and the Buckeyes in three short recruiting cycles. The Ohio State roster includes players from Pennsylvania, New Jersey, Virginia and Massachusetts – areas Penn State's program has been built on.
"The Big Ten now has the northeastern fourth of the country," Shurburtt said. "There are a lot of great football players in New Jersey, Maryland, DC and Northern Virginia. Those are all talent pockets. The Big Ten schools have done well there ever since Penn State joined the league. There are schools that have made a living in Jersey, but I think it's ratcheted up a notch now."
The area becomes a bigger target with Maryland and Rutgers joining the Big Ten. In the Class of 2014, the Buckeyes have a New Yorker (Curtis Samuel), a New Jerseyan (Noah Brown) and a Keystone Stater (Malik Hooker).
"If you look at the class for 2015 and 2016 in Maryland and DC, where Larry Johnson has made a living as a recruiter, there's a lot of high-end talent coming down the pipe," Shurburtt said. "Ohio State's already very competitive in that area. But you have to think Coach Johnson will help them make even more inroads."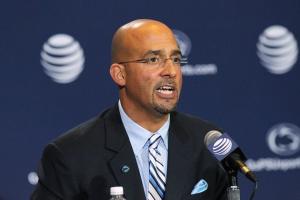 The Rivals250 rankings for 2015 lists 11 players hailing from Virginia, seven from New Jersey, four from Pennsylvania, two from Maryland and Washington, D.C., and one from New York. Eight are ranked in the top 100. 
MaxPreps' 2016 top 50 watch list features six players from New Jersey, two from Maryland and one from Virginia.
It will create intense recruiting battles between Ohio State and Penn State – and their SEC-pedigree head coaches. Don't forget, Meyer convinced a small Army of Nittany Lion recruits to de-commit when he was hired in late 2011. This cycle saw both universities prying at New Jersey tight end Mike Gesicki, who ultimately chose Penn State over Ohio State. In 2015, defensive back Minkah Fitzpatrick, offensive lineman Steven Gonzalez and quarterback Brandon Wimbush – all from New Jersey – will be targeted heavily by the Buckeyes and Nittany Lions. 
"I've worked at a lot of different institutions that tried to compete in recruiting against Penn State University, and it was always an unbelievable challenge because this school has everything that young men are looking for," Franklin said. "This school has everything that families are looking for. I'm calling all the high school coaches. I'm calling all the people in the state that we need to come together like never before."
Another future factor in the sweepstakes is the Maryland Terrapins, and, more specifically, Mike Locksley, an assistant coach who's made a name recruiting the Greater Washington beltway.
"If you're Penn State, Pennsylvania probably doesn't rank as highly as Ohio as far as the number of prospects. But it's still a top 10 to 15 talent-producing state," Shurburtt said. "Eastern Pennsylvania in particular is going to be good the next couple cycles, and Western Pennsylvania always has good players."
When Penn State was dealt crippling sanctions prior to the 2012 season, conventional wisdom said the Nittany Lions would go through a down period that could last a decade. Instead, they've remained competitive thanks to Bill O'Brien, who proved to be an excellent head coach and adept talent evaluator. He sold recruits on getting a good education, competing in the Big Ten and playing home game in front of 107,000 fans in Beaver Stadium.
Penn State was stripped of up to as many as 20 scholarships per year and given an unprecedented four-year bowl ban. In O'Brien's two seasons as head coach, he signed the No. 51- and 43rd-ranked class. He coached in the Super Bowl, just ahead of signing day in Year 1, which also coincided with the Jerry Sandusky child-sex abuse scandal.
The crown jewel of the O'Brien recruiting efforts came last February, when he signed five-star quarterback Christian Hackenberg. He went on to be named the Big Ten's freshman of the year after passing for 2,955 yards, 20 touchdowns and 10 interceptions.
There were three four-star recruits in the 2013 class, placing the Nittany Lions in the top half of the conference when it came to recruiting rankings. Penn State managed a 7-5 record last season with just 61 scholarship players, far less than the maximum of 85 permitted by NCAA rules. But the association eased up last year, announcing the Nittany Lions can have 75 scholarship players next year and 85 by 2016.
"I think any time you have more opportunities to go to a place like Penn State, that's going to help your recruiting," O'Brien said in October. "Penn State, in my opinion, is a place where you can balance great academics with championship football. In the future, we're here to make sure guys get a good education and can play for championships. That's what we're trying to build on."
The Nittany Lions currently have the No. 20 class nationally, second best in the Big Ten behind none other than No. 2 Ohio State. The haul of 25 players includes six four-stars with all but one of the rest being three-stars.
In the very near future, the stars could once again align for Penn State.
"I think we will have the most aggressive recruiting staff in America," Franklin said. "I love winning. Winning is fun. We're going to do everything we have to do to have as much success as we possibly can."