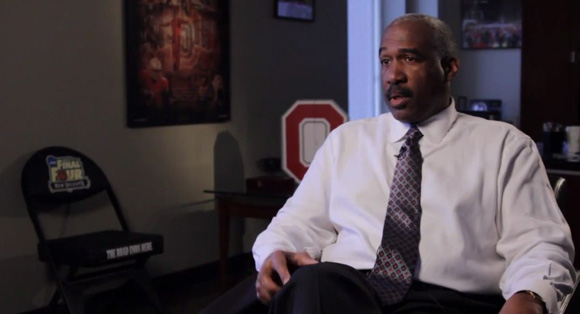 Ohio State athletic director Gene Smith will be promoted to vice president of Ohio State University, pending a vote by the board of trustees this week. He will remain in charge of the athletic department through 2020 and receive a $100,000 raise, upping his annual salary to $940,484 per year. Smith will be eligible for yearly merit-based raises. 
Smith's current contract was set to expire in 2016.
"I am grateful for the opportunity to lead the athletics program at a university with a national reputation for excellence that encompasses a broad-range of areas," Smith said in a statement. "Working with the coaches, athletics staff, faculty and staff across the university enables us to provide positive experiences for the young people we serve, while finding ways to help them become global citizens impacting the world."
His new role will include responsibilities on the business side and entertainment venues. Smith will be responsible for boosting revenue for Nationwide Arena and creating opportunities for the university to be involved. He will also have joint oversight of the Office of Business and Finance in the university's Business Advancement Division, which includes the Jerome Schottenstein Center, the Blackwell Inn, Drake Union, the Fawcett Center and the Office of Trademark and Licensing Services.
"Gene Smith is one of this country's most accomplished collegiate athletics directors, with an exemplary record of national leadership and service," interim OSU President Joseph A. Alutto said. "Thanks to his dedication to student success, graduation success rates of Ohio State's student-athletes have risen by 11 percentage points, to 89 percent. His vision and commitment to excellence have made Ohio State's Department of Athletics one of the strongest in the nation."