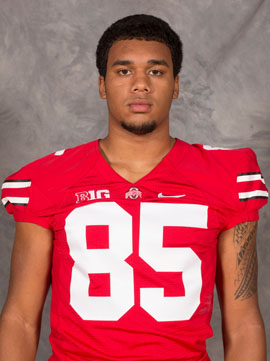 Marcus Baugh is playing the waiting game once again.
For the second time in six months, the former four-star recruit has been suspended for an underage consumption arrest. This time, though, there are concerns from Baugh and his family that it could be two strikes and you're out.
"It's my son, I want to make sure first and foremost everything's right in his head. But that's the No. 1 thing, because this is not the first [arrest]," Baugh's father, Frank, told Eleven Warriors in a phone interview Wednesday. "No matter what punishment they hand out, what more can [the coaches] do? We need to know if Marcus has a problem and needs help. What is going on?
"I understand it's a school, and they're going to handle it accordingly. If they send him home, it'll be disappointing. I spoke to him and he doesn't want to come home. But he has to exhibit some type of behavior that he wants to stay."
Baugh, a redshirt freshman tight end, was cited for underage drinking near campus on Friday, according to Franklin County court documents. This is on the heels of a previous arrest for the same offense – and using a fake ID – in July. For that, Baugh was suspended for the season-opener versus Buffalo, stripped of his summer student aid and removed from all team activities.
He was reinstated following the game after meeting a set of parameters put in place by the coaching staff. But September brought more drama. Baugh dealt with in-house matters that resulted in additional time away from the team.
"I came out for the Penn State game and met with the coaches [Urban Meyer, Ryan Stamper, Stan Jefferson and Tim Hinton]. There's a support system there," said Frank, who would not comment on legal matters. "They're very supportive of Marcus and want to see him succeed. They're also concerned for him."
All was well the second half of the season – Baugh's grades were in order and his standing with the coaches improved. It still didn't add up to playing time with Jeff Heuerman and Nick Vannett in front of him. It was Baugh's practice performances, though, that gradually kept him afloat.
He displayed a work ethic and level of commitment that encouraged staff members. Baugh's black stripe was removed in December and he impressed coaches in Orange Bowl practices.
Baugh came to Ohio State from Riverside, Calif., where his 6-foot-4, 240-pound frame attracted recruiters from all over the country. He caught 68 passes for almost 1,200 yards and 10 touchdowns during his junior and senior seasons.
"He's a very athletic kid," Hinton said in September. "But he just has not caught the ball as cleanly as he needs to and as consistently. As he learns that skill, he'll be OK. I mean, he'll do well here. We knew coming in, he was more of a wide receiver tight end than a tight end. So his blocking skills obviously need to improve. I'll guarantee you [his drops have] been emphasized in a certain room."
Visions of the future involved Baugh stretching defenses and posing matchup problems.
Now, that's all in jeopardy.
"These indiscretions [are holding him back]. He's a good kid in a bad place [mentally] that made some bad decisions, very bad decisions," Frank said. "I'm very concerned because the behavior he's shown is not the child that I raised. His mother and I are divorced, but we've always been there and maintained a parenting relationship, and that's not the child we raised. It's hard to read and even talk about."
Frank stressed his concerns repeatedly, noting that distance from home and attempting to fit in could be contributing to his son's troubles. But he didn't stop short of doling out verbal punishment from more than 2,000 miles away at his Southern California home.
"He went out and it snowballed on him," Frank said. "Right now, Marcus is his own worst enemy. He's the type of kid that you can rub on the head when he does well and kick in the ass when he does bad."