Football is a complicated game, one that takes athleticism, intelligence, mental and physical toughness and, above all else, an unrelenting will to win. It's a game that has truly become America's game and to most of us who eat, breathe and sleep the pigskin, it's become a way of life.
It's not easy to be a great football player, but some people are so supremely gifted that it appears to be second-nature. They run through defenses, they leap over defensive backs and they fit tight spirals into seemingly absent windows and we marvel at their talents. They are the rare athletes we all dreamed of being as kids. They are the "next level."
Torrance Gibson is that type of athlete, but even he didn't recognize it until just before he entered American Heritage High School in Fort Lauderdale.
"I had just played in my 8th grade all-star game," Gibson told Eleven Warriors. "That's when everyone started talking about me. The excitement about the game kept me going cause I love to play football and watching it everyday really got me going, cause when I was watching TV one day, watching an NFL game I told myself 'I'm going to be there someday,' and ever since then I have been working hard to keep getting better."
Up until now, that pursuit of perfection has paid off handsomely for Gibson, the nation's top-ranked dual-threat quarterback in the 2015 recruiting class according to 247Sports.com's composite feature. At 6-foot-4 and 200 pounds, Gibson has the size and speed (he regularly runs the 40-yard-dash in sub 4.5 seconds) combination that coaching staffs around the country dream about. His athleticism is so rare that many people suggest he'd be the best wide receiver in the country if he was interested in playing the position, but Gibson insists that he's a signal-caller in college and that's what he is expecting from any school recruiting him.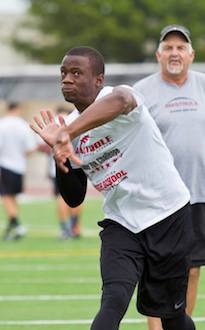 He's working hard to become more than just an "athlete playing quarterback," and he expects it to pay off.
"(So far) every coach that has offered me has said that they want me at quarterback," he says about rumors some schools would prefer him in different roles. "I run track and I think that's helped when it comes to running an up-tempo spread offense, because obviously you have to be in shape. I work out everyday besides Sundays — well sometimes on Sundays, too (laughs) — Then I make sure I throw on Tuesday,Thursday and Friday and work on my footwork."
With a steady work-ethic to go along with elite level athleticism, Gibson's skillset is ideal to run the spread in college, and the Buckeyes are hoping to convince him that their version is the right one for him. Gibson acknowledges it's one he's familiar with.
"The Buckeye coaches said that I'm their guy, I'm the guy the want to run their offense," Gibson said of his regular communication with Ohio State. "They run the spread offense which I run at my school and I feel comfortable running the offense. Braxton Miller's the man, and I've taken some notes watching him this year."
As Gibson's star continues to rise, as the hoopla around his commitment begins to take off, he's learning quickly what being a top-ranked recruit in 2014 is about. His Twitter feed is constantly inundated with fans from all over the country doing their part to recruit the 2013 state champion to their favorite school. At this point, it's not something Gibson sees a problem with, but he recognizes with fame comes the potential for dramatics. Last week, a fan on Twitter was pretending to be fellow Buckeye quarterback target Brandon Wimbush in order to stir up drama, which opened Gibson's eyes a bit about what "fans" are capable of.
"The fans on Twitter get me hype, honestly, and believe it or not, it makes me want to visit their school," Gibson said of his newfound fame. "I appreciate all the love that they have been showing me recently. They strangest thing was a kid asked me to send him my jersey and autograph it to him, but it was an honor to have someone ask that since I am only in high school."
"I know it's going to get worse, and it's a blessing of course, and I just want to thank the man upstairs for giving me the opportunity to play this game," he continued. "I really don't know how I'm going to handle that you know? Because people come and people go and a lot of people have been using me all my life."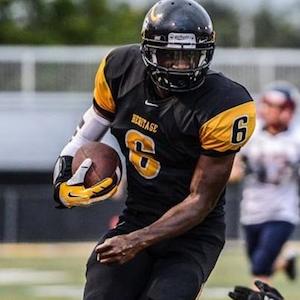 Perhaps nothing has more potential peril than potential itself, and Gibson is learning quickly that the world has two types of people: those who grab on for their own self-interest and those who are truly there to act in his best interest. He says that deciphering between the two groups isn't as hard as people would think, and he's got an excellent support group that helps keep him focused and on the right track.
"You can just tell when someone is real and (someone) that's fake," he said. "I've got my mom, (Heritage assistant) Coach Mario Perez, the Flory's family, all of my coaches and my family. They made me realize I can't ever let go of my dreams, to keep taking care of business with my grades; those are the important things.
"I grew up rough, in a single parent house, saw people coming and going out of my life all the time. I'd be a kid and see all these people smoking weed, I've seen people get shot at," Gibson said of his childhood. "I've seen people do hard drugs right in front of my face. I never told my mom I saw that stuff all the time cause I didn't want her to get scared that I was going to get involved in that life."
"I took a different path because I knew I had a future ahead of me,  I had to put on my big boy pants and go out and chase my dream cause I have something special and I have to use the talent God gave me," he continued. "I just keep my head in the books and keep striving to be the best I can be in the classroom and the football field. Right now I'm doing good in school, but I kind of suck in math (laughs,) but I'm doing good. I want to be a sports manager or maybe an agent after football."
Gibson's supporting cast is deep, but he says freely that he's missing one key element: his estranged father.
"Not being able to see my dad everyday, that keeps me grounded. Every time I think about that it motivates me because I watch my mom struggle everyday," Gibson says of his father, gone from his son's life for years without explanation or reason. "Sometimes it brings tears in my eyes, I've texted him a few times, sometimes I've gotten a response, sometimes I don't. I never know what to expect. I can't just sit there and cry, I have to man up and reach my full potential in life and playing football is going to help me get there, regardless of who is there for me. I always hope he is doing okay and one day we can just have even one more day together, but until that day comes I have to still keep fighting on and playing the game of football to make the best of things for my mom and myself."
The first step to the big-time for Gibson is college, and while he's got a few favorites — Ohio State, LSU, Miami and Notre Dame top his list currently — he's not in any hurry to make a choice, even though he knows an early commitment from a quarterback could be a major boon to his future team's recruiting success.
"I'm just gonna take my time," Gibson told 11W. "I know (committing early) could help a lot, because I think if I commited to a big time school people will follow because they'd know we are going to build a great dynasty. I will commit after I take all my visits and probably after my high school senior season. I need a place that can help me get a great education — that's the most important thing — but also has a great coaching staff and a great program; a great city on and off campus."
Get ready Buckeye fans, your future quarterback could be right in front of you, but the story isn't written yet, it's just beginning.