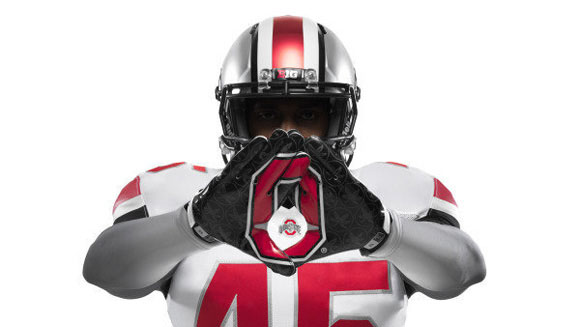 It started with Oregon. The Ducks began to switch up their uniforms in an effort to appeal to recruits while stroking the ego of mega booster and Nike chairman Phil Knight.
It wasn't long before a number of other schools followed suit, and before you knew it we had alt-jersey-palooza at nearly every major school across the country. Nike and Adidas have doubled down in recent years, helping to multiply teams' kits while lining their own pockets with a little skrilla. 
Alternate jerseys aren't the worst thing to happen to college football. In fact, a couple of Ohio State's recent alternates have actually looked pretty damn good. But, it's important to remember life before the alternate. Back when there was simply home and away laundry. Over the years the Buckeyes have sported some of the best threads in college football, making minor tweaks to their kits as the seasons rolled on.
With that said, those minor tweaks have resulted in some different looks over the years, so let's take a gander at the top five Ohio State football jerseys in history.
#5: 1939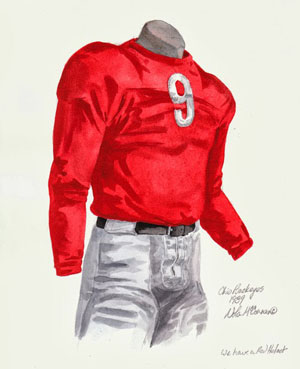 The 1939 squad went 6-2 losing only to No. 7 Cornell and unranked Michigan in Ann Arbor.
The loss to the Maize and Blue was the second straight for head coach Francis Schmidt – he of "Those fellows put their pants on one leg at a time, the same as everyone else" fame – but his Buckeyes managed to win the B1G and finish the season No. 15.
I'd like to think their success had a lot to do with the players' confidence when they looked in the mirror. Sporting a long-sleeved scarlet jersey with a red leather helmet, the 1939 team was dressed to impress.
I'd probably wear this to a dinner party. And look amazing doing so.
#4: 1890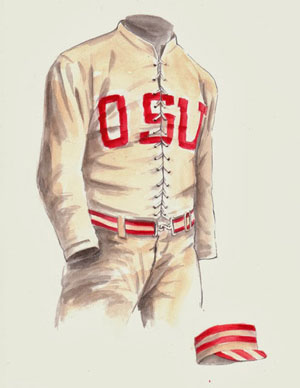 The 1890 team was the first squad ever fielded by the Buckeyes.
Coached by Alexander S. Lilley and playing in Recreation Park in Columbus, the Scarlet and Gray went 1-3 winning their first game against Ohio Wesleyan but falling short in their final three contests.
While they may have had a losing record, they looked like winners in my book. These gentlemen pre-dated helmets, opting instead to don candy-striped caps while they clubbed opponents into the turf.
I'm giving them extra style points for figuring out how to put on this top. It looks to me like it was sewn onto their bodies before each and every game.
Either way it was a good look, and the block O-S-U lives on in Columbus to this day.
#3: 1954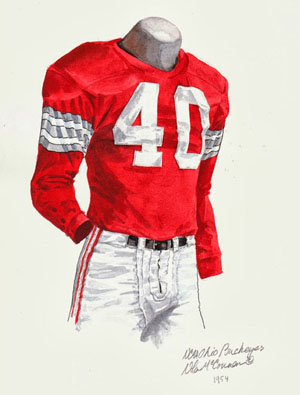 The 1954 team was historic on a number of levels. They were the second Ohio State team to win a national championship, the first Ohio State team to win it all under Woody's watch and they were one of the first teams to incorporate gray stripes on the sleeves.
The team started the season unranked and slowly but surely clawed their way up the polls. By October 30th they were No. 1 in the country and didn't fall below No. 2 for the remainder of the season, ultimately finishing with a 10-0 record and a Rose Bowl victory against USC in Pasadena.
Howard "Hopalong" Cassady (Ohio State's third Heisman trophy winner) rocked this jersey day-in and day-out.
If it's good enough for him. It's good enough to be on this list. Ohio State certainly thought so, as they gave a nod to the '54 team with the throwback jerseys they wore against Michigan in 2009.
#2: 1968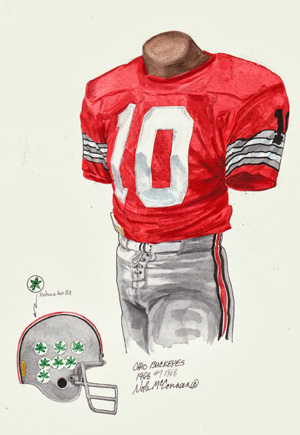 I think a lot of people are going to disagree with me here, but hear me out.
The jerseys the team wore in 1968 are fresh-to-death, and there's really no argument to be had.
The jersey was one of the first to incorporate black into the scheme with dark numbers on the sleeves.
It also featured green Buckeyes leaves, a color that truly made the wearable merits pop. I can only imagine opponents feared the Buckeyes when they rolled out of the tunnel wearing these duds, and it didn't help that the '68 team was damn near unstoppable.
The squad boasted 11 All-Americans and six first-round draft picks. Led by the "Assassin" Jack Tatum, QB Rex Kern and RB Jim Otis the team rolled up a 10-0 season, a victory over No. 2 USC in the Rose Bowl and a national championship (Woody Hayes' third). The squad won and they looked good doing it.
End of story.
#1: 1986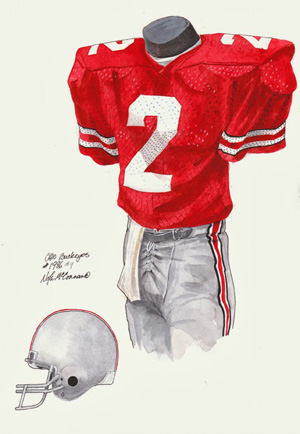 I once heard former Ohio State coach Earle Bruce wanted to make his players look as large as possible. So, he blew up the numbers on the shoulder pads to double the normal size.
Whether that story is true or not, there's no denying the '86 Buckeyes had a surplus of swag. The uniform is pretty understated: a lightweight mesh jersey with a white, scarlet and black sleeve, but those huge numbers on the front, back and shoulder pads are everything. It made every player look like a linebacker and made linebackers look like your worst nightmare.
While the look didn't do a ton for the Buckeyes on the field, with losses to Alabama, Washington and Michigan, the '86 squad is a winner for making big mesh look cool.
Bring those huge numbers back Urban and Co. At least for one game.