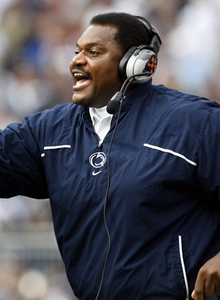 Last week, Ohio State's defensive line coach Mike Vrabel left his alma mater for a job coaching linebackers in the NFL. His departure shocked most of us and left a hole not only in the team's deepest and most talented position from a coaching standpoint, but it also meant that Urban Meyer lost arguably his most effective recruiter.
Today, less than a week later, it appears that both of those needs have been filled with the reports that the Buckeyes will hire former Penn State staple Larry Johnson, Sr.
Aside from the nearly 20 years of experience at Penn State, Johnson would bring a recruiting resume that rivals anyone in the country, especially when it comes to working with and securing commitments from East Coast talent. He developed six first-round draft picks along the defensive line since 2000 and is known as a regimented, steady coaching presence.
In previous years, the rumors about Johnson were slanted towards the negative, that he was an overtly negative recruiter. Johnson's tactics, it's been rumored, were especially heavy-handed against Ohio State, but this is about winning and when you're head-to-head with Ohio State for a recruit. I think it's a bit myopic to think any staff in the country is saying anything positive about other schools when you're trying to secure a commitment.
Simply put, the addition of Larry Johnson, Sr. is an absolute "win" for Meyer and Ohio State, both on the field and in the living rooms. Not to mention, it adds another interesting layer to the developing Ohio State/Penn State dynamic that the Nittany Lions' hiring of James Franklin will inevitably bring. Buckle up, folks, we've got new rivalries developing and that's good for everyone.
Will there be any immediate impact to recruiting for 2014? We'll take a look at that and a few other stories making the rounds in today's recruiting update.
THOMAS HOLLEY

There are most certainly a few players that immediately come to mind when it comes to Johnson, Penn State and Ohio State. The first of which is Brooklyn defensive tackle Thomas Holley. Holley was waiting to see what moves James Franklin made along the defensive line before deciding his future with the Nittany Lions, and the decision to let Johnson go coupled with his move to Ohio State could certainly heat things back up pretty quickly here. 
"But Jeremy, I thought the Buckeyes had decided Holley wasn't what they were looking for at defensive tackle?"
First of all, kudos for paying attention. To clarify that, I'll try and state it as plainly as possible, a former Buckeye coach who would have had the responsibility of coaching Holley was not as keen on the 6-foot-4, 285-pound defensive tackle as others on the Buckeye staff were. Now that said coach has departed, the possibility does in fact exist that Holley's interest in Ohio State — and vice versa — will crank back up. If Holley is able to "move past" the notion that he wasn't "wanted" by Ohio State and chalk it up to a single coach's opinion, Johnson could definitely bring him to Columbus with him. I do believe that as the former coach was able to decide against Holley, Johnson would be able to choose in his favor when it comes to Urban Meyer's ultimate verdict on the matter.
SOLOMON THOMAS AND MALIK MCDOWELL

There is not likely any correlation between Ohio State's chances with Solomon Thomas or Malik McDowell and the hiring of Johnson. Neither of them have been recruited by him up to this point, but the Buckeyes will likely put him on the case quickly, especially as it pertains to Thomas, who had developed a very good relationship with Vrabel prior to his departure.
Ohio State head coach Urban Meyer is slated to speak with Thomas this week and having concrete news about who could be his future coach will help alleviate confusion about defensive identities moving forward. While I still think Thomas is bound for Palo Alto (he was accepted into Stanford this week,) the Buckeyes have made him their top priority and will work exceptionally hard the next three weeks to try and sign him come February 5th. One thing that could help the Buckeyes? Stanford accepted a commitment from defensive end Uriah Leiataua last night, their fourth defensive end pledge in their 2014 class. 
Today it was announced by Pete Thamel that Ohio State would hire Chris Ash, the defensive co-ordinator at Arkansas to round out there defensive staff, and while his immediate impact on recruiting is certainly going to be felt less than Johnson, Ash and the Razorbacks were in the top five for Thomas and he is scheduled to make an official visit to Fayetteville the weekend of January 24th. While Ash was not personally recruiting Thomas, it can't hurt the Buckeyes to have another familiar face on board when Thomas heads to Columbus at the end of the month. That said, sources close to Thomas indicate that most of his recruitment comes down to the position coach he'll be playing under, so Johnson has a few weeks to really work on that relationship.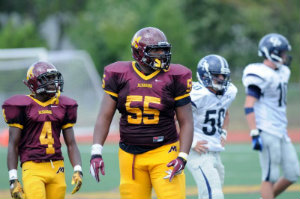 DERRICK NNADI

Another top defensive tackle, Derrick Nnadi from Virginia Beach, (Va.) is scheduled to visit Ohio State this weekend, the first weekend off of the recent recruiting quiet period. Nnadi's visit is tentative — Ohio State was uncertain as of last night whether or not it would even happen — but he has already visited Penn State officially (December 7th.)
The biggest issue for Ohio State and Nnadi at this point is simple: space. The Buckeyes have 21 commitments currently and have room for two, maybe three more commitments in 2014, and I think Nnadi would fall as the least likely of the four defensive lineman to choose Ohio State. If he still makes his visit this upcoming weekend, things are bound to change.
MIKE GESICKI

Nothing to see here. Ohio State will face Mike Gesicki over the next few years when he's lined up at tight end for the Nittany Lions. Larry Johnson is not his recruiter, not his position coach and unfortunately for Urban Meyer and the Buckeyes, has nothing to do with his recruitment.
JERMAINE ROBERTS AND MIKE ROGERS
Jermaine Roberts and Mike Rogers are two names that have been tossed around over the last two months with regards to Ohio State's secondary, but I think that the expected commitments of Marshon Lattimore and Erick Smith will effectively end Ohio State's pursuit of the two southern cornerbacks. Roberts is still scheduled to visit Ohio State the weekend of January 24th, but I'd be surprised if that official visit takes place. 
Rogers has not visited Ohio State despite being named regularly as a potential option for the Buckeyes. I'd not expect anything to continue on this front. The Buckeyes are effectively done recruiting for 2014 outside of their two pressing needs: a fifth offensive lineman and another defensive lineman, or two.
---
Ohio State has not officially announced the hiring of Johnson, but, you know, #SOON.