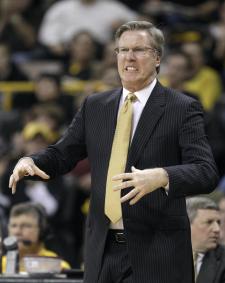 It's been more than a decade since Bobby Knight coached in the Big Ten. But it appears Iowa head coach Fran McCaffery is on a Knight-esque trajectory. He might not win national championships like the Ohio State alum and legendary Indiana head coach, but McCaffery's temper is every bit as intense as the General's hot streak.
The latest highlight-reel blowup came last weekend, and at all times, when the Hawkeyes were leading in the second half on the road against a top-five Wisconsin team. Iowa's players embrace McCaffery's passion, but he went over the edge at the Kohl Center and contributed to his team's loss.
A tirade resulting in two technical fouls and an ejection for McCaffery allowed the Badgers free throws, possession of the basketball and, ultimately, a victory. Then came the news that McCaffery was suspended – Iowa was fined $10,000 – by the Big Ten for one game, a contest the Hawkeyes would win against Northwestern.
"We love him for his passion and fire," junior forward Aaron White said. "I signed up for it. I wanted to play for him. It's not a surprise. That's just the way he is."
Going forward, that "way" needs to change. Passion and fire are part of coaching, and McCaffery has proven to be a great hire by Iowa. But the show of emotion at Wisconsin affected the outcome of the game and drew a tremendous amount of negative attention to a team that's been one of college basketball's surprises.
McCaffery has full support of athletic director Gary Barta, as he should, and delivered a sincere public apology. Cursing and displaying intense emotion during a basketball game doesn't mean McCaffery is a bad guy. In fact, he's known to be a good, upstanding person.
"I'm not perfect. Nobody is," McCaffery said. "I'm not going to beat myself up over it. I'm not happy about it. I'm not proud of it. Every one of us is never too old to learn from our mistakes."
But that doesn't mean McCaffery will sit quietly and calmly in his chair during games.
"That will not stop, but I think in that instance, without question, I lost my cool, and you can't do that," he said. "We don't want [the players] to do that, so I can't do that."
| # | Name | YR | HT/WT | PTS | REB | AST | P | # | Name | YR | HT/WT | PTS | REB | AST |
| --- | --- | --- | --- | --- | --- | --- | --- | --- | --- | --- | --- | --- | --- | --- |
| 4 | A. Craft | SR | 6-2/195 | 9.3 | 3.4 | 5.0 | G | 10 | M. Gesell | SO | 6-1/190 | 6.6 | 2.0 | 3.8 |
| 3 | S. Scott | JR | 6-1/185 | 8.7 | 4.3 | 4.0 | G | 4 | R. Devyn Marble | SR | 6-6/200 | 16.0 | 3.6 | 3.4 |
| 32 | L. Smith Jr. | SR | 6-4/210 | 12.4 | 5.1 | 1.6 | G | 30 | A. White | JR | 6-9/220 | 13.4 | 6.6 | 2.2 |
| 10 | L. Ross | JR | 6-8/220 | 13.1 | 5.8 | 0.6 | F | 1 | M. Basabe | SR | 6-7/220 | 7.6 | 6.6 | 0.1 |
| 23 | A. Williams | JR | 6-11/250 | 9.6 | 6.8 | 0.4 | C | 34 | A. Woodbury | SO | 7-1/240 | 5.9 | 4.1 | 1.1 |
Opponent Breakdown
On the road in a hostile environment, Ohio State was able to slow down the offensive production of a top-five team. Can it continue doing so in Value City Arena against another ranked foe? Michigan State became the first team to score 70 points against the Buckeyes this season, but it needed overtime to reach that mark.
The team Ohio State will face Sunday is one of the top offensive units in the country. Iowa ranks eighth in scoring offense, putting up 86.5 points per game. The Hawkeyes were a bubble team a year ago and entered this season with high expectations. So far, they've lived up to them. The one blemish on their resume is the lack of a signature win.
Iowa's three losses have come to Villanova, Iowa State and Wisconsin – all ranked in the top 10. The Villanova loss came in overtime and the Hawkeyes had double-digit leads against Iowa State and Wisconsin, both road games. The three losses came by a combined 12 points.
"It would be big to get that monkey off our back, not that we're thinking about it, but everyone keeps asking us about it and it's kind of getting old, to be honest with you," junior forward Aaron White, a Strongsville native, told reporters this week. "We need to go out there and prove we're one of the top teams in the country and beat somebody on the road."
The same problem plagued Iowa last season when it came up just short of the Big Dance. A 9-9 conference record included seven losses to the league's top teams.
The Hawkeyes' best wins this year are over Xavier and Notre Dame. A victory on the road in Columbus would not only boost their chances at ending an NCAA Tournament hex, but also put them squarely in contention for the Big Ten championship.
"This game means a lot in a lot of ways," senior guard Roy Devyn Marble said. "It's not a must-win or anything like that, but it's a win we definitely can get. We have the talent and the capability to do so."
For three seasons, McCaffery's rebuilt the Iowa basketball program back to respectability. It uses an up-tempo offense that relies on transition scoring. Three players average double figures with Marble leading the way at 16 points per game. White (13.4) is Iowa's No. 2 scorer and Wisconsin transfer Jarrod Uthoff  (10.3) is third.
The Hawkeyes a blend of youth and veterans. They will need to use the entire roster to outlast Ohio State. Iowa will attempt to tire the Buckeyes to create mismatches.
"We need a lot of things in Columbus," Iowa assistant coach Kirk Speraw said. "We need great defense, taking good care of the basketball, shooting the ball well, rebounding the ball well. That's one of the better teams in the country, obviously, so it's just another step in our journey down the Big Ten schedule."
Buckeye Breakdown
During Thad Matta's tenure at Ohio State, the Buckeyes have been known for several things – winning, defense and bouncing back. They hope all three are on display Sunday against Iowa.
For the first time this season, Ohio State enters a game coming off a loss. Must-win games in January don't exist for teams ranked in the top five, but starting the conference season 2-2 isn't what Matta wants.
"There are two ways we can go. Obviously, we want to try to win every game," senior guard Aaron Craft said. "We're a competitive group. But the worst thing we can do is turn that loss into two."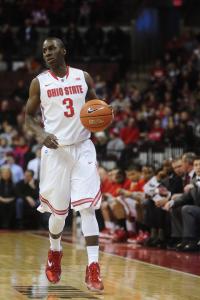 Had Shannon Scott finished a steal and basket in the final seconds at Michigan State, the undefeated season would still be intact. But there's no blame that can be cast on Scott after rushing a shot at the buzzer.
"I just tried to get down the court as fast as I could," he said. "I went up and he got a little piece of my arm and I lost control of the ball after that. After that we got into overtime, and I still thought we had a chance to win the game. We just didn't make the plays we needed to make at the end of the game. We'll learn from the mistakes we made, and I will as well, and we'll bounce back from that."
Losing back-to-back games during Matta's almost 10 seasons as head coach has been rare. But it did happen last season. Following a heartbreaking overtime loss at Michigan, the Buckeyes were blown out at home by Indiana. The scenario is eerily similar to the current situation.
Allowing defeats to linger and spiral into two losses is something Matta's preached to his team to not let happen. Even in a losing effort Tuesday night, he said many positives were taken away from the experience.
The biggest plus was the Buckeyes' resiliency. Losses have been imminent twice this season and Ohio State nearly won both games. The ability to continue playing when down instills a unique confidence into the team. A day after losing to Michigan State, Scott said the mood at practice was no different than any other time.
"Everybody seems to be on a more positive note now," he said. He and his backcourt mate, Craft, aren't looking for any pity. Instead, they're taking an aggressive approach.
"Iowa's a phenomenal team," Craft said. "They're going to come in here wanting to get a win. They've been on the edge in multiple games and this is another one of those."
Etc
Ohio State's won eight consecutive games over Iowa. The Hawkeyes' last win in Columbus came in 2004. 
Spero Dedes and Clark Kellogg have the call on CBS.
The Buckeyes have suffered back-to-back losses 18 times during the Matta era and just twice since the 2008-09 season.