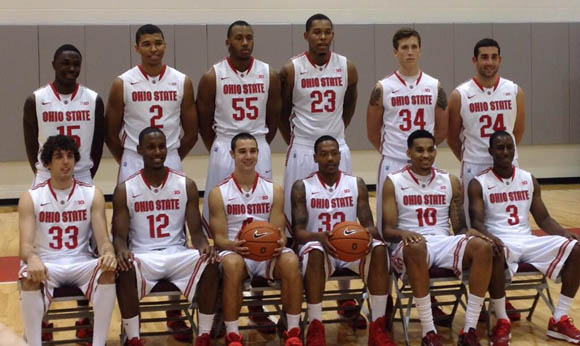 It's become a yearly rite of winter – question Thad Matta about his short bench. For a decade now, he's been quick to peel away what could be an advantage to just six or seven guys once the conference season rolls around. But Saturday's matinee against Nebraska featured a reserve's paradise.
The Ohio State bench outscored the Cornhuskers 38-12, and sophomore backup Amedeo Della Valle contributed a game-high 15 points. Not far behind was true freshman Marc Loving, who scored a career-high 13 points.
For stretches of the game, an 84-53 win for the Buckeyes, one could have been confused in finding the difference between the starting five and second five – or four. Ohio State has nine legitimate contributors this season. Carrying a perfect 15-0 record, some of the credit can be directed toward the four-man bench.
"I'm comfortable with my rotation," Matta said after the latest win. "Every game poses a different scenario in terms of what we might need. It's great to see when guys come in and can contribute. Everyone looks at the stats, how many points, rebounds, etc. But there are a lot of other intangibles that those guys did today that were good."
As the non-conference schedule is mocked, Matta is able to discover which starting lineup fits his team best and set a bench rotation. This season that meant making Sam Thompson, the Buckeyes' most athletic player, the sixth man. So far, so good.
Thompson's averaging 22 minutes per game with seven points, three rebounds, an assist and a blocked shot. He provides instant energy and can be a spark when Ohio State isn't clicking. Senior starter Lenzelle Smith Jr. said he feeds off Thompson's motor each game, adding that it gives him an extra edge.
A fixture as a starter last season, Thompson suffered no harsh feelings when Matta sat him down and explained his theory on why coming off the bench would better serve the Buckeyes. It's allowed Ohio State to piece together arguably the best defense in the country.
Aaron Craft and Shannon Scott form a backcourt duo that specializes in harassing opposing ball-handlers. The Buckeyes own the nation's fourth-best scoring defense, limiting teams to 55 points per game on 37 percent shooting.
"No matter how well we are shooting the ball, no matter how well we are playing offensively, we will always be a team that hangs on our defense," Thompson said. "Anytime our defense is clicking like that and we are able to get easy layups and transitions off of our defense, it really gets us into a flow offensively."
And even with the demotion, Thompson's playing only three fewer minutes than he did a year ago – but still supplying the same high-flying, acrobatic dunks.
"He is just so athletic and guys do a great job of finding him," Matta said. "A lot of things develop when he runs hard. We are able to score a lot just from him running through to the basket."
In the past, the sixth man has been a vital cog on Matta's teams in Columbus. From Daequan Cook to B.J. Mullens to Aaron Craft, it's been a coveted role that's led to overall team success. The same can be said for the Trey McDonalds and guys further down the line.
With experience comes confidence and the knowledge that they can be relied upon in games with meaning. McDonald's become a more consistent offensive (see: rebounding) and defensive player with added playing time this year, while Della Valle's developed into more than a sharpshooting guard. The floppy-haired Italian has incorporated defense into his budding skill set. 
"It excites me," Matta said of Della Valle's progress. "I know how hard he works and how badly he wants the team to do well. He wants to contribute and be a part of what we are doing. He's diligent in his work and he is doing exactly what we need him to do for us."
Said Della Valle: "Usually we talk on the bench and make sure we bring energy to the team. When you bring energy, you are already doing something big. Then shots come and you play good defense."
A combination of starters and reserves has fueled an undefeated start to what many thought would be a rebuilding year. As the season stretches into the dogged winter months with Big Ten foes bearing down on Ohio State, Matta will have a new, rare defense mechanism.
"We feel like our energy off the bench can affect the game in a major way," Loving said.