Last week, Aaron Craft delivered the season's most swoon-tastic play against Purdue, going coast-to-coast three times in a span of about fifteen seconds. If last season is indicative of how Craft will perform against the Spartans, Tuesday, there will be more swooning to come.  
Outside of Ohio State and Michigan State, there are three other teams that went undefeated in the first week of Big Ten basketball play. Wisconsin is undefeated in conference and, like the Buckeyes, 15-0 on the season. The Big Ten is the only conference with more than one undefeated team. 
Iowa had a shot to knock off the Badgers in Madison, but blew a big halftime lead. That game taught us the Hawkeyes' head coach still has anger management issues. 
Elsewhere, the two Indiana schools, in a state that supposedly prides itself on basketball, are winless in conference and have a combined ten losses. 
On to the standings. 
1. Ohio State (15-0, 2-0)
Last week: 78-69 win at Purdue, 84-53 win vs Nebraska
This week: at Michigan State, vs Iowa 
The Buckeyes used second half spurts to fend off Purdue and trounce Nebraska. Both games tested OSU's depth, particularly due to Amir Williams' foul trouble. It forced Thad Matta to put LaQuinton Ross at the "five" and guard Boilermakers' big A.J. Hammons. Against Nebraska, he leaned on the bench for a late, first-half spark and Amadeo Della Valle, in particular, provided it. 
Next, Ohio State will travel to Michigan State for a battle of two top-five teams. Matta feels the Buckeyes are ready for their biggest test, yet. 
"The environment, Tuesday, over there at West Lafayette was probably very similar to what we are going to see this coming Tuesday," Matta said, after the Nebraska game. "Our guys have a great appreciation for how good Michigan State is."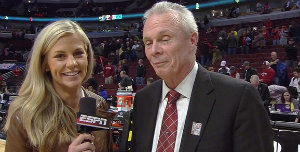 1. Wisconsin (15-0, 2-0) 
Last week: 76-49 win at Northwestern, 75-71 win vs Iowa
This week: vs Illinois 
In matching the best start in school history, Bo Ryan continues to show he's built one of the country's most consistent programs. Although the Badgers haven't won a conference title since the 2007-08 season, the pesky Badgers always finds a way into sneak into the upper half of the Big Ten. 
This year's squad has a legitimately watchable and balanced offense (as opposed to every other year, where they're as exciting as a urinary tract infection). Toledo native and Badgers freshman Nigel Hayes put up 19 against Northwestern, showcasing his low-post abilities. Ben Brust led the way against Iowa, especially in the second half. Overall, their leading scorer is Sam Dekker, who struggled but had up a couple clutch buckets versus the Hawkeyes.
With the way they've started the year, Wisconsin is destined for big things – that, or bowing out in the sweet sixteen again.  
1. Michigan State (13-1, 2-0)
Last week: 79-63 win at Penn State, 73-56 win at Indiana
This week: vs Ohio State, vs Minnesota
Sparty had a terrible half against the North Carolina Bipol(T)ar Heels, Dec. 4. Other than that, Michigan State has looked impressive thus far, with wins against Kentucky and at Texas. They started the Big Ten portion of the schedule with two road wins, dominating Penn State in the second half and controlling the Indiana game, throughout.
You know Tom Izzo's crew – wing Gary Harris (battling an ankle injury, leading to some inefficient performances?), Dayton's Adreian Payne (with an improved post game!), plus Keith Appling, Branden Dawson, Denzel Valentine and Huber Heights native Travis Trice coming off the bench. It's an experienced squad that will be picked by many to wind up in the Final Four.
Per usual, Tuesday night's game in East Lansing should be a close, physical battle. 
1. Illinois (13-2, 2-0) 
Last week: 83-80 OT win vs Indiana, 75-55 win vs Penn State
This week: at Wisconsin, at Northwestern 
The Illini look almost nothing like last year's tournament squad, but they're heading down that path again. Drake transfer Rayvonte Rice is in his first season with Illinois and leads the Big Ten in scoring, averaging 18.7 points a game, to go along with 5.8 rebounds. He was the key to their overtime victory against Indiana, scoring 29 points and helping force 23 Hoosier turnovers. 
Losses to Georgia Tech and Oregon in their only road games don't make for an impressive resume, but the Illini will get a chance to improve it with Wednesday's game in Madison. 
1. Michigan (13-2, 2-0)
Last week: 63-60 win at Minnesota, 74-51 win vs Northwestern
This week: at Nebraska
ESPN.com's Jeff Goodman reported Mitch McGary will undergo back surgery, Tuesday, likely ending his season. He's turned into a glorified assistant coach while wearing suits, participating in huddles and carrying papers. The Wolverines are staying afloat, though, due to a fairly deep squad and a surprisingly good assist-to-turnover ratio. 
Pickerington's Caris LeVert has entered the starting lineup and is scoring 12.4 points per game, the third best on the team. Nik Stauskas remains one of the Big Ten's best three-point shooters and Glenn Robinson III remains capable of scoring outbursts, despite also battling injuries – for example, he put up 20 in a close loss to Arizona. 
Michigan gets a favorable start to the conference schedule, playing Northwestern, Nebraska and Penn State in three straight games. Their first, big test comes Jan. 18 at Wisconsin. 
6. Iowa (12-3, 1-1)
Last week: 67-57 win vs Nebraska, 75-71 loss at Wisconsin
This week: vs Northwestern, at Ohio State
He has since apologized for that outburst, but it's worth noting Fran McCaffery has a a history of anger management problems. Whatever punishment the Big Ten hits him with will undoubtedly do little to calm him down.
Perhaps costing his team a victory would change his ways. After all, Iowa was up two on Wisconsin before McCaffery's double-techincal inducing tirade. The Badgers went on an 18-8 run after the gift of four technical free throws. While the lead was slipping away regardless, the Hawkeyes probably could've used those four extra points, considering they lost, 75-71. 
They put together a tremendous first half, though, displaying the depth and all-out scoring barrage that should make them an NCAA Tournament squad. 
6. MInnesota (13-2, 1-1)
Last week: 63-60 loss vs Michigan, 82-79 win vs Purdue
This week: at Penn State, at Michigan State
New head coach Richard Pitino eased into Big Ten play with two straight home games and a senior-laden squad used to the rigors of the conference. They battled Michigan to the wire in their B1G opener, with a Dre Mathieu three-point make away from sending that game into overtime. The Gophers nearly blew a 16-point second-half lead against Purdue, but hit their free throws down the stretch.  
After Penn State, they face a ridiculously tough stretch, playing at Michigan State, versus Ohio State, at Iowa and back home against Wisconsin. 
8. Indiana (10-5, 0-2)
Last week: 83-80 OT loss at Illinois, 73-56 loss vs Michigan State
This week: at Penn State
The young Hoosiers squad has been forced to grow up quickly, having lost their last two games and both of their road contests. Their scoring average (80.3 per game) and pace of play is typical of a Tom Crean squad, but it's somewhat misleading. The biggest on-court issue with IU is the amount of turnovers.
At No. 311 in the country in assist-to-turnover ratio, the Hoosiers don't exactly have the best formula for winning games. In their last two games they turned the ball over 15 and 23 times, respectively.
Yogi Ferrell is a dominant scoring guard, but turnover prone. Outside of him, future lottery pick Noah Vonleh needs to get more touches in the post. He only took four shots against Michigan State. Crean, who is an expert on selfishness, thinks Vonleh needs to take charge: 
Tom Crean says that Noah Vonleh needs to become more selfish. Says he hates using the term, but that's what he needs to do. #iubb

— Alex Bozich (@insidethehall) January 4, 2014
8. Purdue (10-5, 0-2)
Last week: 78-69 loss vs Ohio State, 82-79 win at Minnesota
This week: vs Nebraska
Outside of center A.J. Hammons and point guard Ronnie Johnson, the Boilermakers lacked the firepower to take down the Buckeyes. The perimeter defense was a major issue, with Craft consistently driving into the lane and Ross scoring at will in the second half. Those problems carried over into the Minnesota game, as the Gopher backcourt scored 46 points. 
Purdue gets a week off to figure out the defensive woes, and a chance to turn it around at home, against Nebraska. 
8. penn state (9-6, 0-2)
Last week: 79-63 loss vs Michigan State, 75-55 loss at Illinois
This week: vs Minnesota, vs Indiana 
Penn State's yearly, random upset nearly took place on New Year's Eve against Michigan State. They took a seven point lead into halftime, but immediately surrendered that lead. The Spartans went on a 10-0 run to start the second half, fueled by a pair of Gary Harris three-pointers. Saturday's game followed a similar pattern, as the Illini outscored the Nittany Lions by 18 in the second.
Positive thinking, here: Penn State has the best offensive backcourt in the conference. D.J. Newbill has been a breakout stud, hitting 50 percent of his shots and over 42 percent from deep. Point guard Tim Frazier returned from injury and is nearly averaging 17 points and 7 assists per game. He's struggled in their last two games, however. 
8. Nebraska (8-6, 0-2)
Last week: 67-57 loss at Iowa, 84-53 loss at Ohio State
This week: vs Michigan, at Purdue
The Huskers played a close game against Iowa, for the most part, and put up quite a few early buckets in Columbus. Texas Tech transfer Terran Petteway looks like a legitimate threat to win a B1G scoring crown in the future, as he's quick off the dribble and has a respectable outside jumper. He's scored 15 or more in each of their last four games, but he isn't getting much help. 
Nebraska will host their first Big Ten opponent in their new arena, when Michigan comes to Lincoln, Thursday. Also, look out for head coach Tim Miles, who likes to live tweet his team's games: 
We have to cut down the turnovers and their fast break points.

— Tim Miles (@CoachMiles) January 4, 2014
8. Northwestern (7-8, 0-2)
Last week: 76-49 loss vs Wisconsin, 74-51 loss at Michigan
This week: at Iowa, vs Illinois
New head coach Chris Collins certainly has a tough rebuilding project ahead of him, as he leads the only Big Ten team under .500. The Wildcats aren't particularly good, losing to the likes of Illinois State and DePaul.
Still, Drew Crawford is one of the Big Ten's top-10 scorers, and the only senior playing significant minutes on a young squad.