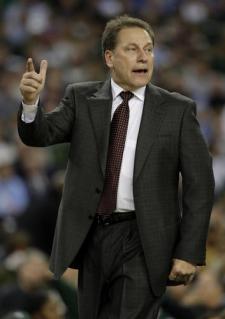 It's not often the regular season puts together a top-five matchup. In fact, the Breslin Center has only hosted one such game. Tuesday night will be the second. Ohio State and Michigan State have never met with both teams ranked in the top 5. The two schools meeting when both are highly ranked has become common, though.
The Buckeyes and Spartans have formed the Big Ten's newest rivalry, with Thad Matta and Tom Izzo attempting to one-up the other for position atop the conference year in and year out. The conflict, built on respect between the coaches and players, all comes down to success.
"Rivalries are built on two good teams that are playing and playing for something," Izzo said. "Us and Ohio State have played for a lot of Big Ten Championships in the last six or seven years or at least have been right in the hunt. When you've been able to do what we've done, and that's kind of maintain some semblance of consistency, different teams become your rivals in certain ways."
In the nine full seasons Matta's been at Ohio State, he and Izzo have won six regular-season conference championships, been in five final fours and advanced to two national championship games.
Not many coaches have been able to solve the Breslin Center riddle – Michigan State's won nearly 90 percent of its games at the rambunctious venue – but if there's someone who has it's Matta. He's won four games in East Lansing, and done so with stakes at their peak.
"Those are some high-level games," Matta said. "You just look at the players that have played in those games. It's been amazing."
Chances are Tuesday's tussle will be added to the growing list of classics played between these uneasy neighbors – in both football and basketball. Still fresh in the minds of many Ohio State fans is the Big Ten football championship loss a month ago.
The Buckeyes and Spartans split their meetings last year, with Ohio State winning in the Big Ten Tournament.
"I just got done watching [that game]. If I weren't coaching I'd say, 'God that was a heck of a game,'" Izzo said. "There's been some great games, most of them have gone right down to the wire. I think they're very well played.
"I think it's been a good, clean hard fought rivalry."
| # | Name | YR | HT/WT | PTS | REB | AST | P | # | Name | YR | HT/WT | PTS | REB | AST |
| --- | --- | --- | --- | --- | --- | --- | --- | --- | --- | --- | --- | --- | --- | --- |
| 4 | A. Craft | SR | 6-2/195 | 9.3 | 3.5 | 4.9 | G | 11 | K. Appling | SR | 6-1/185 | 15.6 | 3.3 | 4.6 |
| 3 | S. Scott | JR | 6-1/185 | 8.7 | 4.2 | 4.0 | G | 14 | G. Harris | SO | 6-4/210 | 18.2 | 4.5 | 2.9 |
| 32 | L. Smith Jr. | SR | 6-4/210 | 12.7 | 4.9 | 1.6 | G | 45 | D. Valentine | SO | 6-5/225 | 7.4 | 5.2 | 4.0 |
| 10 | L. Ross | JR | 6-8/220 | 13.6 | 6.0 | 0.5 | F | 22 | B. Dawson | JR | 6-6/225 | 11.2 | 9.0 | 2.3 |
| 23 | A. Williams | JR | 6-11/250 | 9.7 | 6.5 | 0.3 | C | 5 | A. Payne | SR | 6-10/245 | 16.1 | 7.9 | 1.5 |
Opponent Breakdown
Winning basketball games in large quantities is a yearly norm at Michigan State. But the once top-ranked Spartans haven't looked like the first- or even second-best team in the Big Ten after an uninspiring stretch during November and December. Then the calendar flipped, and so did a switch for Tom Izzo's veteran-laden group.
Michigan State has won six consecutive games since a confounding home loss to schizophrenic North Carolina. Since an uncharacteristic close win over Oakland, the Spartans have won by wide margins, including an impressive 14-point victory at resurgent Texas.
A 2-0 record in the early going of Big Ten season was highlighted by a rout of Indiana at Assembly Hall.
"They have all the makings of what a national championship team looks like," Indiana coach Tom Crean said.
But don't think Izzo is nearing the satisfaction zone.  
"With all the injuries we've had, we were just kind of out of sync," he said.
Now, the Spartans' lineup, filled with experienced players who are used to the big stage, are primed for yet another March run. However, first comes the nation's most competitive conference.
Keith Appling, Adreian Payne and Branden Dawson form one of the top starting trios in all of America. As Payne put it after the Indiana game, "We're very old." Wise might be a better descriptor. When Michigan State takes the basketball court, it might not win every game, but chances are the Spartans will play smarter and be more disciplined than their opponent. That in itself leads to a tremendous advantage.
"I mean, we've been through it all," Appling said. "We're a veteran team."
Izzo credits his older players with teaching the youngsters how to go about their business and play in big games. A majority of those have been played away from the Breslin Center this year, adding another layer of an already tough exterior to the Spartans. In the latest outing, it was a sophomore who provided the exclamation points – literally.
Gary Harris, Michigan State's most energetic, excitable player, scored a career-high 26 points at Indiana while still battling an ankle injury that's plagued him all season. The Spartans' version of the Big 3 might garner most of the attention, but if they make a run at the Final Four in late March, Harris' knack for stepping up will evolve into one of the primary reasons. 
In 37 minutes against the talented but young Hoosiers, Harris made 8-of-18 attempts from the field, including 5 of 10 from three-point range. He even had a four-point play and added five steals, delivering a well-rounded overall performance. Crean referred to Harris as an "assassin."
"Harris of course was unbelievable. He's a special player," Izzo said. "I swear he's not where he's going to be."
Buckeye Breakdown
If there's a knock on 15-0 and third-ranked Ohio State, it's that the Buckeyes have yet to be tested. Marquette, Maryland and Notre Dame were solid opponents, but nothing like what Ohio State will face in Michigan State.
So far, Marquette was the only ranked team the Buckeyes played. The Notre Dame game was the only contest in doubt late in the second half. This week, they'll face two ranked foes – Michigan State and Iowa. If there's any doubt how good Ohio State really is, the answers will come in due time.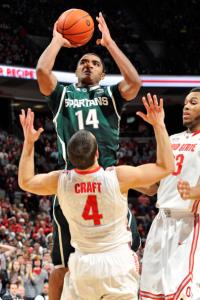 The same could be said for a defense that still hasn't allowed 70 points in a game. Opponents aren't scoring much and they're shooting even worse. The Buckeyes rank first in fewest points allowed per possession and three-point percentage. But can the same level of defense be put on Michigan State on the road? 
"Obviously you've got a typical, great Michigan State team, and they're very, very experienced from handling their defensive intensity, to the transition offense, to rebounding the basketball," Ohio State head coach Thad Matta said. "You have to play great basketball across the board to beat them."
When you're unbeaten in the month of January, winning any game is a possibility. And there isn't much the Buckeyes don't do well. The starters are good, the bench is good, the defense is good, the offense is good. The one deficiency has come outside Columbus. Three times Ohio State's played away from Value City Arena, and all three games had poor results in shooting 3s – to the tune of 17 percent.
Making 3s won't decide Tuesday's game, but the Buckeye would be wise to finish with a number higher than 17 percent. More importantly, it'll take defense, something they're familiar with. The headliner is the battle between Aaron Craft and Keith Appling. What Tom Izzo doesn't want is Appling making the game about he and his counterpart.
"I think sometimes Keith does that," Izzo said. "I think it gets to be where those two guys get talked about and that's not good for Keith. I think he's got to just play his game. They're two different kinds of players and both very good defensively, but Keith can do some other things that I think Craft can't do, and Craft can do some things that Keith doesn't do as well. You have to worry about yourself."
Etc
Aaron Craft was named Big Ten player of the week after averaging 8.0 points, 7.0 assists, 3.5 steals and 5.5 rebounds in wins over Purdue and Nebraska. 
This is the first top-five matchup between Ohio State and Michigan State.
The Buckeyes have won of the past three games at the Breslin Center and are 22-11 vs. Michigan State when ranked in the top 25.  
The teams have split 14 meetings when both are ranked.