Friday nights are the ideal time for Ohio State students to pre-game on "Natty Light" and head to Little Bar, especially that rare Friday that features a football game. 
While the rest of campus settled in somewhere to watch the Orange Bowl, the Buckeye basketball team prepared for its early game against Nebraska. The noon tip-off isn't exactly conducive to typical college activities. 
"We all have friends on the football team, we're all huge football fans," junior forward Sam Thompson said. "We want to watch the game and support the team, but, at the end of the day, we have to do what's best for us." 
What was best for them, probably, was avoiding the absorption of bad defensive habits from watching the Orange Bowl. Even if they didn't have to deal with the temptation of watching the OSU-Clemson game, starting their routine in the morning is still something the team isn't entirely used to.
For now, this is only the second of three noon tips. Junior Amir Williams briefly explained how they prepare for an early game, such as today's. 
"8 or 8:30 a.m. shootaround, then breakfast and you chill out for a minute," Williams said. "We start getting ready for the game around 10:30." 
At least playing in Columbus gives them a better opportunity to devise a plan for pregame activities.
"The one big difference is home and away," head coach Thad Matta said. "Sometimes we don't get a chance to shootaround in an opponent's building."
| # | Name | YR | HT/WT | PTS | REB | AST | P | # | Name | YR | HT/WT | PTS | REB | AST |
| --- | --- | --- | --- | --- | --- | --- | --- | --- | --- | --- | --- | --- | --- | --- |
| 4 | A. Craft | SR | 6-2/195 | 9.4 | 3.5 | 5.0 | G | 0 | T. Webster | FR | 6-4/194 | 6.2 | 2.2 | 2.6 |
| 3 | S. Scott | JR | 6-1/185 | 8.4 | 4.2 | 3.9 | G | 15 | R. Gallegos | SR | 6-2/182 | 7.9 | 1.6 | 1.8 |
| 32 | L. Smith Jr. | SR | 6-4/210 | 13.4 | 5.1 | 1.7 | G | 5 | T. Petteway | SO | 6-6/209 | 17.3 | 4.7 | 1.2 |
| 10 | L. Ross | JR | 6-8/220 | 13.8 | 6.2 | 0.6 | F | 5 | S. Shields | SO | 6-7/219 | 12.5 | 5.4 | 1.8 |
| 23 | A. Williams | JR | 6-11/250 | 9.6 | 6.9 | 0.4 | C | 35 | W. Pitchford | SO | 6-10/234 | 8.8 | 5.1 | 0.4 |
Opponent breakdown
On paper, Nebraska's offense should leave little for Ohio State to worry about. Their 71 points per game average and No. 125 spot in KenPom.com's adjusted offensive offensive efficiency rankings puts them towards the bottom of the Big Ten. 
This year's team is a relative juggernaut compared to last season, however. The 2012-13 Huskers averaged only 58.3 points per game, although some of their low scoring outputs can be attributed to a slow pace of play. Nebraska has moved up 136 spots in KenPom's adjusted tempo rankings. 
"They're a much more improved team than last year, a lot more athletic. They can get up and down the court a lot better," Williams said. "We just have to be aware, be able to communicate on defense and not take them lightly. They're capable of coming in here and putting up a lot of points."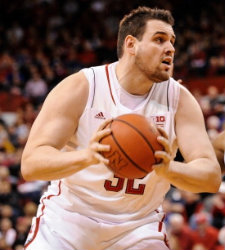 The Huskers' new style of play is due, in large part, to a revamped starting lineup. It features combo guard Tai Webster, a freshman from New Zealand, and two transfers – big man Walter Pitchford (Florida) and their leading scorer, wing Terran Petteway (Texas Tech). Matta specifically referenced Pitchford's shooting abilities, as the 6-foot-10-inch forward takes over three shots per game from beyond the arc and hits them at a solid 38-percent clip. 
"He picks and pops, shoots them pretty well," Matta said. "They've got a good balance of a low-post game, as well."
Williams will match up with Pitchford, a much different and probably more suitable challenge for Williams than Purdue's A.J. Hammons. 
"These guys can shoot threes, as well, so I'll have to be able to guard on the perimeter this game," Williams said. "They attack the basket, they run in transition, so it's something that a normal Big Ten big does, I guess." 
Buckeye Breakdown:
Williams' foul troubles against the Boilermakers, combined with those of backup center Trey McDonald, caused a massive shift in Ohio State's rotations. 
Matta went with a smaller lineup and stuck LaQuinton Ross with the difficult task of guarding Hammons. Although Purdue's 7-footer dominated on the glass, he missed 10 of his 16 shots. The constant double teams, plus Ross' ability to front and guard the post certainly contributed to Hammons' poor efficiency. 
Coming off the win in West Lafayette, Matta feels Ross is getting better on the defensive end. 
"Quite honestly, he's starting to envision seeing it the right way," Matta said. "It's starting to click more and more as the weeks go by."
Etc
Ohio State leads the all-time series, 9-2
The last time the Huskers beat the Buckeyes was Dec. 30, 1985 in El Paso, Texas
Since Nebraska joined the Big Ten, Ohio State has won each matchup by an average of 23.8 points
Marc Loving was the recipient of a major chunk of minutes, while Williams and McDonald sat on the bench. He poured in eight points and appeared to be more confident at Purdue than in his previous two games away from Columbus. Overall, Thompson believes Loving can continue to make a tremendous impact on this team.
"He really came in with the right attitude, and when you do that, your talent is able to show," Thompson said. ""He's done a great job knocking down shots, playing with toughness, he's really done a good job picking up our system."
With Loving providing a scoring punch off the bench, it eases on the burden on Thompson, who admits he's been struggling lately.
"I don't think it's any secret I haven't been producing very well on the offensive end," he said. "It's just about getting myself back to where I need to be offensively and continuing to help my team out in any other way that I can."
[image courtesy of Getty Images]