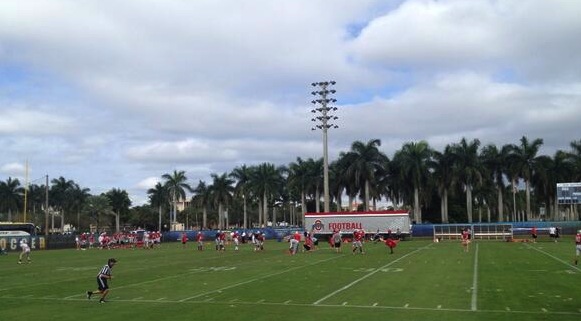 FORT LAUDERDALE, Fla. – At this rate, Ohio State might not have anyone left on defense for the Orange Bowl. Noah Spence is still at home, Bradley Roby is nursing a bone bruise in his knee and Curtis Grant's back has flared up.
Roby and Grant were in full pads stretching and jogging along the sideline while the media was at practice Monday. But Roby did participate later, though it remains a mystery as to what his status will be Friday night. There was no update on Spence's status.
Another level of intrigue is the food poisoning or flu bug that's enveloped the team. Candice Lee, an anchor for NBC4 in Columbus and the mother of freshman linebacker Darron Lee, tweeted that several players were stricken with food poisoning. An Ohio State spokesman and head coach Urban Meyer later dispelled those rumors, instead saying a 24-hour was the culprit. Meyer said they've been quarantined from the rest of the team.
Regardless of the cause, the Buckeyes are shorthanded at an inopportune time.
BULLETS:
Junior wide receiver Corey Smith has apparently changed numbers from 84 to 7. Single digits are often coveted, which could mean Smith was rewarded. A team spokesman said he didn't know if the move was permanent. 
Freshman running back Dontre Wilson spent time working the wide receivers during drills.
Two players that have stuck out to Urban Meyer during bowl prep are Vonn Bell and Tyvis Powell.
"I've always been a Vonn Bell guy." –Meyer
Meyer said he has a tremendous amount of respect for defensive coordinator Luke Fickell and said he is confident Fickell will fix the defensive woes.
"We have to hit a home run." –Meyer on Everett Withers' replacement. He said the person will probably be a safeties coach/co-defensive coordinator.
Freshmen J.T. Barrett and Jalin Marshall are playing the part of Tajh Boyd and Sammy Watkins on the scout team.
Hydration was a major theme stressed by Meyer and junior tight end Jeff Heuerman. Meyer said they "kill" the team by preaching how important hydrating is, while Heuerman said players are losing eight to ten pounds during practices. He said the weather is getting them into shape.
When he coached at Florida, Meyer said getting players to come out of the locker room at Vanderbilt in 30-degree weather was a chore. Now the opposite is happening.
The most interesting nugget: Meyer said he never talked to Chad Morris about becoming the offensive coordinator at Ohio State. Earlier in the day, Morris all but confirmed Meyer asked him.
Heuerman said coaches are giving players free time to enjoy themselves. He raved about South Beach. Stunning.
On Thursday, Ohio State will have a team dinner at St. Thomas Aquinas High School, home of Joey Bosa and many other talented former, current and future college players.
Meyer said he almost took an assistant job in the NFL early in his career. He added that he has no NFL aspirations anymore. Asked about the Browns job, Meyer said he's not looking to leave Ohio State.