As the calendar turns over to 2014, many high school basketball teams are about a month deep into their schedules and focusing on conference play.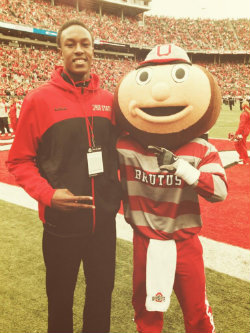 Myles Turner's Trinity (Euless, Texas) squad is 9-1, and in the middle of a two-week break. That allowed him to take a short trip to Austin for an unofficial visit.
Turner also ended up on a prestigious list, which includes a future Buckeye women's basketball star.
Plus, an Ohio prep hoops showcase will feature some of the state's top talent in the next two classes.
Turner checks out the university of texas
With two of his visits delayed by patriotic duties and weather, Turner decided to take a more convenient trip to aid him in the recruiting process. 
Austin, Texas is only a three-hour trip from the Dallas-Fort Worth area, limiting the amount of obstacles Turner would face if he plans a visit to the University of Texas. After all, he couldn't make it up to Oklahoma State because of a massive winter storm and he had to postpone his Kansas visit when it conflicted with his USA Men's National Team obligations.
Until Saturday, Ohio State was the only visit he made after his massive, summer rise on the AAU scene. Although not an official visit, Turner has now been to Texas, as well. He watched the Longhorns fall apart in the second half against Michigan State, as the Spartans went on to win, 92-78. Still, Turner took note of the atmosphere at the Frank Erwin Center. 
"The game was fun, that was the [liveliest] I've seen the Texas fans," Turner told SNY.tv. "You can tell Texas is really holding down their own and the city of Austin is excited to have the program going in the right direction. I could definitely see myself there."
While he may feel Rick Barnes has turned it around, the Longhorns' head coach has struggled recruiting his own state. He's missed out on a massive amount of talented Texans over the past five years, including: Emmanuel Mudiay (SMU), Julius Randle (Kentucky), the Harrison Twins (Kentucky), Isaiah Austin (Baylor), Marcus Smart (Oklahoma State), Rasheed Sulaimon (Duke), LeBryan Nash (Oklahoma State) and Perry Jones III (Baylor). 
Turner is also considering Arizona, Duke and Kentucky. 
A Mini-Documentary on the Texas High School Star
The Fort-Worth Star Telegram documents Turner's journey from childhood to nationally renowned recruit. In this YouTube feature, Turner said he once received 97 letters from college coaches in one day:
Two notable hoopsters make the Naismith High School Watch List
A final bit of Turner news also includes a future Buckeye. 
The Atlanta Tipoff Club announced their Naismith Trophy High School Player of the Year watch list, which includes Turner and Ohio State signee Kelsey Mitchell. The Cincinnati native is the top-ranked guard in the country, according to ESPN. Her twin sister, Chelsea, will follow her to Columbus, where they will join their father, Mark, who is an assistant under Buckeyes head coach Kevin McGuff. 
Joining Turner on the men's watch list are Jahlil Okafor (Duke), Tyus Jones (Duke), Trey Lyles (Kentucky) and Cliff Alexander (Kansas), among others.  
Weekend prep showcase Features One Buckeye, one OSU target
Due to the holidays, there's a bit of a lull in  on-court action across the country. Massillon Jackson High School will attempt to make up for it by hosting four games, Saturday, in the Play4Cancer Shootout. 
Buckeye fans should definitely pay attention to the two evening contests. At 6 p.m., OSU target Carlton Bragg and his Cleveland VASJ squad will take on Columbus Bishop Watterson. Bragg took an unofficial visit to Columbus during the Florida A&M football game, Sept. 21.
The feature game in the shootout pits host Massillon Jackson versus Pickerington Central. Buckeye signee Jae'Sean Tate plays for Pickerington Central, and he will match up against AAU teammate Evan Bailey, a three-star College of Charleston commit.