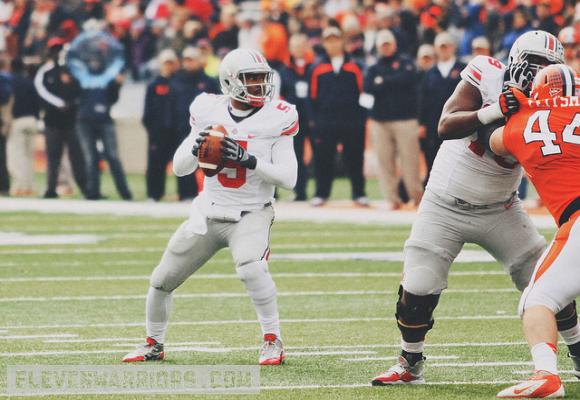 Accuracy and consistency throwing the football might be Braxton Miller's biggest drawback when pondering his NFL future. What isn't missing is confidence. Miller told a group of reporters on Wednesday that he's "definitely" ready for the next level. The final decision won't come until after the Jan. 3 Orange Bowl, and Miller gave no indication which way he might be leaning.
A so-so final month that featured underwhelming passing numbers sent Miller's draft stock plummeting to the third round at the earliest. He submitted paperwork to the league but was unaware of when he'd receive his draft grade.
"Just like I came from high school, coaches are going to get you prepared get you mentally ready for everything," Miller said. "It's just another step in life."
No outside forces will factor into his decision-making, according to Miller. Last week, after winning the Chicago Tribune Silver Football for the second consecutive season, Miller told the paper that the cumulative effects from taking so many hits was wearing on his body. But he changed his tune this week, saying hits are a non-issue. He also said his family's financial situation has no bearing on what he will decide.
"Toward the end of the season, your body starts breaking down a little bit. All the hits add up," Miller said. "That's why in bowl season, you get a couple weeks of down time, you take a couple of weeks to regroup from all the games during the season. I just need to take care of my body, get massages. I'll be all right."
Said head coach Urban Meyer: "I think near the end, we did run Braxton a little bit too much. Early in the season, there were a bunch of games we had one or two quarterback runs. That's kind of where we want to be. We have to throw the ball better, too."
Whatever Miller ultimately chooses, his decision will shape Ohio State's 2014 season. A return would signal a continuation of the current revival, while leaving the Buckeyes means the beginning stages of a completely rebuilt offense – new quarterback, new running back, new offensive line. Cardale Jones and J.T. Barrett would compete during the spring and fall for the starting quarterback position. 
If draft prospects were based purely on statistics, Miller would be guaranteed to go in the first round. He swept all the major Big Ten awards for a second straight year after tallying 1,860 passing yards and rushing for more than 1,000 yards in 10 games due to an early-season knee injury.
When decision time arrives – the deadline is Jan. 15 – Miller said his family and coaches will be consulted. Meyer said he has not spoken with Miller or linebacker Ryan Shazier yet about the future. Of the pros and cons, Miller listed far more reasons why a return to Ohio State would benefit him. 
"Learning from Coach Meyer. He's one of the best in the game," Miller said. "Getting better at my craft. Graduating, too."
Despite 22 touchdown passes and only five interceptions, something as simple as improving fundamentally as a passer would greatly enhance Miller's NFL outlook. His completion percentage isn't at the level front office personnel prefer in a franchise quarterback. Reaching that threshold is within view, though. The 70 percent mark is thought to be a golden number, and Miller completed 72.5 percent of his throws until a dismal stretch in November and December when his completion percentage dipped to 46.3 percent.
Miller at Ohio State

| YEAR | CMP | ATT | YDS | % | YPA | TD | INT |
| --- | --- | --- | --- | --- | --- | --- | --- |
| 2011 | 85 | 157 | 1159 | 54.1 | 7.38 | 13 | 4 |
| 2012 | 148 | 254 | 2039 | 58.3 | 8.03 | 15 | 6 |
| 2013 | 146 | 231 | 1860 | 63.2 | 8.05 | 22 | 5 |
"I think he did OK," Meyer said. "We just have to play better. Braxton has got to play better, but the guys around him have to, too. We just have to get better. It's not Braxton."
Asked what advice he might give Miller, Meyer responded, "That's between Braxton and me." But Meyer has already tipped his cap on this subject. He's never shied away from praising Miller and calling him an NFL quarterback. Meyer's also not held back in saying Miller isn't quite ready to make the jump to the professional ranks.
"He has a skill set to be a pro quarterback, there is no doubt in my mind," Meyer said. "I don't believe he's ready yet, but I certainly get asked that question. Can Braxton Miller play an NFL quarterback? Absolutely, he can. There's no doubt in my mind because he continues to develop."
Right now, the development is focused squarely on Clemson, not the decision or a possible workout at the NFL combine.
"I'll worry about it after the game," Miller said. "I'm just focusing on getting better myself as an individual, getting the team ready, getting in the film room and making sure I'm taking care of my business."