Today, after nearly two long years of recruitment, up-and-down emotions and a back-and-forth decision making process, Raekwon McMillan has made his college choice and just announced via NBCSports.com/Rivlas.com on live TV that he's headed to Ohio State.
While many had thought McMillan was Columbus bound for sometime the decision was far from easy for the nation's top prep linebacker. He struggled mightily with the whether to follow his head, which had him believing that Alabama might be the "best" place for him, or his heart, which has always loved Ohio State. Today he chose his heart.
McMillan, the nation's top-ranked inside linebacker prospect according to 247Sports.com's composite feature, which combines the ranking for players across the three major recruiting networks, is not just your everyday, run-of-the-mill athlete. He's a deeply introspective talent that uses brain as much as brawn and despite multiple emotionally charged visits to each school he considered, ended up choosing the one he was always the most at ease, the most comfortable, with.
The RAEKWON MCMILLAN FILE
Size: 6-2/242
Pos: LB
School: Liberty County (Hinesville, Ga)
Composite Rating: ★★★★★
Composite Rank: 1 (ILB)
At 6-foot-2, and 242-pounds, McMillan fits the mold at linebacker perfectly, he is a run-stuffing nightmare, but has excellent top end speed that allows him to get sideline-to-sideline if he needs to. Simply put, there's not much that Raekwon McMillan can't do, and the knack for football was something his mother, Monica Washington, recognized at an early age.
"He was nine-years-old when he started really playing football," Mrs. Washington told 11W. "(We) wanted something that would keep him focused, something he would enjoy doing and something that could give him a future besides sitting in front of the TV playing video games. So his father and I signed him up for (recreational football) and it's been that ever since."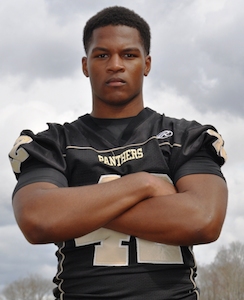 "(His football talent) was real natural talent. He first started as a running back, but as he got bigger, they wanted him to start tackling. It's just a God-given talent. Like it was just meant to be."
Last week, McMillan was named the high school football winner of the Butkus Award. The award, given at the high school, collegiate and professional levels, is not awarded solely on athletic prowess, and it's the Georgian's success off-the-field that has earned him the respect of coaches, teammates and opponents everywhere he's been in the past two years. Despite all the acclaim, McMillan has kept a low-profile and kept his focus where it belongs, on others.
"He's grown from a good football player who was quiet, who led by example, to a kid who was a vocal leader his senior year," Tony Glazer, an assistant coach at Liberty County told Eleven Warriors when McMillan was awarded the Butkus. "He turned into the best LB in the nation (because) he was the ultimate team guy. It was always about just trying to get in the win on Friday an not how many tackles could he get. He's a better person then he is football player."
When asked how she has seen him grow after years of national attention, attention that can often take even the humblest soul and turn them into a "me-first" person, Washington echoed the sentiments of Glazer, heaping praise on her son, not as a football player, but as a person.
"He's always stayed so humble," she said. "Raekwon is an 'old soul,' but he's grown into a wonderful young man. I'm most happy about his academics, because even though he's a smart kid, with all this stuff going on he has still maintained his 3.4 grade point average. I'm not worried about much (as he prepares to leave for college in under three weeks,) I just don't want him to get caught up in any hype. (I hope) he just stays focused and always do what his heart feels."
It was his heart that led him to the choice he made today, the choice to pick the Buckeyes despite immense pressure to stay closer to home, to play football in the SEC, and to "buck" the "tide" that insists that good football is only played beneath the Mason-Dixon line.
It was not just McMillan's relationship with the Ohio State head coach that pushed him in direction of the Buckeyes. He's become very close with another nationally-ranked recruit who spurned the lure of southern football, Buckeye commitment Jalyn Holmes.
Much was made over the last few months about McMillan's choice being impacted by his desire to stay closer to home, and to his younger brothers and parents, but in the end, the decision is about the chance to play big-time football at a place he was comfortable inside and out, knowing that he'll get a chance to compete for national championships and to receive a degree. The latter is what stands out to his mother.
McMillan's talents extend off the football field as well, he's an ROTC member and is even skilled in places one would not usually predict for a teenage as adept at a game with football's inherent violence."We want him to be happy and get his degree," Monica Washington said. "So wherever he is going to be happy, (wherever) he is going to accomplish all he needs (to do,) we are satisfied. We've always said that hundreds of miles away from home is not a problem."
"He's an awesome baker! He bakes cakes from scratch," Washington added. "They are awesome. (He makes) the icing and everything from scratch."
McMillan plans to enroll at Ohio State on January 6th. He is the 18th member of the 2014 Buckeye recruiting class.
---
Highlights? Highlights: