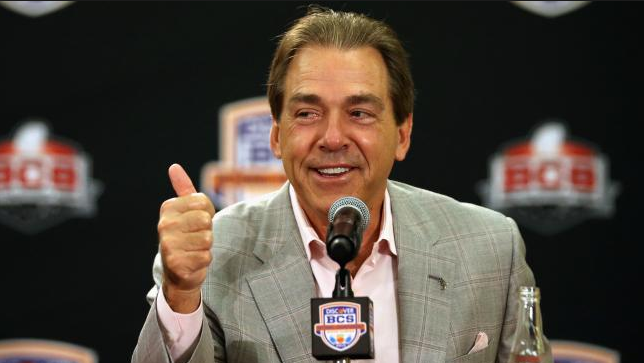 Nick Saban's possible departure to Texas would've been the college football story of the offseason. After all, Texas is searching for a good reason to give Mack Brown the heave-ho and has more money than necessary to throw at Nick Saban to lure him from Tuscaloosa.
As it turns out, Saban may have simply leveraged Texas over Alabama. He's agreed to a new deal to stay at Alabama.
More details are forthcoming. For the meantime, be still, Kirk Herbstreit's beating heart!
Breaking News....Nick Saban has agreed to a multi year contract extension to STAY at Alabama! Details to come out soon!!

— Kirk Herbstreit (@KirkHerbstreit) December 14, 2013
As for Mack Brown, of whom Chip Brown of Orangebloods said was going to be forced from his position, ostensibly in favor of Nick Saban? Well, there's this.
A source tells OB that one of the most prominent high school coaches in the state was informed in the last hour that Mack is staying.

— Geoff Ketchum (@gkketch) December 14, 2013
Texas Longhorns message board meltdown: commence.