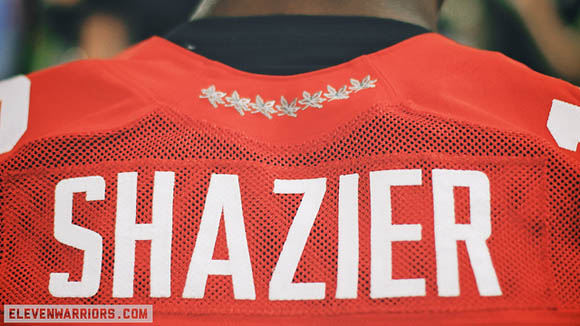 The speculation game has begun. December and January turns into silly season for both coaches and players. Who's getting hired where and who's going pro – the questions are asked over and over again.
One Buckeye's status is already known. Junior cornerback Bradley Roby, a first-team All-Big Ten selection, is bound for the NFL. That announcement was made before the 2013 season even started. The answer Ohio State fans are waiting on is Ryan Shazier's decision.
The linebacker is in the midst of a dream season. Entering the Orange Bowl, Shaizer has a Big Ten-leading 134 total tackles, 22.5 tackles for loss (six sacks) and four forced fumbles. Those numbers combined with freshman and sophomore years filled with production have Shazier pegged as a mid-first-round pick on draft boards.
Asked about his impending decision on Friday, the Florida native said he's split in the middle. Prodded further, though, Shazier revealed he's "leaning towards staying."
Following the Orange Bowl, Shazier said he'll sit down with family and coaches and make the best decision for his future.
Notes:
Shazier said he's not worried about a hangover from the Big Ten championship game. Clemson has the Buckeyes' full attention.
It took a while to get over the loss to MSU, Shazier said. Starting bowl practices was a big help in healing process.
"We're still having a great season. We still have to play a great team to finish off this season." -Shazier
Clemson's offense is "scary," according to Shazier. He said they're full of playmakers and get very creative.
Jeff Heuerman: "There's still a little bit of a sting. But you have to keep moving forward."
Heuerman said he beats himself up over the 4th and 2 play against Michigan State when Denicos Allen shed a block to stop Braxton Miller. Heuerman said he's thought about it a million times.
Ohio State's character and resilience will be tested and seen by all in the Orange Bowl, according to Jack Mewhort.
Mewhort said he's been coaching up the offensive line more than ever. He believes the future for that position is bright and is proud of the senior O-linemen's legacy.
Billy Price, Evan Lisle, Kyle Dodson, Darryl Baldwin and Jacoby Boren were young up-and-coming linemen mentioned by Mewhort. He said Taylor Decker and Pat Elflein have already proven themselves.
Joey Bosa has been named a freshman All-American by College Football News and Sporting News.
The moment that got Bosa's game going was the sack and touchdown at Northwestern. Bosa said he wasn't a good player when he came to OSU.