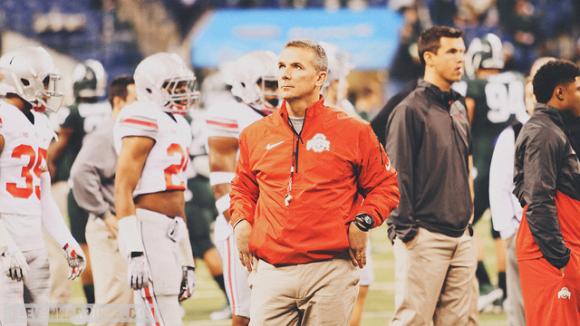 Ohio State might be unfamiliar with Clemson – the Buckeyes and Tigers have played only once – but count head coach Urban Meyer among the group familiar with what football in the tiny South Carolina outpost is all about.
While he worked for ESPN, Meyer finally figured out why Florida missed out on several recruits that ventured to Clemson. The facilities, fan base and traditions all created a desired destination. Running down the hill and touching Howard's Rock is one of college football's most anticipated moments each Saturday.
The game-day environment surrounding Tigers' games is no less charged than the chaos that envelops Columbus during the fall.
"I was very impressed with the atmosphere and the crowd support," Meyer said. "They have a great town. I got to spend the day there. I have a lot of respect for Clemson."
It showed soon after Meyer was hired by the Buckeyes. Before turning his attention to a young up-and-coming offensive coordinator at Iowa State, Meyer pursued Chad Morris. Following the flirtations, the Tigers quickly made Morris the highest paid assistant in the country at $1.3 million.
The past two seasons, as Tom Herman orchestrated record-setting numbers for the Ohio State offense, Morris continued the assault at Clemson. Each enters the silly season as sought-after head-coaching candidates.
"I have seen them up close and personal and recruited some of those guys," Meyer said. "Their athleticism at receiver is ridiculous and their quarterback can both run and throw. That is something we lived on for years. It is just so difficult to defend.
"But there is no question that their scheme is terrific and what their offensive coordinator and what their offense does there is great, but what really makes them go is the athleticism at receiver."
Most of that adoration is aimed at Sammy Watkins, a projected top-10 draft pick. He has over 1,200 yards receiving this season and 10 touchdowns, setting up a must-see matchup between he and NFL-bound cornerback Bradley Roby.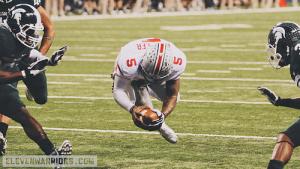 No York City
The national championship wasn't the only thing Ohio State lost out on after falling to Michigan State. The defeat likely pushed Braxton Miller aside for Heisman consideration. A record-tying six finalists were revealed with Miller having to stay home and watch the proceedings on his couch.
Florida State quarterback Jameis Winston, Alabama quarterback A.J. McCarron, Northern Illinois quarterback Jordan Lynch, Texas A&M quarterback Johnny Manziel, Auburn running back Tre Mason and Boston College running back Andre Williams were all invited to New York City for the gala. 
It's a forgone conclusion that Winston will take home the award, adding the list of Seminole W's who've earned college football's highest honor. Quarterbacks Charlie Ward and Chris Weinke won the Heisman in 1993 and 1999, respectively. 
A three-game stint on the sideline with a sprained MCL was Miller's ultimate undoing. Even in 10 games, he was still able to throw for 1,860 yards, rush for more than 1,000 and total 32 touchdowns. His efficiency was much improved from a year ago.
Miller's completion percentage of 63 percent was a career high, five percent higher than his previous best. Five interceptions were also indicative of the strides he made with an entire year in Meyer and Herman's system as well as an offseason to work with both. Miller finished fifth in the Heisman balloting last year.
He was tabbed as the Big ten's offensive player of the year and quarterback of the year for the second consecutive season.
Tickets Galore
The Orange Bowl matchup was announced only two days ago, but the immediate reaction shows little demand for tickets. On StubHub, more than 9,000 tickets are available and they are going for as little as $46, only $15 cheaper than a parking pass. The average price is $191, making it the least expensive BCS bowl game of the season.
Clemson is making its second trip to Miami in three seasons, while Ohio State hasn't appeared in the Orange Bowl since New Year's Day 1977. But the Buckeyes did play in the same stadium two years ago against the Miami Hurricanes. Another factor are the high hopes Ohio State fans carried into this season. The Rose Bowl and national championship game were the wanted endpoints.
But there's an abundance of Buckeye fans and alumni in the South Florida and throughout the state, which should boost attendance. Staying home for the holidays in 2011 could also be an underlying element.