It's going to be a busy week on the recruiting trail for the Ohio State coaching staff as they try and make up time lost last week when they were preparing for the Big Ten championship game rather than trying to reel in the final pieces of the 2014 recruiting class.
Here's this story: they don't relate to recruiting. One loss in two years won't change the relationships kids have with each other and with the Ohio State coaching staff. Yes, losing a shot a national championship hurts, but it hurts more with perception down the road (2015 and 2016) than it will the final parts of 2014. Before we dive too deep into the murky underbelly of recruiting, I wanted to make a few quick comments about the loss to Michigan State and the possibility of Ohio State assistants being offered, and taking, head coaching jobs elsewhere and how those two items relate to recruiting.
As far as coaching changes go, there's always going to be some impact — most players are not directly recruited by Urban Meyer — but any potential changes (Fickell, Withers, Drayton, etc.) are not going to upset anything the Buckeyes already have in the fold. Drayton's departure has been speculated on (he's been named as a coaching target at both Florida Atlantic and Bowling Green) could have impact beyond 2014, however.
Bottom line? Enjoy the ride, Buckeye fans. You're in the midst of one of the program's most successful eras ever, and you've got a head coach with lofty, lofty goals and the determination to make sure Ohio State doesn't slip into mediocrity, ever. 
Of course, the week didn't exactly start off with a bang for the Buckeyes on the recruiting front. Nassau Community College offensive tackle Chad Mavety surprised many when he picked Florida State instead of Ohio State, leaving Urban Meyer and Ed Warinner still searching for at least one more offensive lineman in the 2014 class. Mavety chose the Seminoles despite the Buckeyes' need along an offensive front that will see four new starters in 2014. Where do the Buckeyes go next?
Let's take a look at where things stand.
OFFENSIVE LINE POSSIBILITIES

If you think Ohio State lacks a backup plan, let me assure you first and foremost that nothing could be further from the truth. Ohio State believed for some time they'd land Mavety, but with his announcement, they will move on to the next options. 
A little over a month ago the Buckeyes offered Chanhassen,Minnesota's Frank Ragnow, who had serious interest in the Buckeyes over the summer but trailed off when they didn't offer. When they did, Ragnow seemed as if he'd quickly make a visit to Columbus, but it never materialized. Now, the homestate Gophers and yes, Florida State (where Ragnow visits this weekend) seem to be making the most headway for the 6-foot-6, 290 pounder. Unless he makes a visit to Columbus, it's unlikely Ragnow becomes the guy.
One player that Ohio State has always had major interest in, Pittsburgh two-way lineman Alex Bookser, will make his official visit to Ohio State this weekend. Bookser, as is the case with most western Pennsylvania kids, is likely to stay at home in Pittsburgh, but the Buckeyes will get their shot this weekend and will do so with a number of committed prospects, including Jamarco Jones, Sean Neurnberger, Stephen Collier, Dame Webb, Terry Mclaurin and Dylan Thompson — heck, most of their 2014 class — on hand. They'll give Bookser the best look he can get at what the Buckeyes have to offer this weekend. Buckeyes trail Pitt, but definitely keep an eye on what materializes after this weekend.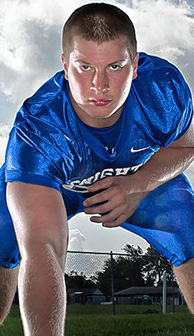 Last week I predicted that the Buckeyes would lose out on Mavety and that eventually they'd make a run at Bishop Ready offensive tackle Brady Taylor, who is currently committed to Virginia Tech. Taylor is a Columbus kid, and while he's saying all the right things about his commitment with the Hokies, a Buckeye offer would be almost impossible for him to walk away from were it to come. I still think Taylor is a real possibility, but if Bookser and Ragnow don't pan out, the Buckeyes could also take a closer look at Maryland's Brock Ruble, as well Missouri's Brian Wallace and Roderick Johnson. Ruble visited Ohio State over the summer and Johnson was in attendance for The Game in 2012 against Michigan.
Ohio State's Zach Smith did make a stop in Maryland this week to check on Damian Prince as well, but it appears, as we said on 11W a few months back, that ship has sailed.
CHASIN' DIXON

As most of you know, Florida wide receiver Johnnie Dixon (Dwyer High School, Palm Beach Gardens) was scheduled to make his college choice this past Sunday evening, but decided to wait it out a bit longer, opting to focus solely on Dwyer's state title run in the Sunshine State.
11W found out Sunday that Ohio State was scheduled to visit Dixon and Dwyer on Wednesday afternoon (Urban Meyer and wide receiver coach Zach Smith will be visiting), and at the time it was an interesting "sign" that the Buckeyes felt pretty good about their chances with the nation's 16th-ranked wide receiver. Then the timeline for the announcement changed and with it came a sense of "Well, maybe something else has changed," but as of today, the Buckeyes still feel great about their chances with Dixon. Whether or not that holds remains to be seen, but Dixon, who made official visits to Ohio State, NC State, Arkansas, Alabama and Miami, will make a choice soon and hopes to enroll in January.
THE VIEW FROM THE 'VILLE

Our favorite recruiting story to follow that doesn't rhyme with Maekwon RcMillan, the status of the Tarblooder Trio — Buckeye commit Marcelys Jones and defensive backs Marshon Lattimore and Erick Smith — and the seemingly neverending drama surrounding their each and every move. Last week, Glenville took a beating in the state championship game, and then came the rumblings about official visits to here and there and everywhere, this a week after the group took an official to Alabama (and Nick Saban was in Glenville today, to see them again.)
The reports were that the group was going to head to Kentucky for official visits but interestingly only Jones made the trip to Lexington. Ohio State, who has accepted a midyear financial agreement from Jones, is required to accept him if he chooses to enroll with the Buckeyes in January, and that still appears to be the plan. This week, the trio will head to Atlanta for an official visit to Georgia Tech midweek, and then will be at Ohio State this weekend for their officials with the Buckeyes. The plan for Smith and Lattimore remains the same, to make their announcement at the US Army All-American game on January 4th.
RAEKWON MCMILLAN SITUATION

The Raekwon McMillan saga is nearing its conclusion, the nation's top linebacker makes his announcement next Monday morning, and as his recruitment winds down, things with McMillan continue to fluctuate almost daily. Yesterday, the gang at 247Sports.com chimed in, stating that all their sources in Georgia believe McMillan is heading to Ohio State. McMillan's "crystal ball" is still heavily slanted towards the Buckeyes, but my sources tell me that the Buckeyes — who continue to recruit McMillan as heavily as any player on their board — are currently trailing Alabama and Nick Saban, likening the recruitment to that of Da'Shawn Hand, who recently chose the Tide after long-favoring Michigan. Auburn, who will get their in-home with McMillan Sunday afternoon, and Clemson, who've already made their final pitch, seem to on the outside looking in at the moment.
If Smart were to end up outside of Alabama, it would be the final piece of the puzzle to ensure McMillan ends up in Columbus. Nick Saban will be making his in-home visit with McMillan on Thursday, amid rumors of Saban to perhaps leaving to Texas, it will be interesting to see how things are handled. Urban Meyer, the coach responsible for recruiting McMillan for the Buckeyes, will be at Ohio State a lot longer than Smart will be in Tuscaloosa according to common sense, but can the Buckeyes impress that upon him before Monday?Both schools have made it abundantly clear that McMillan is capable of playing early, and a player and person like McMillan isn't concerned with competition for a spot, he believes he'll beat out anyone he has to. Both schools are coached by legendary coaches, both schools are going to be consistently in the top ten of the national rankings, and both schools churn out NFL prospects with regularity. So what, right now, can the Tide offer that the Buckeyes can't? Defensive consistency, proximity to home and McMillan's relationship with Tide defensive coordinator Kirby Smart.
Ohio State had two coaches, Luke Fickell and Everett Withers, visiting McMillan today, and they'll have another chance this Sunday when Meyer — and potentially an entire coaching staff — make their in-home visit. The Buckeyes will stress the importance of their longstanding relationship with McMillan, the value of going to a school he's incredibly comfortable with and loves (in the event something happened that impacted his ability to play football,) and most importantly they'll have to lay out a plan for what changes they will make in their defensive approach to ensure that McMillan gets the coaching he knows he needs to get to the NFL.
Again, last week I said Chad Mavety would choose heart (Florida State) over head (Ohio State,) and I believe ultimately that McMillan will do the same thing, and that's why, despite all the reasons Bama could be favored, I'm sticking with McMillan to Ohio State. However, and this has nothing to do with my opinion on the matter, I will not be traveling to Georgia for the announcement as previously planned. Nothing relevant to his choice, I just won't be able to make it.