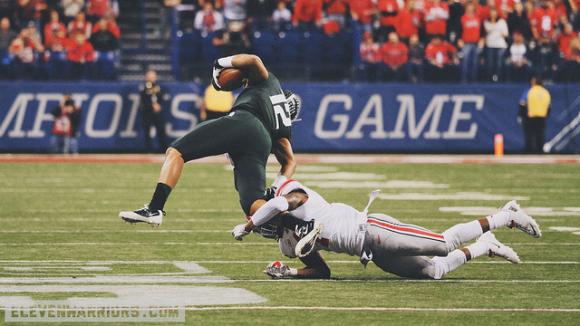 INDIANAPOLIS – Rarely has a true freshman defensive lineman consistently impacted football games. But throughout his first year at Ohio State, Joey Bosa has done exactly that. He was up to his usual antics again Saturday night in the Big Ten Championship Game, tallying two tackles for loss, including a sack, and forcing three quarterback hurries. As a team, the Buckeyes finished with eight tackles for loss.
Still, the pressure wasn't enough to deter Michigan State quarterback Connor Cook. Last week he spoke confidently about his abilities and even said he was licking his chops after watching Devin Gardner torch Ohio State's secondary. In the end, the reasons were obvious why Cook performed so well.
All year – even dating back to 2012 – the Buckeyes' pass defense has been the one element of the team that could be pointed to as a potential undoing. As recently as October, Urban Meyer called the unit "very alarming."
Of the Spartans' 438 yards against Ohio State, 304 came through the air, which marked a new career-high for Cook and the second consecutive week an opposing signal-caller recorded a career-best performance. He completed 24 of 40 passes and gave the appearance four-year starter relishing the big stage. In reality, he's a redshirt sophomore who began the season as a third-stringer.
In the aftermath of allowing 400 passing yards and 41 points to Michigan, Meyer expressed not just confidence but certainty that all wrongs would be righted. A bounce-back week quickly devolved into a familiar tale. Keith Mumphrey was the beneficiary of a 72-yard touchdown pass after Pittsburgh Brown took a poor angle, leaping for the ball instead of zeroing in of the receiver. Tony Lippett followed with a 33-yard catch against C.J. Barnett in coverage.
"Disappointed in the pass defense," Meyer said. "We have to get this fixed. That's where we're going back to work."
The Buckeyes surrendered five plays of 20-plus yards – three went for touchdowns.
"It is what it is," defensive coordinator Luke Fickell said. "Guys have to make plays. We have to put them in situations where they can make plays. There's no finger-pointing."
Even after scoring 24 unanswered points when facing a 17-point deficit, Ohio State couldn't sustain the momentum on the defensive side. Michigan State scored its first 17 points in only 21 minutes until the Buckeyes regrouped. However, it didn't last as the Spartans scored the final 17 points of the game.
"The best thing was our defense really played well for about three or four series there," Meyer said. "We were able to take the lead. Then we lost it."
In the final quarter, Michigan State outscored Ohio State 14-0 and gained 174 yards in the process. At the forefront of the success was Cook. The go-ahead drive was a 90-yard journey that reminded many of the Ohioans in attendance of a famed pro football drive that took place on the North Coast.
Contributing to Cook's prowess slinging the football was the absence of safety Christian Bryant, lost in late September with a broken ankle, and All-Big Ten cornerback Bradley Roby who suffered a knee injury in the third quarter. As soon as Roby limped to the sideline, Cook feasted on his replacement, Armani Reeves.
"Any time you take a great player out, I don't know," Meyer said, searching for words. "Armani goes in there and plays. He didn't screw it up or anything. Obviously, take a great player off the field, that's an issue."
It was obvious Bryant's injury would be significant, but few could have predicted the lasting impact. Meyer slammed the podium just minutes after receiving the news following Ohio State's win over Wisconsin, and then stewed over Bryant's fate for several more weeks. Eight games later, the Buckeyes own the 104th-ranked pass defense in the country, a unit that allowed more than 255 yards per game.
While band-aids could be placed over any lapses the previous 24 games, that proved to be an impossibility against a hungry Michigan State team. The Spartans took advantage of almost every miscue the Buckeyes handed out. Boneheaded pass interferences topped the list.
"Football's the greatest team sport known to man because it takes 11 guys," Fickell said. "You have 10 out there and they're going to find that one guy. That's why it's such a special sport. And that's what we've all got to make sure we do a better job of is making sure we all stick together through these adverse situations."
They have less than a month to figure out a plan to corral Clemson quarterback Tajh Boyd, a one-time Ohio State recruit that spurned the Buckeyes on National Signing Day in 2009. Boyd has since enjoyed one of the most decorated careers in Tiger history. His name litters the record books.
In 2013, Boyd's completion percentage is nearing 70 percent with 3,473 yards passing, 29 touchdowns and nine interceptions. The Tigers rank 11th nationally in passing offense and 12th in total offense.
Said Meyer, about the Buckeyes: "They're heartbroken, but they're competitors."