We could rehash the same convenience store jokes about Brian Hartline from his standout performance last week. Being as close as he was to the sidelines and considering Ryan Tannehill's delivery, that catch was anything but convenient. 
Terrelle Pryor has delivered his own electric highlights, but he's the clear second string quarterback in Oakland. However, he did see a few snaps, Sunday. 
Former backfield mate "Boom" Herron is now out for the year and Cam Heyward continues his breakout season. 
Plus, Eleven Warriors has stats from all former Ohio State players in the NFL.
Raiders use Pryor as change of pace
Pryor suffered an MCL sprain in a week 10 loss to the Giants. Matt McGloin took over as starter and – despite three-straight losses coming into Sunday – hasn't had to worry about Pryor re-taking his job. 
Up until Sunday, Terrelle Pryor hadn't seen a single snap since the game against New York. He threw eight interceptions in his last four starts, got hurt and has now been reduced to a novelty within the Raiders offense.
On Oakland's third possession of Sunday's game against the Jets, Pryor came in to execute a series of pre-packaged, read-option plays. He promptly marched them down the field and within range of a Sebastian Janikowski field goal make. 
That's all head coach Dennis Allen needed to see. Pryor never saw the field again. 
"We knew we wanted to give him a series and then evaluate it and see how it went after that," head coach Dennis Allen said, via CSN Bay Area. "He was able to move the ball downfield for us and get us a field goal, which was a positive."
One Pryor-led drive might've had a negative impact on McGloin ... accoridng to McGloin. 
"Anytime you have quarterbacks coming in and out, especially in cold weather, it gets difficult sometimes," he said. "But it's not an excuse or anything like that for the way we played."
McGloin will remain the starter, but Allen didn't count out an opportunity to go back to Pryor. 
Injury puts an end to Herron's season
After season-ending injuries to running backs Ahmad Bradshaw and Vick Ballard, the Colts were in desperate need of depth at the position (Trent Richardson barely counts). Back in October, they plucked Daniel "Boom" Herron off the Bengals' practice squad. For the most part, he played special teams, although he did get four carries in a blowout loss to the Cardinals. 
During last week's game against the Titans, Herron suffered a pectoral injury and left the game. MRI results revealed it was a torn pectoral muscle, and Herron suffers the same fate as the two backs he replaced. 
Tore my pec last week had surgery tues for everyone that keep asking why I'm not playing.

— Boom herron (@BOOMHERRON1) December 8, 2013
heyward coming into his own 
Contrary to the narrative, the Steelers defense – up front, in particular – has succumbed to old age, injuries and ineffective play.
With the opportunity to make an impact on the line, former first round pick Cameron Heyward has made the most of it. Since the Oct. 27 game against Oakland, Heyward has combined for 41 tackles and recorded four sacks. In Sunday's game against Miami, he led Pittsburgh in tackles with nine.  
"He's becoming a veteran player and his playing time is starting to reflect that, his playing level is starting to reflect that," said Steelers defensive coordinator and Buckeye Dick LeBeau, via the Associated Press. "I think the future is definitely up for Cam, I'm glad that we got him."
With injuries to Brett Keisel and Steve McLendon, plus Ziggy Hood's struggles, Heyward's rise came at the right time for Pittsburgh.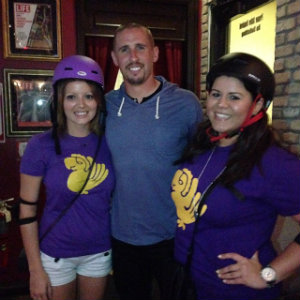 "I've just been trying to grow as a player as much as possible," Heyward said. "That's been my mantra: Work hard to try to get better every day. There are a lot of guys who have helped me along the way, and I just want to be a quality starter in this league."
Now he's just being selfish. Last week against the Jets, Hartline broke off a quick slant and took it all the way for six. He also brought in eight other passes for a total of 127 yards.
He didn't put up the same kind of numbers in Pittsburgh, but he still had five catches for 51 yards. That includes a filthy, toe-tapping touchdown grab.  
How ex-Buckeyes Fared During Week 14
| Player | team | position | stats/Notes |
| --- | --- | --- | --- |
| Mike Adams | Pittsburgh Steelers | OT | Steeler fans were shocked by how well he played at LT |
| Will Allen | Pittsburgh Steelers | S | 4 tackles, one of those was a big hit on Daniel Thomas |
| Jake Ballard | Arizona Cardinals | TE | Jake Ballard y u so sexy |
| Alex Boone | San Francisco 49ers | OG | Super-sub LT Boone has suitors, as well |
| Michael Brewster | Jacksonville Jaguars | OL | Jags tied for longest win streak in AFC |
| Chimdi Chekwa | Oakland Raiders | CB | 1 tackle, named team captain for the game  |
| Kurt Coleman | Philadelphia Eagles | DB | Eagles gave up 2 TDs on special teams so all his fault |
| Jim Cordle | New York Giants | C | On injured reserve |
| Nate Ebner | New England Patriots | DB | Part of unit that recovered onside kick against Browns |
| Reid Fragel | Cleveland Browns | OT | Inactive while his team choked away another win  |
| Ted Ginn Jr. | Carolina Panthers | WR | 2 rec, 5 yds and a rough night at the Superdome |
| Johnathan Hankins | New York Giants | DT | 2 tackles in loss to Chargers |
| Brian Hartline | Miami Dolphins | WR | 5 rec, 51 yds and a beautiful TD grab |
| Ben Hartsock | Carolina Panthers | TE | Continues to get love from the national media  |
| A.J. Hawk | Green Bay Packers | LB | 4 tackles, 1 tackle for loss in win over Falcons |
| Boom Herron  | Indianapolis Colts | RB | Tore pectoral last week vs Titans, had surgery, Tues. |
| Cameron Heyward | Pittsburgh Steelers | DE | Led team with 10 tackles, added 1 sack |
| Santonio Holmes | New York Jets | WR | 3 rec, 55 yds in win over Bills  |
| Malcolm Jenkins | New Orleans Saints | S | 9 tackles, 1 tackle for loss in win over Panthers |
| James Laurinaitis | St. Louis Rams | LB | 5 tackles in loss to Cardinals  |
| Nick Mangold | New York Jets | C | Named gameday captain in win over Raiders |
| Jake McQuaide | St. Louis Rams | LS | Snapped 1 FGs, 1 XP in loss  |
| Mike Nugent | Cincinnati Bengals | K | 6 XPs in win over Colts |
| Ryan Pickett | Green Bay Packers | DT | 2 tackles, both perfect form in win over Falcons |
| DeVier Posey | Houston Texans | WR | 1 rec, 9 yds in loss to Jaguars |
| Terrelle Pryor | Oakland Raiders | QB | 2/5, 20 yds, 3 rushes, 4 yds in loss to Jets |
| Dane Sanzenbacher | Cincinnati Bengals | WR | Inactive in win over Colts |
| John Simon | Baltimore Ravens | LB | Finally active due to injuries at LB |
| Rob Sims | Detroit Lions | OG | Lions offense struggled, but frolicked in the snow |
| Austin Spitler | Miami Dolphins | LB | 1 tackle on special teams |
| Jake Stoneburner | Green Bay Packers | TE | Big Game of Thrones fan |
| Donte Whitner | San Francisco 49ers | S | 4 tackles, team won close game over Seahawks |
[GIF via @cjzero​ and photo via Hartline's Instagram]