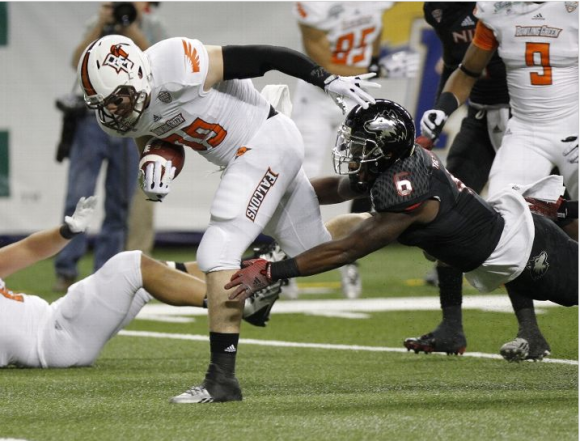 It wasn't supposed to happen like this. Northern Illinois was supposed to beat Bowling Green again and go to a BCS bowl for the second straight year. Instead, Bowling Green blasted NIU 47-27 to win the MAC Championship.
The Falcons never trailed, and Bowling Green's Matt Johnson threw four touchdowns in the first half to set an insurmountable 31-13 halftime lead. Jordan Lynch faltered for the first time this season, being thoroughly outplayed by Johnson. Now Lynch's Heisman campaign is dead in the water.
As a non-automatic qualifying conference to the BCS, the Mid-American Conference needed Northern Illinois to win to secure a lucrative bid. Bowling Green cost itself over a million dollars in revenue by winning, but the MAC championship is a good balm for that blow to the balance sheet.
Northern Illinois's loss leaves Ohio State and Florida State as the only undefeated teams in the country. Going undefeated is really hard; don't you agree, Jay Jacobs?