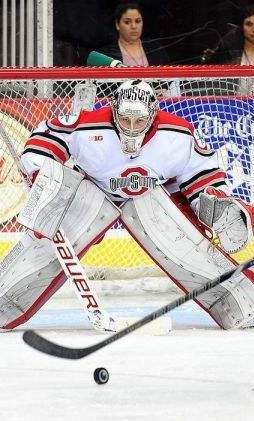 There's a ton of Buckeye hockey news to get to today. This week was apparently Recruit-a-Palooza. OSU announced five NLI signings, including a remedy for their lack of goaltending depth. They also added two new verbal commitments.
The women's team picked up a couple of verbals too. Read on for details on all the recruiting news, plus the ladies face their toughest test of the season, Ohio State and Big Ten representatives take the ice for various Teams USA, and John Albert makes a big splash in his NHL debut.
More hockey Bucks after the jump.
SHORT SHIFTS
Buckeye Men
It looks like OSU fans will be getting a goalie for Christmas (or a random December day for the non-celebrators). Christian Frey will join the team in couple weeks. He comes to the Buckeyes from the USHL's Dubuque Fighting Saints where he's helped to backstop the Saints to a tie for the top spot in the Eastern Conference. He and Hayden Stewart have collectively allowed the second-fewest total goals in the league (45 in 20 games). Frey boasts a 9-3-0-2 record with a 2.08 GAA and .918 SV%, stats that put him among the top netminders this season. In 50 USHL games with Des Moines, Tri-City, and Dubuque Frey has a career GAA of 2.78 and a .903 SV%. Despite his name's similarity to that of a certain, erm, adult fiction character the correct pronunciation is Christian "Fry." Here he is during his Tri-City days, chatting about all things musical:
In other Buckeye men's hockey news this week...
Big Ten
Buckeye Women
Buckeye Recruits
Steve Rohlik announced yesterday that Ohio State has had five players sign National Letters of Intent. Christian Frey as I've already mentioned, should arrive in a couple weeks. The other four, Nick Jones, Jannik Moser, Luke Stork, and Matt Weis, are scheduled to join the Buckeyes for the 2014-15 season. Moser, Stork, and Weis have been verbally committed to OSU for some time. Jones threw his lot in with the Bucks in the last couple months. We'll talk about all the recruits in greater depth next week. (Gotta fill these winter break weeks with something, right?)
Though they may not carry quite as much weight as an NLI, verbal commitments are still a big deal as most of the them (barring, you know, sudden coaching changes) end up playing for the teams to which they verbally commit. Two new players stated their intention to play at Ohio State this week, Kevin Miller and Tanner Laczynski. Miller is currently skating for the AJHL's Fort McMurray Oil Barons. He's "pretty excited" about joining the Buckeyes. (And either the author's got the wrong Cory Schneider or I've seriously missed the boat on some NHL transactions.) Laczynski plays within Andy Johnson's territory and courtesy of his Central District tryout notes we have this snippet of scouting that appeared on Bucky's 5th Quarter last May:
Tanner Laczynski-F-(Chicago Mission 97): Might have the best hands out of anyone in this class. Was up and down at times but showed flashes of brilliance. A goal scorer.
If that link looks familiar it's probably because you were visiting it a few months back to read up on Sam McCormick. Speaking of McCormick the Younger, he netted a goal to help Notre Dame Academy win the Eau Claire Memorial Thanksgiving Tournament. 
The current Buckeye squad might not have managed a win against Michigan but one future Buckeye, Dylan Pavelek, beat the Wolverines this week. Pavelek scored once in the USNTDP's comeback 5-4 overtime victory at Yost. (Also of note: Former Buckeye Collin Olson stopped 17 of 21 shots and former Buckeye commit Jack Daugherty had an assist.)
The ladies have picked up two verbal commitments so far this season, the versatile Julianna Iafallo and defenseman Dani Sadek.
Nuts Abroad