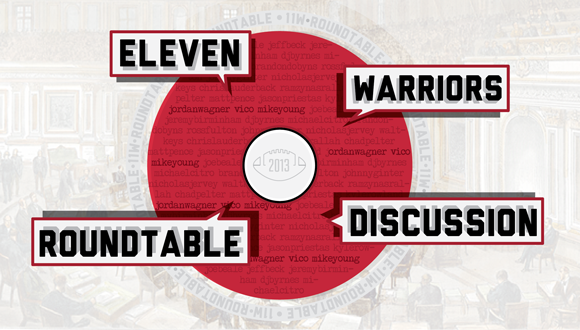 The chase is on. The chase is real. Let's get right to it with three of the best Buckeye bloggers in the basement laptop game. This week we've got Vico, Mike and Jordan. #BeatSparty
Finally the Buckeyes are getting a shot to play in a B1G championship game. Talk me through your level of excitement. Is it weird to be playing a game that isn't a bowl after the TTUN matchup?
Jordan: Sadly, I am spending this week studying for final exams. That hasn't lowered my excitement level, though. After watching that Auburn – Alabama game, I haven't been able to stop thinking about this game against Michigan State. I'm a fan of watching good football and there isn't much better than relaxing on a Saturday, watching the Buckeyes win a B1G championship and seal their spot to the National Championship.
It's a little weird playing a game after The Game, but I think I like it. Another chance to watch the Buckeyes is always welcomed. It's a little weird to think that last year at this time, we were talking about the offseason.
Mike: With a national title on the line, it adds a point to an otherwise pointless exercise. The Big Ten title game would mean virtually nothing to me if it didn't include a shot to stay undefeated and head to Pasadena (in the second week of January). Considering the opponent, I'm entering with cautious optimism. 
Vico: I would've thought it weird several years ago, but I've grown accustomed to the Big Ten Championship Game. I think it's great to at least be playing in it this year with a chance at the BCS National Championship Game on the line. That it comes the week after playing Michigan doesn't seem foreign. It would be weird to be playing Michigan again, but that, fortunately, did not pan out.
When the Buckeyes' offense is on the field it will be strength against strength. What will they have to do to ensure a win this Saturday?
Mike: The play action passing game is going to be huge. I'm confident in Ohio State's ability to run the football against anyone. Still, Michigan State is not going to make it easy. Most teams have been stacking the box, with little to no success. When they get bored by running the ball, it's opened up the deep passing game for big plays, as Devin Smith's season confirms. Continue to hit some of those and pound the run in the second half, and the Buckeyes will be in good shape.
Vico: Ohio State will have to run the ball against a stout Michigan State defense that is no. 1 nationally against the run. Everything builds organically from Ohio State's ability to run the ball with Hyde and Miller. Ohio State averages 321 rushing yards a contest, second nationally. I think it needs at least 200 against Michigan State for the offense to work rather seamlessly.
Jordan: I think they'll probably have to be more balanced than recent. 67% of the plays were runs last week for the offense. I think it will be close to 50/50 run/pass on Saturday. The Spartan's defense is good enough to slow the running game if they know it is coming. I think Tom Herman will keep them off balanced and I wouldn't be surprised if we saw a lot of quick passes early on in the scripted plays. Herman needs to stay aggressive after running through the script plays. I'm not sure if anyone is better at scripting plays than Tom Herman.
Michigan State fields the nation's No. 1 defense. What player (or unit) on that squad concerns you the most? Why?
Vico: Pick your poison with this unit. I firmly believe Shilique Calhoun is an All-American player being overshadowed by guys like Vic Beasley at Clemson and Michael Sam at Missouri. I think what puts Sparty's defense over the top is its secondary. Darqueze Dennard and Kurtis Drummond do everything well in the secondary. They'll pose problems for Philly Brown and Devin Smith.
Jordan: Shilique Calhoun is a beast for the Spartans, but I think the offensive line will be able to keep in check (to a point). I am more worried about their secondary. Having three first-team All-Big Ten selections is impressive. They're talking a lot of trash for not facing any offense even close to Ohio State's level. The talk of Michigan State completely shutting down the Ohio State offense is laughable. Indiana and Nebraska each scored 28 points. I have it being a low scoring game, though.
Mike: No team has been able to simultaneously slow down the OSU run game and limit deep passes. Few have been able to do one of those things. One cause for concern is the Spartans' secondary, which is aggressive and dominant. They're going to overload to stop the run, so it's vital to stretch their defense. That won't happen if Michigan State's locking down Smith, Philly Brown, Evan Spencer, etc. 
What was going on with the defense against UM? Can we just chalk it up to a rivalry game or are there more deep-seated issues?
Jordan: A lot of people had unrealistic expectations heading into that game. It's a rivalry game. Throw all the records out the window. Michigan always had the offensive weapons, but they were under utilized and underachieved all season.
With that said, the defense played terribly. This defense is still set-up to play better against a more pro-style offense. They get gashed against spread teams. Injuries to Christian Bryant and Curtis Grant have forced OSU to play a few players that aren't ready to contribute. The Buckeyes are 12-0 right now. I'm too happy right now to take negatively about any coaches, but I think it's obvious that Fickell and Meyer don't always see eye to eye on their philosophies.
Vico: Deep-seated issues. I don't know how much of it manifests against Michigan State, which is, somehow, more conventional than even Michigan. Michigan did empty the playbook a bit. Still, our defense right now is not sustainable. I don't know the extent of the changes to be made, but changes need to be made.
Mike: It's been so damn inconsistent that I can't chalk it up to a rivalry game. Devin Gardner looked superhuman on one leg and their offensive line played out of their minds for most of the game, but there's no good reason why tackling has been such an issue for most of the season. Luke Fickell can only be so aggressive when he knows Shazier is the only guy who can tackle downfield.
HYPOTHETICAL ALERT: Let's say the same defense that played against TTUN shows up in Indy. Can the offense still make up the difference or will the Buckeyes lose?
Mike: The only reason the same defense can show up and the Buckeyes would have any hope is because of how good the offense is. I was not completely shocked by what Devin Gardner did last week (shocked by the overall execution, however) because I know he has the tools to do so. Connor Cook's big play ability doesn't scare me, but he's proven to be more reliable. He's only thrown 4 interceptions. That tells me he won't force anything. Then again, he won't need to because there are times when everything is open agains the Buckeye defense. 
Jordan: First of all, I think Ohio State's defense matches up better against a team like Michigan State. I just don't see MSU gashing the Buckeyes for huge gains like Michigan did.
Back to the question, if Jim Bollman can get his offense rolling like Michigan's offense was last week, the Buckeyes could be in major trouble. I don't think this game is going to turn out to be a shoot-out. It's going to come down to the Buckeye O vs. Spartan D.
Vico: I don't think so. It barely made up the difference against Michigan, and Michigan State's defense is far better than Michigan's. Ohio State loses this contest if it concedes 600 yards of offense again.
Michigan State is only giving up 64.75 rushing yards a game (1st in the country). Talk me through Carlos Hyde's day against a stout run defense.
Vico: I don't think Hyde gets 100 yards rushing against this unit. I think it's plausible that Hyde and Miller could combine for 150. I still think 200 is the "magic number" for what is realistic against the Spartans' defense.
Mike: Perhaps this is really the first game where they have to consistently use the passing game to open up the run. Then again, Nebraska ran for almost 200 yards on this MSU defense. Carlos Hyde is going to get his. With the way this offensive line is playing, there's no reason to believe otherwise. They might not be able to lean as heavily on the run game like they have in the past month or so, but he'll put up big numbers again.
Jordan: Hyde will get his 100 yards. Minnesota's running back just ran for a 100 last week. Nebraska's running back ran for 123 yards on the Spartan defense. MSU has done a great job of shutting down the run game of bad teams. I picture Carlos Hyde running for about 115 yards on 20 carries. Hyde will be the best pack they face all season.
I asked the same question last week (but that was before Braxton went off for 5 total TDs against TTUN) so I'll ask it again. Can No. 5 dark horse his way into the Heisman conversation? Can he win it?
Mike: I don't see how he wins it. I'm not sure what the standards for the award are, anymore. I thought it was for the best player in college football but that was when I was young and naive. Jameis Winston is the clear Heisman winner, at this point. If he loses to Duke, that'll open it up. Not for Braxton, though. I'd say he can get to New York, but Manti Te'o did last year so that's not much of an accomplishment. 
Vico: I think it's great that he's forced his way into the conversation again, but, at best, Miller gets a token invite to New York City for a Heisman ceremony for Jameis Winston. If Miller had not missed those three games in the non-conference schedule, the Heisman is probably his. Hopefully that's incentive for him to return for a senior year.
Jordan: I think he is in the Heisman conversation. I just saw some odds from Vegas that had Braxton with the third best shot behind Jamesis Winston and Jordan Lynch. I think he will definitely earn an invite to New York, but I don't see having much of a chance to win the award. A healthy Miller and we'd be discussing a toss up Heisman winner between Winston and Brax.
The passing game seems to have tailed off in the past few weeks. I've argued it's due to inclement weather. Will playing in a dome pump life back into an attack that was pretty fireworks through most of Sept. and Oct.?
Jordan: I think inclement weather has been a factor, but a big factor has been that the running game has been dominant. I think Braxton will be forced to pass with Michigan State having a very good run defense.
I think the Spartan defense will be able to keep OSU's offense somewhat in check. Pat Narduzzi is some type of mad scientist. I think he's going to try to make Ohio State beat them with his arm. Good luck with that.
Vico: Playing indoors should help. Playing against Michigan State's "no-fly zone" will not help. I expect Ohio State's aerial attack to be grounded in this contest as Ohio State searches for ways to creatively run the ball against Pat Narduzzi's unit.
Mike: This week, Uban Meyer said they've gotten away from the passing game basically because the run has been so effective. There has been times where Braxton hasn't been particularly sharp (illinois game, early in the Michigan game) but he's still hit big plays. Might have to hit a few more through the air, but I have confidence they can. 
What will the fan breakdown be in Indianapolis? 50/50 Buckeye to Spartan fans?
Vico: My guess is 50/50. Michigan State fans have every reason for optimism in this contest and will attend the game en masse with that in mind. I'm expecting neutrals to be solidly Michigan State as well.
Mike: Saw a report that says over 40% of all StubHub sales for this game have come from Ohio. Based on my calculations, that should amount to a 70-30 split. 
Jordan: Probably something close to 50/50, I'd guess. Both teams didn't have much trouble selling their ticket allotments. Buckeye fans travel well, but MSU fans are excited.
Give me your final score prediction.
Mike: 28-17, Bucks 
Jordan: 27-20 OSU
Vico: 21-17 Ohio State
How much joy will it give you to see Jim Bollman on an opponent's sideline?
Jordan: Man, Ohio State fans have suffered because of Jim Bollman's offenses for years. It'll only be funny if he isn't outsmarting Luke Fickell.
Mike:  It gives me no particular joy at all. He was the legitimate offensive coordinator during my senior year at Ohio State. He put the bitter in "bittersweet" as I ended my college career. Also, I begrudge no man's right to make a living, but one of life's greatest mysteries is how he was able to salvage a job at a major, FBS program after what happened here in 2011.
Vico: Not as much joy as seeing his team walk off the field without a Big Ten championship.