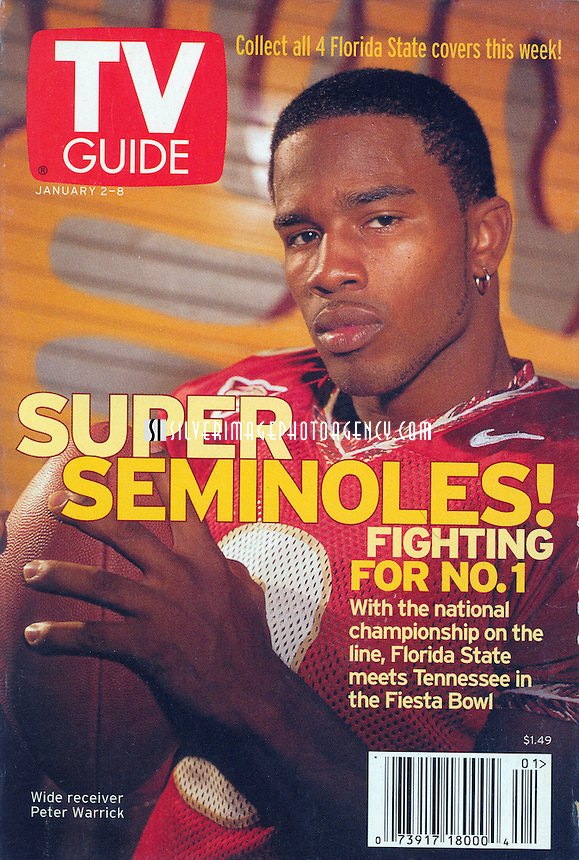 Week 15 is basically the beginning of the end of the college football season. Conferences like the ACC, Big Ten, MAC, Pac 12, and SEC are playing conference championship games. Only the Big XII and American Athletic Conference are the remaining power conferences still playing their regular season. We're not too far from us holding hands, singing Boyz II Men's "It's So Hard to Say Goodbye to Yesterday" to the end of the season.
Conference championship games will take precedent in this week's TV Guide. Really, anything of consequence that decides a BCS bid will be given some scrutiny. Lesser games, like those involving South Florida and Rutgers, will be given only a casual mention.
Though this is the largest free website dedicated to Ohio State athletics, this week's TV Guide features the Florida State Seminoles. The Seminoles were part of four-cover spread for TV Guide in the first week of 1999. In that week, the Seminoles were trying to take down the no. 1 and undefeated Tennessee Volunteers in the Fiesta Bowl.
Ohio State fans should remember the significance of the first inaugural BCS of 1998 as it pertains to the last BCS this year. Michigan State already ruined Ohio State's BCS aspirations by that time in 1998. Ohio State needed UCLA, Kansas State, and Florida State to all lose in the final week of the season. UCLA lost to Miami. Texas A&M beat K-State in the Big XII Championship Game.
Florida State, though, prevailed over Florida that year because Florida ruins everything. Unlike 1998, Florida State is not staking its claim to no. 1 right now. It is no. 1.
That year, Ohio State had to settle for mauling the Texas A&M Aggies in the 1999 Sugar Bowl. Florida State later lost to Tennessee in the Fiesta Bowl, because Tee Martin gets a national championship while Peyton Meanning doesn't. Makes sense.
Here's your schedule for this weekend.
Thursday
Louisville @ Cincinnati (ESPN, 7:30 p.m.). This game has important BCS implications. And, no, it's not for Louisville.
Yes, Cincinnati can win the American Athletic Conference's automatic invite (likely to the Sugar Bowl) if it were to defeat Louisville for the Keg of Nails on Thursday night. It would also need Central Florida to lose on Saturday at Southern Methodist. Cincinnati would advance by virtue of having not played Central Florida. The American Athletic Conference is screwy like that.
Such a turnaround for the Bearcats wouldn't be bad, given that it was so thoroughly destroyed by Tim Beckman's Illinois program in Week 3. Cincinnati is also one of South Florida's two wins on the season.
Louisville, however, is eliminated from an automatic invitation to the BCS. It is highly unlikely that the BCS no. 19 gets an at-large invitation. Should Louisville win, Central Florida is en route to the BCS regardless of the game against Southern Methodist.
Friday
Bowling Green vs. Northern Illinois (ESPN2, 8 p.m.). This is the MAC Championship Game.
Much more is riding on this game for Northern Illinois. The three-time defending MAC West champions, and two-time defending MAC champions, have a legitimate shot at establishing a dynasty in a conference that is well-known, and well-loved, for its relative parity.
Thanks in large part to Fresno State's loss last week to San Jose State, the BCS no. 14 Huskies have a very strong case for getting another automatic invitation to the BCS as a non-AQ school. If Central Florida stays ranked below Northern Illinois, that spot in the BCS is theirs. The Huskies would likely play the Big XII champion in the Fiesta Bowl.
Meanwhile, Bowling Green bows to no team. It is in this game because of a convincing 24-7 win at Buffalo in the de facto MAC East Championship Game. I just assumed this game would be highlighted by a matchup of Khalil Mack vs. Jordan Lynch, but Bowling Green had other plans.
Saturday
Oklahoma @ Oklahoma State (ABC, 12 p.m.). This is Bedlam. If Oklahoma State wins at home for the second time in two games, it wins the Big XII. In 2011, the Cowboys used this motivation to thrash the Sooners for its first win in the series since 2002.
What if Oklahoma wins? Last week's wins for Baylor over Texas Christian, and Texas over Texas Tech, means that the best for which the Sooners can hope is a three-way tie for second place in the Big XII. Baylor and Texas play later in the afternoon. The winner of that game would go to the Fiesta Bowl.
By the way, how large does Oklahoma State's loss to West Virginia loom now? If not for that loss, isn't Oklahoma State the clear BCS no. 2? It would almost have to be. Look how much ESPN is struggling with saying "BCS no. 2 Ohio State".
Central Florida @ Southern Methodist (ESPN, 12 p.m.). The implications of this game as it unfolds live hinges on what happens in tonight's contest between Louisville and Cincinnati. Assuming Louisville handles Cincinnati, Central Florida already has the trip to the BCS on lock. A win against 5-6 Southern Methodist would give Central Florida a perfect conference season. Its one loss on the season was to South Carolina at home.
In all likelihood, Central Florida would head to the Sugar Bowl to play an SEC at-large. This means there's a distinct possibility, should Central Florida lose and Cincinnati beat Louisville, that there would be an Auburn-Cincinnati Sugar Bowl. Hello, Tommy Tuberville.
Marshall @ Rice (ESPN2, 12 p.m.). It's here if you want it. This is the Conference USA Championship Game.
Texas @ Baylor (FOX, 3:30 p.m.). The significance of this game hinges on what happens in Bedlam, which should be nearing a conclusion as this game kicks off. If Oklahoma bedevils Oklahoma State again, then this becomes the Big XII Championship Game with the winner taking the Fiesta Bowl bid.
If Oklahoma State beats Oklahoma, this game is still for at least a share of the conference crown. Oklahoma State has the tie-breaking victories over both Baylor and Texas.
Missouri vs. Auburn (CBS, 4 p.m.). Who had this as the SEC Championship Game when they were making their predictions in August? Anyone? I don't remember the preseason expectations for Missouri this year, but I recall most predictions for Auburn having them at 5-7. My guess is Missouri's projections looked the same.
This year's SEC Championship Game does not feature Alabama, Louisiana State, or Texas A&M, the three safe predictions from the SEC West. It also does not include Florida, Georgia, or South Carolina, the three safe predictions from the SEC East. Instead, it features two teams that were a combined 8-16 last year and 2-14 in conference play. When was the last time the SEC Championship Game featured two teams that were bowl ineligible the year prior?
If I were you, I'd root for Auburn this game. Obviously, your rooting interest is for Ohio State over Michigan State, which should launch Ohio State into the BCS National Championship Game. However, a Michigan State victory, combined with a Missouri victory this game, might actually get Alabama back into the national championship game picture. You can tell Harris Poll voters are itching to squeeze Alabama into the national championship picture once more, after yet another loss in November for the Tide.
Remember, kids. "Every game counts" in the BCS... except for Alabama, which gets a mulligan every year.
South Florida @ Rutgers (ESPN2, 7:30 p.m.). It's here if you want it.
Stanford @ Arizona State (ESPN, 7:45 p.m.). The third annual Pac 12 Championship Game is also a rematch from a regular season contest. Earlier in the season, Stanford manhandled Arizona State on the farm for a 42-28 Stanford victory.
The rematch will be played in Tempe because of Stanford's loss to USC. In the Pac 12, the team with more conference wins gets to host the conference championship game. Despite losing the head-to-head match, Arizona State is 8-1 in league play. Stanford is 7-2, advancing to the Pac 12 Championship Game by virtue of the tie-breaker win over Oregon.
Winner goes to the Rose Bowl, likely to play a Big Ten team in a "traditional" Rose Bowl game. Even if Ohio State prevails over Michigan State, it seems likely the Spartans will get selected as an at-large to Pasadena for January 1. However, if Ohio State puts Michigan State on blast, that may change. I'm not against that, but I also don't expect it.
Duke vs. Florida State (ABC, 8 p.m.). The ACC Championship Game is ABC's Game of the Week. Who would've thought that would be the case?
However, intrigue abounds in this game, ignoring, for the moment, the legal cloud hanging over Jameis Winston's head. Florida State is the new BCS no. 1 after Alabama's loss last week in the Iron Bowl. A win for Florida State, in which it is somewhere in the ballpark of a 30-point favorite this contest, sends Florida State to the BCS National Championship Game for the first time since the 2001 Orange Bowl.
Meanwhile, Florida State's opponent is Duke. Yes, that Duke. Duke, Duke. Remember when Duke's coach, David Cutcliffe, said this and we thought he was crazy?
Cutcliffe on his football program at Duke winning an ACC title in next 5-6 yrs: "Absolutely. One hundred percent guarantee it."

— Bruce Feldman (@BFeldmanCBS) February 4, 2010
Should Duke pull off the upset, it would give Duke one more ACC Championship in the last ten years than the Miami Hurricanes. However, I'm not sure that's what I want. I'm pulling for a Florida State win, and, obviously, an Ohio State win, to freeze the SEC from the last BCS Championship Game. Nothing would piss off our SEC friends more.
Ohio State vs. Michigan State (FOX, 8:17 p.m.). This game, and its weirdly specific kickoff time, is your personal game of the week. Make sure to stay tuned to Eleven Warriors for further coverage of Ohio State's first appearance in the Big Ten Championship Game.
Utah State @ Fresno State (CBS, 10 p.m.). This is the first inaugural Mountain West Championship Game. It had a lot more intrigue before Fresno State's loss last week at San Jose State. If not for that loss, this game gets more attention as being a national stage for Fresno State to bust the BCS. But for that loss, it's now at least an excuse for midnight football on the East Coast.