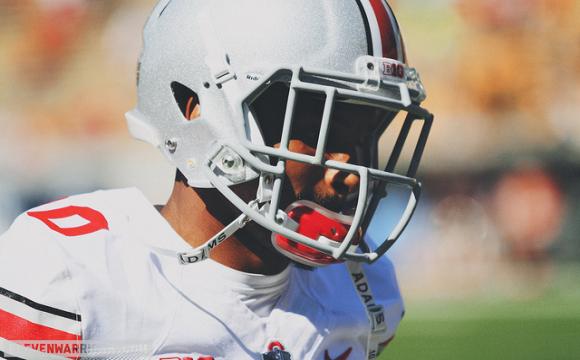 Shock, awe, euphoria, sadness. All of it was felt from Tuscaloosa to Auburn, Columbus to Tallahassee, College Park to Pullman. It didn't matter if someone's team was in the national title hunt or not, the dramatic conclusion to the Iron Bowl captivated the entire college football stratosphere.
The frenzy on the Ohio State team buses let one know quickly that the Buckeyes were directly affected. Auburn's win lifted Ohio State to No. 2 in the BCS standings and just one win away from playing for the national championship. 
But one player had to bring his teammates back to reality. Wide receiver Philly Brown hushed the Buckeyes amidst all the hoopla and celebrating to deliver a message of perspective.
"Some people in the back of the bus were saying, 'We're going to the national championship,'" senior center Corey Linsley said. "Then Philly Brown actually got up in the front of the bus, and he was like, 'Sit down. You guys act like we don't have a game to play this week.'
"It clicked with everybody and everybody focused in."
Moments later, Brown went to Twitter to post his thoughts.
"We haven't done anything yet we still have to win one more... Lets focus on the next game #OH," he wrote.
When Auburn won, the buses were a half hour from campus. In that 30 minutes, the Buckeyes' attention shifted from "wow" to Michigan State.
"After we settled down, we realized the gravity of the moment and how serious everything was," sophomore linebacker Joshua Perry said. "We have to make sure we take care of business. We've got a one-game season right now."
Must-win games are nothing new for Ohio State. It's been do-or-die the entire season. One loss ends the Buckeyes' national title hopes regardless of the opponent or month. With "The Chase" winding down and the ultimate accomplishment in plain sight, a misstep would be crushing.
"We have done everything we need to do at this point, we can't start doing things that we haven't done," Linsley said. "We've never paid attention to the BCS. It's never been our primary focus to jump somebody in the BCS. We can't start changing stuff up now."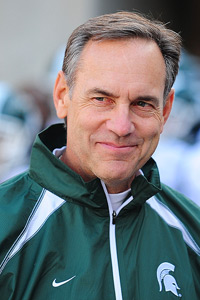 On The Mark
The Michigan State football program has long been a sleeping giant in a state the Wolverines ruled. But Mark Dantonio combined with Rich Rodriguez and continued down years at Michigan under Brady Hoke have contributed to one of the best stretches in Spartan football history.
During Dantonio's seven years in East Lansing, Michigan State is 62-29 overall and 38-18 in the Big Ten. The Spartans have won two division titles and one conference title. Perhaps the biggest feather in Dantonio's cap is his 5-2 record against Michigan.
Even with all the wins, NFL players, great defenses and beyond, Dantonio and Michigan State have found respect a hard thing to come by. The former Ohio State defensive coordinator isn't complaining, though. He takes after one of his mentors, Jim Tressel, and enjoys going undetected.
If the Spartans win Saturday, that will no longer be possible.
"It is an important game for the history of who we are right now," Dantonio said. "We've pointed at things like this since coming here in 2007."
Not only would it dash the national championship aspiration of Ohio State – and a coaching staff they've sparred with – Michigan State would be bound for Pasadena for the first time in 26 years.
The current crop of seniors has ushered Michigan State back into the national consciousness. After decades of success in the 1950s, 60s and 70s, the Spartans went through an uneven stretch that featured conference championships as well as losing records. They've now won 11 games in three of the past four seasons and the seniors own a school-record 40 wins.
"Not too many football programs in the country can say those things," Dantonio said.
Eye on the Prize
Ohio State coaches, players and fans have always talked about the emotional hangover the Michigan game creates. As conference championship games became more popular, they didn't know if it'd even be possible to play a game seven days after beating or losing to Michigan. Now that the time has finally arrived, the Buckeyes have shunned any talk of a letdown.
When bitter rivals get together, it's a physical and psychological showdown. Head coach Urban Meyer said Ohio State came out positive health-wise, though the status of linebacker Curtis Grant is still undetermined.
"I think they are sore," Meyer said. "I have to be smart this week with what we do. But as far as energy and focus, and throw in the fact that it's finals week at Ohio State this week, too, we have to be really efficient with our team, with these guys."
And it's not like the Buckeyes have a date with Youngstown State this weekend. Instead, they must clash with Michigan State, a smash mouth team that possesses the nation's top defense. A day off won't come until Sunday.
Linsley is one of the Buckeyes who's banged up and feeling the affects of a 12-game season in the rugged Big Ten. Massages and treatment from the medical staff have become commonplace during the month of November. As the Chase stretches into December, players recall all the hours of hard work that's been put in. Letting up at this juncture is not an option.
"The chase is on, and it's real," Perry said. "Coming from winter conditioning and seeing the signs and banners up to now, it really shows the body of work we've put in. It also shows that it's never over, and we have to keep going."
Not only is the break that usually accompanies post-Michigan week gone, the next game is the biggest of the season and of the must-win variety. All Tyvis Powell's interception in the final minute of last Saturday's win did was assure the Buckeyes have a chance to play their way into the national championship game. But the celebration ended quickly and then it was on to the next one.
"We've got to move the ball against a great defense," Meyer said. "That's my focus."