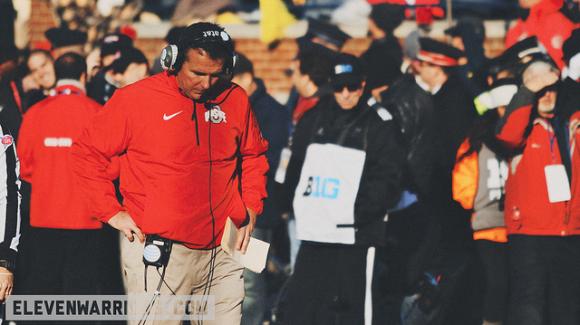 Now Ohio State can turn its attention to Michigan State – that other team up north. Last week, Urban Meyer continually dodged questions about the Spartans during Michigan Week. He didn't take a win for granted, which proved prophetic in Saturday's 42-41 win despite being two-touchdown favorites.
The Buckeyes have won 36 Big Ten titles and two division crowns. But next weekend presents a new opportunity – winning the Big Ten Championship Game. If it does so, second-ranked Ohio State will likely find itself in a common destination for Big Ten champions, but the Buckeyes will be in the Rose Bowl a week later than usual.
To get there, they must get through a Michigan State defense that's among the best in the country and the top unit Ohio State has faced in Meyer's tenure. The Spartans have held five of their past six opponents without a touchdown.
"It's a great group and by far the best defense I've ever been a part of," Michigan State defensive coordinator Pat Narduzzi said.
Meyer said he, the Big Ten and Gene Smith will discuss the fight in the Michigan game tonight, possible further punishment. Meyer met with the players and said he was very disappointed in their actions. He confirmed that he will not suspend the players.
"The bigger the game, the more the distractions." Meyer learned a lot about that in the SEC.
MSU's defense has been impressive all year. Meyer said in the limited film he's watched, it's the best defense he's seen all season.
The conversation about the BCS will last 6-8 seconds tonight, according to Meyer. Team is focused on Michigan State.
Meyer said he was very impressed with redshirt freshman Pat Elflein's play on O-Line. "He was really good (with emphasis) at times."
Asked if he has comment on Auburn's AD lobbying, Meyer simply said, "No."
"I think America is ready for a playoff." -Meyer
Meyer said Ohio State won't even be in the conversation if they can't move the ball against the best defense in America.
Meyer on bus celebration: "It was absolutely nuts for 15 minutes."
Meyer refuses to get into SEC-Big Ten talk, but does say he doesn't think the gap between the two leagues is that big.
Meyer said Carlos Hyde is much different player from last year and on different planet compared to two seasons ago.
Stan Drayton gets a lot of the credit for Hyde's success, according to Meyer. He said they've developed a father-son like relationship.
"He's playing as good as any running back I've ever watched," Meyer said.
The passing attack is an area OSU will work on this week, Meyer said. Braxton Miller only completed five passes at Michigan.
Asked about Big Ten offensive player of the year vote -- Braxton or Hyde -- Meyer declined to answer with a chuckle.
On relationship with MSU staff: "I have a good relationship with [Mark Dantonio]. There's a lot of respect there."
Meyer said he cannot really recall the details of last year's videogate with Michigan State. Said whatever it was it wasn't intentional.
Michigan State defense is hard to prepare for because of the scheme, Meyer said. Very aggressive blitz scheme, different formations.
Meyer said he's embarrassed to say that he's never practiced returning a missed field goal. But he said it will now be part of the prep.
Meyer said Braxton Miller's preparation has improved dramatically is past year. Said he'll be as prepared as possible for Michigan State. "The brighter the lights, the better he plays."
Focus will not be a problem this week/Saturday, according to Meyer. He said biggest issue is the quality of the opponent.
"We were exposed." -Meyer on OSU pass defense. He said he has confidence that it will be fixed.
Ohio State in good shape injury-wise for Saturday, according to Meyer.