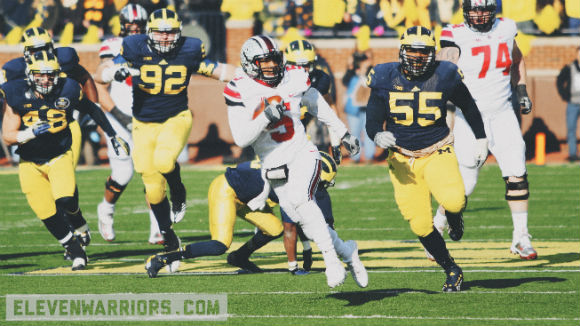 The road to the Buckeyes' second consecutive undefeated regular season ran through Ann Arbor, Michigan — a place that derailed so many promising Ohio State bids over the years, particularly in the 1990s. But optimism in Buckeye Nation was at an all-time high. Very few were the voices that warned of hubris or reminded of failures past.
This year's OSU squad seemed to be light years from the one that outlasted Michigan in a tight, hard-fought game in the Horseshoe last year. The offense was humming, the defense was ranked 13th in the country, and Urban Meyer's second-year magic appeared to be flowing.
And then there were the Wolverines, losers three times the previous four Saturdays and a miracle late kick at Northwestern from being 0-4 in November. Michigan's offense finished with negative rushing yards in two of those games and to call the offensive line a dumpster fire would have been an insult to dumpster fires everywhere.
Would Ohio State roll, as many predicted? Could the Buckeye defensive line destroy Devin Gardner repeatedly in the backfield as previous defenses had done? Or would Michigan respond against their greatest rivals? Was Al Borges playing rope-a-dope for a full month?
No, no, yes and…maybe?
Ohio State's 24th win in a row came in the greatest rivalry in sports, but it also came in what might have been its worst-played defensive game in the streak. Here are your talking points:
Water Cooler prep (Everything you need to know…in one paragraph)
Michigan came out punching and never quit, regardless of how many times Ohio State hit back. The Wolverines racked up 603 yards of offense — the second most ever allowed by Ohio State — and overcame a two-touchdown deficit in the fourth quarter. Carlos Hyde (226) and Braxton Miller (153) each rushed for more than 100 yards and Miller figured in five of Ohio State's six scores (two passing, three rushing).  Michigan scored to pull within one in the final minute but Tyvis Powell intercepted Devin Gardner's two-point pass try to preserve the 42-41 win.
Talk before the game 
As you can imagine, this game elicited a good quantity of pregame thoughts and emotions.
I really wish I was playing today to pop that team up north in the mouth just one more time. #strapemup

— Zach Boren (@ZBoren44) November 30, 2013
Woah... These #OhioState uniforms look LEGIT in person. Ohh, and the UofM boys just took the field to a sea of BOOs!! #BuckeyeNation

— Jenny Brewer (@JennyBrew) November 30, 2013
Dontre Wilson new to the rivalry but not shy about getting into it a bit with UM player Dennis Norfleet. #TheGame Is on.

— BEAU BISHOP (@BeauBishop) November 30, 2013
For my friends in Ann Arbor: Alas, I think it's going to be a very long day today.

— Richard Deitsch (@richarddeitsch) November 30, 2013
Talk in the aftermath
Right Decision by Coach Hoke to go for 2

— Chris Spielman (@chris_spielman) November 30, 2013
That is what makes this game the best rivalry in sports. It never matters more. Love, hate, respect, disrespect. The whole enchilada.

— Jeremy Birmingham (@Birm) November 30, 2013
Games like that one illustrate just how difficult, no matter the competition, it is to go undefeated. Kudos to OSU for 24-0

— Bryan Fischer (@BryanDFischer) November 30, 2013
Give that man a buckeye leaf (Player of the game)
He didn't have his best passing day, but Braxton Miller was a force on his 21st birthday. His running complemented Hyde's 226 yards on 27 carries (8.4 YPA) and he threw scoring strikes to Devin Smith (53 yards) and Jeff Heuerman (22 yards). Miller's 153 rushing yards came on 16 carries, for a 9.6-yard average and he scored from 53, 21, and three yards out. He completed only 6/15 passes for 133 yards, but the two scores were critical and well thrown. Michigan gummed up everything underneath and dared him to throw deep, where accuracy can be tricky. It was, but he made the plays he had to in order to win the game. Obviously a huge honorable mention to El Guapo, as well as replacement right guard Pat Elflein, who didn't miss a beat.
Snot Knocker of the Game
Trailing 35-28, Michigan lined up at the Ohio State one for a second-and-goal play. Devin Gardner ran left on an option that the Buckeyes sniffed out, preventing the pitch. Josh Perry took out the lead blocker, allowing Ryan Shazier to meet Gardner in the hole and plant him for a one-yard loss. Shazier hit Gardner so hard that he actually shook himself up, although he stayed in the game. The Wolverines scored on a play-action pass on the next snap, but Shazier's hit was maybe the hardest in a day of hard hits. It was one of 14 tackles for the potential Big Ten Defensive Player of the Year.
Did you see that?! (Play of the game)
In what might not be the play you're expecting (see that one below), Ohio State faced second-and-three from its 47 late in the first quarter, trailing 14-7.  Miller took the snap, stepped back as if to pass, then took off up the middle, behind a Heuerman block. With so many Wolverines near the line of scrimmage, Miller was quickly into the second level, where he juked Avery Courtney, leaving him grasping at air. Braxton broke right and outran the defense, getting the last few yards by giving Blake Countess the stiffarm of justice. The electrifying run knotted the game at 14 after one.
When you sank into your chair (The moment Buckeye football disgraced your family)
You know what's coming, but let's pretend this is a surprise. Michigan scored to take a 21-14 lead early in the second and kicked off. Freshman Dontre Wilson returned it 16 yards before being roughly tackled by a host of Wolverines, who proceeded to rough him up after the play. Wilson took exception to the manhandling and lost his cool, striking out at anything wearing sun and blue. It escalated quickly into a full-blown fracas and, before it was over, Wilson and starting right guard Marcus Hall were ejected, along with backup Michigan linebacker Royce Jenkins-Stone. Wolverines Jake Ryan and Delano Hill perhaps should have been tossed as well, but so too could Michael Thomas, and even Miller got into things as he took the field with the OSU offense. It was an ugly reminder of how much these teams hate each other. It was capped by…
Jim Tressel's Least Favorite Moment of the game
Tressel choked on his Melba Toast (sesame, because the Vest enjoys bold flavors) when the brawl broke out in Ann Arbor. He was aghast when punches were thrown, helmets were ripped off and general mayhem marred an otherwise uneventful special teams play. Just as Ellen prepared to administer the Heimlich maneuver, Marcus Hall gave the Big House both of his massive middle fingers at full extension.
The former OSU coach hacked up his snack and his wife gasped audibly at the spectacle. "Oh Marcus, I thought we taught you better than that," said the man who recruited Hall. "Such obscenity has no place on the football field, young man."
Jim and Ellen made it a point to add 'forgiveness for Marcus' to their nightly prayer notes, kept lovingly on the magnetic pad stuck to the fridge.
What you texted your friend at the end of each quarter
First: WTF?
Second: More like Marcus LOL, amirite?
Third: Normalcy returning? El Guapo is unstoppable.
Fourth: I love you, Tyvis Powell.
It was over when
Michigan lined up to go for two after their touchdown in the final minute. Ohio State took its last timeout after seeing the Wolverines' formation. For once, a timeout worked. The Buckeyes knew one of two plays were coming and they picked the right one. Tyvis Powell stepped in front of Drew Dileo on a quick slant and intercepted Gardner's pass to thwart the play and preserve the lead. Sure, there was still an onside kick to defend, but with Michigan's starting kicker out with injury, it was unlikely the Wolverines could get another score in such a short amount of time.
---
The No. 11 Michigan State Spartans (11-1, 8-0) await in next week's Big Ten championship game in Indianapolis. Sparty is coming off a 14-3 home win over the Minnesota Golden Gophers. Mark Dantonio's squad has come a long way since struggling in the early portion of the season and Michigan State boasts possibly the nation's top defense. You'll remember last year's knock-down drag-out battle in East Lansing. Buckle up. Here comes another one.