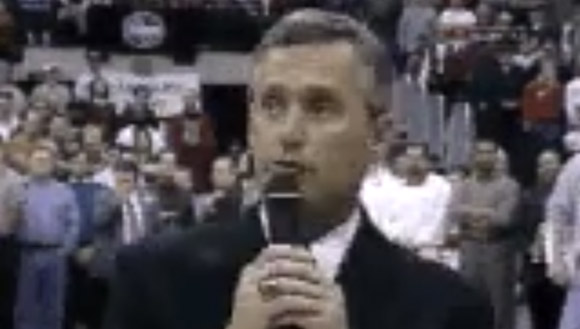 When John Cooper was fired after the 2000 season, it brought to a close 13 years of highs – big wins, insane talent, and a recruiting juggernaut, to name just a few – and lows, like an ugly 2-10-1 record against the hated Michigan Wolverines.
Despite Coopers' many successes, and make no mistake, there were many, it was his abysmal record against Michigan that led to his termination. Going 14-10 over his final two seasons were just the straws that broke the proverbial camel's back.
Ohio State athletic director Andy Geiger launched a search to replace Cooper and talked to some of the several rising stars in the profession, including Oregon's Mike Bellotti, Minnesota's Glen Mason, Ohio State defensive coordinator Fred Pagac and even Buckeye legend Chris Spielman.
In the end, he settled on a coach from tiny Youngstown State. Jim Tressel was well-known within Ohio – his father, Lee, was a coaching legend in the Buckeye State, and Jim, himself, had won several Division II national championships with the Penguins.
Still, many Ohio State fans were left scratching their heads. Who was this guy, exactly, and why was Ohio State – the Ohio State – turning to a coach from a lower division?
In January, they found out when Tressel, introduced to fans at halftime of a men's basketball game, made a promise:
"I can assure you that you will be proud of our young people, in the classroom, in the community, and most especially in 310 days in Ann Arbor, Michigan on the football field."
The Schottenstein Center exploded.
It's one thing to make a promise like that, but it's another thing altogether to deliver on it. That's just what Tressel's first Buckeye team did.
Leading up to The Game, quarterback Steve Bellisari was arrested for DUI and Tressel responded by sitting him in the regular season finale. In his place, Michigan-native Craig Krenzel would start and play the entire game for the Buckeyes.
With a green quarterback, Tressel turned to the run and it paid off early. Running back Jonathan Wells scored three times and the Buckeyes took a 23-0 halftime lead into the locker room. Michigan would rally to make a game of it, but Tressel and his Buckeyes held on for a 26-20 victory, the program's first win in Ann Arbor in 14 years.
Ohio State fans had found their savior. Someone that not only understood the importance of the rivalry, but possessed the power to pull a 180 on a decade of slips, missed tackles and various other late November tragedies. The coach would go on to win nine of his 10 meetings with the Wolverines, cementing his legacy as the Mayor of Ann Arbor.
---