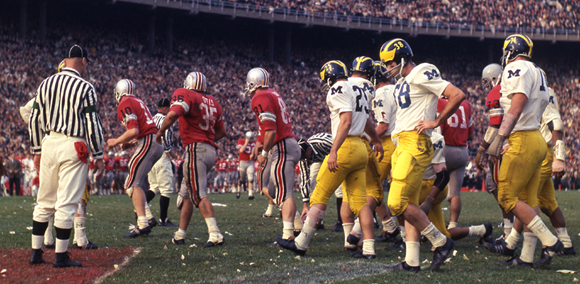 Pressure was starting to get to Woody Hayes. The year was 1967. Ohio State was 2-3 after a 17-13 loss to Illinois and locals were beginning to question the coach who had already accumulated two national championships and two Rose Bowl victories. Following the 1957 national title, the Buckeyes enjoyed one Big Ten championship – the controversial 1961 "no" vote to the Rose Bowl – mixed with years of mediocrity.
When Ohio State lost three of its first five games to begin the 1967 season, many thought Hayes could be on his way out of town. But what transpired over the next 22 games would not be seen again in Ohio's capital city for four decades.
The Buckeyes won at Michigan State on Nov. 4, 1967, and would not lose another game until being upset at Michigan more than two years later. In between, they won a national title, beat Michigan twice and ushered in modern-day prominence for Ohio State football.
"It would be wrong for me to say I'm not proud of us winning 22 games in row," former quarterback Rex Kern told Eleven Warriors, "but I'd also be quick to add that I'm extremely disappointed we didn't win three national championship and win 29 games in my class. To win that many games in a row, though, and be thought of that highly is humbling and a wonderful tribute to a group of guys who worked awfully darn hard and did some spectacular things."
College football, like the world, has changed significantly since 1967. Just how much? For one, linemen weighed 200 pounds in the late '60s, only one Big Ten team went to a bowl game and the crush of media was imaginary. The week of the 1969 Michigan game, Kern couldn't even name how many consecutive wins Ohio State recorded over the previous three seasons. Today, not a week goes by without questions of the streak.
The 24/7 media cycle existed in 2002 and 2003 when the Buckeyes won the only national championship since 1968 and rattled off 19 consecutive wins. Still, the subject wasn't spoken of amongst teammates or inside the locker room, a la a pitcher throwing a no-hitter in baseball. Only when the media asked questions did players talk openly about piling up wins.
"You come to Ohio State to play against the best teams in the country. You don't get excited to play the MAC schools and FCS teams," said Craig Krenzel, who quarterbacked the '02 and '03 Buckeyes. "But you also come with the expectation that you're going to win every game. That is your mindset. We should, not only could, we're Ohio State – we should win every football game. We have the talent, we have the coaches, we have the facilities. We literally have no excuses. Whether it's one in a row, three in a row, 19 in a row, 22 in a row, it doesn't matter. You expect to win every single football game."
What hasn't changed the past half-century is the intense scrutiny Ohio State's head coach is under. The Buckeyes finished 4-5 in 1966, their first losing season in seven years. Combined with the slow start in 1967 and no conference championships in six years, Hayes' seat was warming quickly. But four wins to end the 1967 season gave way to a national title in 1968, though it didn't come without dramatics.
Ohio State traveled to Champaign in Week 5 of the 1968 season having won eight consecutive games. After staking a 24-0 halftime lead, it appeared win No. 9 would come with little struggle. Then the Illini showed fight and scored 24 unanswered points to tie the game.
With four minutes remaining, the Buckeyes took possession 74 yards from the end zone. Three plays into the drive, Kern was knocked out. In came backup "super sub" Ron Maciejowski needing to engineer a 70-yard drive. He did as Ohio State dispatched an Illinois team that would conclude the season with a 1-9 record.
"We barely won that game," Kern said. "I think it was a real significant turning point for us. We were on the ropes and we escaped."
The details might sound familiar because the eighth win in Ohio State's current 22-game win streak happened under eerily similar circumstances. The Buckeyes needed a miracle finish with the second-string quarterback to hold off a less than average Big Ten foe. Kenny Guiton, like Maciejowski before him, became a hero to fans and respected figure in the locker room.
"Our goal was to win every game every time we put on the scarlet and gray."
"In order to be that successful and to have a win streak like that you need great players, whether they're the starters or second-team," Kern said. "I hate to say they're second-team players because I never felt Maciejowski was my backup, I felt he was my equal. I see that similarity with Kenny Guiton and Braxton Miller. Kenny has come in and done great. That's a perfect pair."
As Ohio State was reeling off win after win, Kern said he and his teammates didn't realize the significance nor did they discuss it. The objective each week didn't need to be stated. Everyone knew winning was at the top of the list.
"Our goal was to win every game every time we put on the scarlet and gray," Kern said. "We did not worry about streaks or those kinds of things, because if you concentrated on your next opponent and did your best and put more points on the scoreboard, all those other things would take care of themselves."
Forty-four years after the streak ended in equal parts heartbreaking and stunning fashion at Michigan, its value to the football program hasn't been lessened. Only 12 teams around the country have bettered it, winning 23 or more games. and just one Ohio State team had a realistic opportunity to match or beat it.
Walking on the field with buckeye leaves adorned to your helmet already puts a bull's eye on your back, not a surname and number. The Ohio States and Alabamas of the world get each opponents' best shot, making a prolonged winning streak all the more impressive. 
Three-year starting defensive tackle Paul Schmidlin, a member of the Super Sophs, never thought he'd see his classes mark equaled or surpassed. In a sport dominated by parity, Schmidlin believed a lengthy run of supremacy was too demanding.
"When we have the University of Toledo beating Michigan, that tells me there's been a tremendous leveling of the field," he said. "The chances of a streak like this are almost miraculous. It will be heartbreak when their streak finally ends. I'd love to see 50 games [in a row]."
It was despair, grief and anguish for Buckeye Nation in late-November 1969 after Michigan upended Ohio State 24-12 to snap what was then one of the most noteworthy accomplishments in college football history.
According to Schmidlin, the coaches may have actually done the team a disservice while trying to avoid a letdown. The Buckeyes played 10th-ranked Purdue the week before the Michigan game. In an attempt to not overlook the Boilermakers, coaches hyped up Purdue running back Leroy Keyes and Co.
"Boy, the coaches were terrified they were going to knock us off," Schmidlin said. "So they pumped us full of excitement and enthusiasm. They said, 'If you think Michigan might be tough, this Purdue team is a whole lot tougher.' So when we literally destroyed Purdue, [the Michigan game] was kind of anticlimactic. The Rose bowl wasn't an option. It was just a matter of finishing the season and sitting back on accolades."
As one mammoth achievement is bested, another is born. On Saturday, Ohio State is set to win its 23rd consecutive game and establish a new gold standard. But the disappearance of records doesn't perturb Kern. It allows him to peer down memory lane and recall one of the finest chapters in program history.
"You say, 'My goodness,'" Kern said. "It wasn't until 2002 that we had another national championship team. The older one gets, it becomes something that you didn't recognize at that moment in time that we were writing history.
"Of course, you never know what history is until you have an opportunity to look back. I guess that was pretty difficult."
---
Photo: The Ohio State University Library