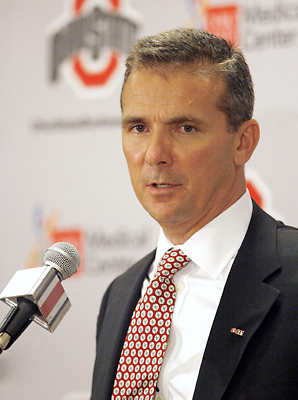 Welcome to another edition of the Ohio State football recruiting notebook. We'll wrap the week up for you and give a preview of what's coming up next.
The Buckeyes may have had this past weekend off, but recruiting never takes a bye week. If you haven't already, be sure to check out Jordan's article on the whereabouts of the coaching staff this past weekend.
It was another eventful week of recruiting, as four prospects picked up scholarship offers this week.  We'll take a closer look at these targets and where the Buckeyes stand with them.
A few more members of the 2014 class signed their mid-year agreements with Ohio State, we'll discuss what this means for them and their futures in Columbus.
Lastly, the high school football season is coming to an end, we'll preview the weekend action as many future Buckeyes aim to make a state championship run.
Join us after the jump for the latest in Ohio State football recruiting.
THE WEEK THAT WAS
In last week's article, I wrote a bit about the mid-year agreement rule that allows players to sign financial agreements early.  The Buckeyes continue to take advantage of this rule, as four more members of the 2014 class joined Curtis Samuel in signing.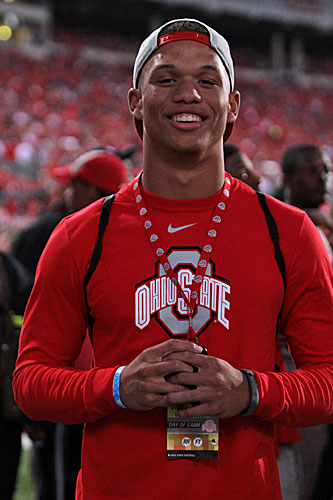 Joining Samuel this week were Marcelys Jones, Stephen Collier, Sean Nuernberger, and Kyle Trout.  The purpose of the mid-year agreement is for players planning on enrolling early to have their finances taken care of before arriving on campus, so it's pretty safe to say these five (and possibly more to come) will be on campus in January.
The significance of these players enrolling early simply cannot be overstated.  Nuernberger is most likely going to be expected to step in and replace Drew Basil right away, so gaining some experience in spring ball is huge.  For Collier, Samuel, Trout and Jones, the opportunity to learn the playbook and build some offensive rapport in the spring will go a long way as well.  Samuel could have an opportunity to play right away in a Dontre Wilson type role, while Trout and Jones could compete for a spot in the two-deep with four starting offensive lineman graduating.  Collier could be in the mix for replacing Braxton Miller in 2015 as well, so all of the early enrollees may get a chance for some early playing time, making spring practices invaluable for them.
While 2014 recruiting remains at the forefront, recruiting for 2015 continues to pick up steam, with Ohio State making four new scholarship offers to members of the 2015 class this past week.  If you haven't already, check out Birm's articles on how the 2015 class may shake out.
Picking up offers from the Buckeyes this week were 4-star offensive tackle Kieffer Longson, 3-star offensive tackle Kaleb Kim, 4-star athlete Nyheim Hines and 4-star defensive back Marcus Lewis.
Last Friday, Ohio State became the first school to offer Kieffer Longson, a 6-7, 290 lb. prospect out of San Ramon, California.  Shortly thereafter, Florida State made an offer to him as well.  So far Longson has only visited San Jose State, but the offer from Ohio State made a huge impact on him.  "I'm really excited about it. I would love to play under Urban Meyer," said Longson.  He went on to say that he is planning on visiting Ohio State in the spring or summer of 2014.  I think Ohio State could be a major player for this under-the-radar prospect, as being his first offer and building a relationship early will go a long way.  From watching his film, the one thing that stands out the most about Longson is the way he finishes blocks - taking his man to the ground or driving him far down the field.
Kaleb Kim also picked up an offer this week from the Buckeyes, something that took him a bit by surprise. Ohio State joins an offer list that includes Tennessee, North Carolina, Boston College, Duke and Miami (Ohio), but the Buckeyes are definitely standing out early for the Hoschton, Georgia product.  Like Longson, Kim is incredibly physical and finishes blocks.  Kim really fires off the ball incredibly quickly for his size and has pretty solid footwork. Check out his highlight film here.
Ohio State continues to try to load up on weapons, and Nyheim Hines is certainly one.  Reportedly running a 4.34, Hines is a player the Buckeyes would like to use in the hybrid position (Percy Harvin Dontre Wilson role). Nobody is currently standing out for Hines, though he currently holds offers from Clemson, South Carolina, North Carolina, Tennessee, Duke and several others.  The Garner, North Carolina prospect has already visited Clemson, North Carolina, N.C. State and Duke, and plans to visit South Carolina this weekend and the weekend of November 30th.  Very excited by the offer, Hines is already hoping to visit Ohio State for next weekend's game against Indiana, but could end up visiting this winter or spring instead.  Hines is a weapon the Buckeyes would love to have, and they'll have a good shot if they can get him to Columbus.  Hines really likes Urban Meyer, as well as Ohio State's consistency in putting players in the NFL.  Check out his sophomore highlights from last season:
Lastly, Washington D.C. defensive back Marcus Lewis picked up an offer from the Buckeyes yesterday.  Lewis is a big, fast corner and he enjoys playing physically. He told 11W that he tries to model his game after Richard Sherman of the Seattle Seahawks.  In addition to Ohio State, Lewis holds offers from Clemson, Maryland, Virginia Tech, Iowa, North Carolina and others.  So far, he has visited Maryland, is visiting Virginia Tech this weekend, and is planning to visit Penn State next weekend.  Lewis really enjoyed his visit to Maryland, but told 11W that nobody is standing out just yet.  That being said, he was very excited to get an offer from Ohio State, calling it "a true blessing" and "an honor."  One thing that stands out to Lewis about Ohio State is the great history, pointing out that "a lot of great players have come through."  Lewis plays very fast and physical, but was quick to point out that his football IQ is one of his biggest strengths.  Check out his highlights here.
High school football preview
Position
Player
School
Opponent
Comment
QB
Stephen Collier
Lee County (Ga.)
Springfield Effingham (Ga.)
Won 38-14. 15-27 passing with 4 passing TDs and another TD rushing last week. Hosts Effingham in first round of Georgia playoffs this week.
RB
Parris Campbell
St. Vincent-St. Mary (Ohio)
Poland Seminary (Ohio)
Advances in playoffs last week (won 52-7). Campbell had 105 yards rushing with 3 TDs. Added a 26 yard TD reception. Look to advance to third round this week.
WR
Terry McLaurin
Cathedral (Ind.)
Whiteland (Ind.)
Won 56-13 to advance in Indiana playoffs. 
OT
Jamarco Jones
De La Salle (Ill.)
at Chicago St. Rita (Ill.)
Eliminated from playoffs, face St. Rita in public vs. private game.
OT
Kyle Trout
Lancaster (Ohio)
N/A
Season over (finished 5-5)
OG
Marcelys Jones
Glenville (Ohio)
Bedford (Ohio)
Won 35-0 to advance to week 12. Jones signed mid-year agreement this week. 
OG
Demetrius Knox
All Saints Episcopal (Texas)
N/A
Won 42-7 to remain undefeated. 
DE
Jalyn Holmes
Lake Taylor (Va.)
Suffolk Nansemond River (Va.)
Won 14-0. Opening round of playoffs this weekend.
DE
Dylan Thompson
Montini Catholic (Ill.)
Joliet Catholic Academy (Ill.)
Won 40-7. 
OLB
Kyle Berger
Ignatius (Ohio)
Hudson (Ohio)
Won 38-14. DNP (ACL).
OLB
Dante Booker
St. Vincent-St. Mary (Ohio)
Poland Seminary (Ohio)
Won 52-7. 2 INTs including a pick six. 
CB
Damon Webb
Cass Tech (Mich.)
Macomb Dakota (Mich.)
Won 28-19 to advance in Michigan playoffs. Was named a finalist for Michigan's Mr. Football. 
S
Malik Hooker
New Castle (Pa.)
N/A
Season over (finished 7-3) 
ATH
Noah Brown
Pope John XXIII (N.J.)
Edison Bishop Ahr (N.J.)
Had a 6 yard TD catch in a 21-16 loss. 
ATH
Sam Hubbard
Moeller (Ohio)
Cincinnati Elder (Ohio)
Won 42-17. Had two INTs for Moeller. 



ATH
Curtis Samuel
Erasmus Hall (N.Y.)
Bronx Kennedy (N.Y.)
Won 21-6. Kick return TD and 73 yard rushing TD in win.
K
Sean Nuernberger
Oldham County (Ky.)
N/A
Season over (finished 2-9)
OT
Chad Mavety
Nassau C.C. (N.Y.)
N/A
Will officially visit Ohio State on Nov. 23. 
DL
Solomon Thomas
Coppell (Texas)
Irving (Texas)
Won 49-6. Had multiple sacks. 
ILB
Raekwon McMillan
Liberty County (Ga.)
at Westover (Ga.)
Won 26-10. 12 carries for 133 yards. 10 tackles including two for a loss.  Georgia playoffs begin this week.
S
Mike Rogers
Campbell (Smyrna, Ga.)
N/A
Lost 38-0. Held to 76 yards on 23 carries. Season is now over.
S
Erick Smith
Glenville (Ohio)
Bedford (Ohio)
Won 35-0 to advance. Caught a 84 yard TD pass.
ATH
Marshon Lattimore
Glenville (Ohio)
Bedford (Ohio)
Won 35-0 to advance. Caught a 48 yard TD pass. 
ATH
Eric Glover-Williams*
Canton McKinley (Ohio)
N/A
Lost 38-14. 63 yard screen catch for a TD. Fumble recovery. Season now over
Looking ahead
It'll be another quiet weekend in Columbus as the Buckeyes are on the road again.  Looking ahead to next weekend, Chad Mavety and Justin Hilliard will be in attendance to watch the Buckeyes take on Indiana. The visitor list will certainly grow over the next week and we will be updating it as we get more information. A little farther ahead, Johnnie Dixon and Raekwon McMillan will be announcing their decisions near the end of November and in early December respectively.
As always, you can check out the forums and follow the Eleven Warriors team on twitter for even more info.