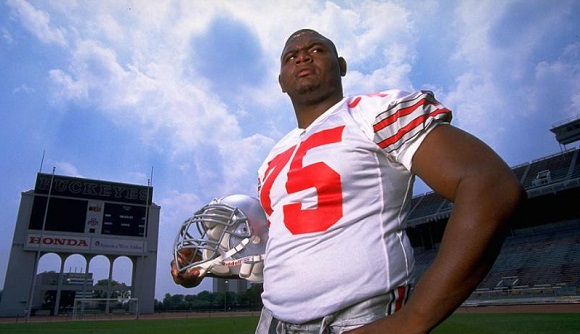 The 1996 season was a strange one for Ohio State. The results were typical, of course; a winning season, a bowl game, lots of all-Big Ten and even some All-American honors. Losing to Michigan was normal for a John Cooper-coached team. But overall it was a strange season for several reasons.
First of all, the team was expected to be a contender despite losing all of the key skill players on offense. Quarterback Bobby Hoying and running back Eddie George had completed their record-setting OSU careers the previous season, and gone with them were All-American wide receiver Terry Glenn and All-Big Ten tight end Rickey Dudley. Also departed was bruising fullback Nicky Sualua. Still, the team opened the season ranked #9 due to the large number of returnees on defense and a strong class of incoming freshmen.
Second, the most celebrated returning player was not playing at one of the glory positions, but rather was toiling away at left tackle. Orlando Pace had come to Ohio State with an already mature physique and many honors from his high school days, and he had proceeded to live up to all of them in his first two years with the Buckeyes. More than anyone else in college football, he helped to popularize the term "pancake" to describe the act of putting a defensive player on his rear when blocking him.
Third, even though the defense was returning eight starters (nine if you count part-time starter Winfield Garnett at defensive tackle) including All-American defensive end Mike Vrabel, the defensive spotlight was quickly stolen by a true freshman who jumped into the starting line-up at middle linebacker. Andy Katzenmoyer was the most highly-touted member of the incoming recruiting class, and he even managed to convince Archie Griffin to let him wear his old number 45 (the number had been unofficially retired since 1975).
Finally, despite returning only five starters on offense, and none you could name other than Pace, the team started the season by scoring 142 points in their first two games combined. Going for 70 or more in back-to-back games would be unusual in any season, but it was a big surprise when the team is replacing so much of their offense and most of the replacements are either inexperienced former backups (running back, quarterback) or freshmen (wide receiver).
At wide receiver, freshman David Boston quickly made his presence known while fellow freshman Michael Wiley turned his limited opportunities into several explosive touchdown plays. At tight end, D.J. Jones returned from a year of inactivity to become a strong blocker and a solid receiver. Unknown reserve Matt Calhoun stepped up to fill the void at fullback, while redshirt freshman Rob Murphy filled the lone opening on the offensive line.
The real drama was at quarterback and running back, where no one expected to see the kind of production they had gotten out of Hoying and George. Stanley Jackson had been Hoying's backup in 1995, so many observers expected him to step right in as the starter. Absolutely no one had ever heard of Joe Germaine, a transfer from Scottsdale (Ariz.) Community College who was already 21 years old due to having served two years of missionary service with the Mormons prior to playing college football.
Jackson and Germaine shared time in the two blowouts to start the season (70-7 over Rice and 72-0 over Pitt), and the tandem was so successful that coach John Cooper decided to stay with a platoon system for the season. It worked to perfection as they rolled over #5 ranked Notre Dame on the road and crushed #4 ranked Penn State at home. Hard-fought victories over conference foes Wisconsin, Purdue, and Iowa followed, and then as the weather started to turn ugly the Buckeyes defense became even more ferocious in a 45-0 stomping of Minnesota.
By this point, Ohio State had risen to #2 in the rankings, and they prepared for a road trip to play 2-6 Illinois. Cooper had not shown much mercy against bad teams up to this point, and it was doubtful that he would have any for the Illini. Cooper's run of futility against Michigan is legendary, but many have forgotten that he had a lot of trouble with Illinois in his first few years.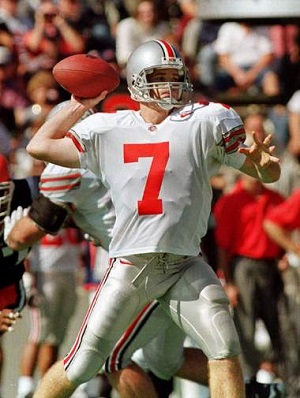 From his first season in 1988 until 1992, Ohio State played Illinois every season and lost all five games. They broke through with a victory in 1993, but then stumbled again at home in 1994. The 1995 OSU team was a beast, and when 4-4 Illinois came to town, the Buckeyes mauled them viciously, as if taking out the years of frustration all in one blow.
As it turned out, the mauling was not quite finished. On a cold and blustery afternoon in Champaign, OSU started slowly under Jackson, but when Germaine came in the floodgates opened. From that point, the Buckeyes scored touchdowns on seven consecutive possessions and they finished with a 48-0 triumph.
It was the second straight shutout and third on the season for the OSU defense. This feat was not equaled again until 2009, and again the second team in the back-to-back shutouts was Illinois. Revenge for all of those seasons of futility was not yet complete, however. In 1997, Cooper's Buckeyes thrashed a really bad Illinois team in Columbus 41-6, thus completing a trio of games in which OSU outscored the Illini by a combined score of 130-9. 
Of course, Germaine and the Buckeyes would have their finest hour later that season in the Rose Bowl, when they defeated the Arizona State Sun Devils 20-17. In that game, Germaine would run the two-minute drill to perfection to overcome a 17-13 deficit and ruin any chance ASU had for a split national title. His five-yard scoring pass to Boston in the waning seconds of the game cemented his legacy at Ohio State, and all late-game drives from there on and forevermore will be compared to his.
---
For your enjoyment, here's a "drive-thru" video from Vico showing Ohio State vs. Arizona State in the Rose Bowl.