Hey ho, welcome back to the Tuesday night show. We're talking Buckeye football recruiting as usual and this week we'll be delving even further into the unknown, the deep abyss called "the class of 2015." Last week we started the search for Ohio State's next group of playmakers and settled on a great group of athletes at quarterback, running back and wide receiver primed to be serious contenders for spots on a future Buckeye roster. This week we'll head into the trenches and analyze who is a potential Buckeye at tight end and along the offensive line, which is always an area of concern for recruitniks and coaching staffs alike.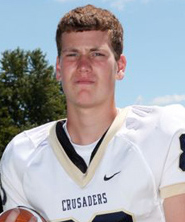 Ohio State has been unsuccessful in landing a tight end in 2014 despite their best efforts, and the offensive line haul — which currently consists of Jamarco Jones, Marcelys Jones, Demetrius Knox and Kyle Trout — is an excellent group that could get better with the potential addition Nassau C.C. star Chad Mavety, set to announce his decision at the end of November. Ohio State will look to bring in another full class along the offensive line in 2015 and it would not be a surprise if they landed two players at the tight end position as well, as Jeff Heuerman will be graduated and Nick Vannett will be in his senior season. Couple those two factoids with the 0-fer at the position this year, and that leaves Marcus Baugh as the only returning tight end on the roster for 2015.
Enough with the chit-chat, let's get to the guys who could end up in Columbus for 2015 at offensive line and tight end.
TIGHT END (2)
As far as 2014 is concerned, the Buckeyes have not had much success recruiting the tight end, losing their top targets (Georgia's Jeb Blazevich and New Jersey's Mike Gesicki) to their "home schools," Blazevich to Georgia and Gesicki to Penn State. The Buckeyes gambled and put all their eggs in the Gesicki basket and asked California's Tyler Luatua, the nation's second-ranked TE, to reschedule a planned official visit, a reschedule that never transpired. Ohio State also offered Derby (Kan.) tight end DeAndre Goolsby, who just last week committed to Florida. Suffice to say, it's not been a successful cycle recruiting a position that's vitally important (although the public opinion on whether or not the position gets the ball enough at Ohio State to be considered "important" is certainly a lively discussion.)
For 2015, the Buckeyes will make a run at a number of different players that fit the profile of a big-bodied, able pass-catcher who can run but is able to be as consistent in the run blocking game as he is running a route. That search, it would apper, has already begun in earnest. There are three 2015 tight ends from across the country — Tennessee, Missouri and Florida — who currently have Buckeye offers. Columbia, Tennessee's Jackson Harris, Jefferson City (Mo.) native Hale Hentges and Orlanda First Academy athlete Garrett Williams have all earned Ohio State's early attention. Hentges, who visited Ohio State for their big win against Penn State, earned his offer that evening and Williams, who was offered back in May, visited the campus in late April. Harris made his first trip to Columbus for the Buckeyes night game against Wisconsin, meaning that the Buckeyes have had a chance to impress each player personally.
Last week, I profiled California's Kyle Penniston, a 6-foot-4, 220 pounder who has a lot of interest in the Buckeyes but as of now has not yet heard much from Ohio State since his late-summer visit. He currently has only one offer — from Florida State, however — and is a top 10 player at the position. Were the Buckeyes to make a move on Penniston, his interest would be legitimate. 
In the state of Ohio there is only one candidate for a 2015 tight end offer at this point, and that is Lagrange's C.J. Conrad. Physically, Conrad is everything you want a tight end to be; he's big (6-foot-5, 225 pounds,) he's fast enough to challenge linebackers down the seam and he's got good hands and catches the ball well. The knock on him right now is that the Buckeyes have concerns about the level of competition he faces at Keystone High School, and they've asked him to be patient when it comes to a potential offer. They want him to come to camps at Ohio State next summer, compete against the best-of-the-best and show them in person exactly what he can do. Conrad is a competitor, and he will do just that next Summer. He hopes to enroll at whatever school he chooses early, and the Buckeyes know an offer to him ends in an almost immediate commitment. 
Shadyside (Ohio) prospect Austin Dorris is another big, physical target at 6-foot-5 and 220 pounds that is worth keeping an eye on in-state if the Buckeyes decided to localize their search at one point.
Way Too Early Prediction: Hale Hentges (Missouri), CJ Conrad (Ohio)
OFFENSIVE LINE (5)
There's been much ado about the fact that after this season, the Buckeyes will lose four starters along their offensive line. The 2014 recruiting class is perhaps a year "late" in attempt to rectify a disparity in numbers, but the Buckeyes hope that with their talents they will all be able to make early impacts in Columbus. 
For 2015, the story will be slightly different, because that year will see five lineman (Jacoby Boren, Tommy Brown, Taylor Decker, Chase Farris and Bryce Haynes) entering their final seasons at Ohio State and the Buckeyes will hope the 2015 recruiting class gets one good year of learning the system behind the 2015 roster.
Urban Meyer and Ed Warinner have been incredibly active early in the cycle offering upwards of 15 offensive lineman for 2015 already, but at this point only a handful of them can be considered serious contenders to make a pledge to the Buckeyes anytime soon and zero — yes zero — of those offers have come to in-state talents. The Buckeyes will continue their trend of evaluating in-state players at a much more deliberate pace than the Tressel administration as they search across the country for the top players nationally. 
Currently, Ohio State's best chance for an early commitment in this group is with Memphis University School offensive tackle Drew Richmond. Richmond has been to Ohio State twice in recent months and has been a lifelong Buckeye fan. While that doesn't mean much when it comes to ultimate decision, it's still something that is worth noting. The 6-foot-5, 300 pound Richmond has offers from a number of schools, but Alabama, Ohio State, Ole Miss, LSU and Tennessee are likely going to be the main group for his services when it's all said and done.
Another tackle, Pittsburgh's Sterling Jenkins, visited the Buckeyes twice this summer and the behemoth Jenkins (all 6-foot-8 of him) thoroughly enjoyed himself both times. Jenkins, like most western Pennsylvania stars it seems, is likely to end up choosing between the hometown Panthers, Ohio State, Michigan and Penn State. He was interested in a return to Columbus for the Penn State game but was unable to do so because of the 8 p.m. start time, and is hoping to check out the Buckeyes when they host Indiana on November 23rd.
One player not talked about much regarding his interest in Ohio State is Suwanee (Ga.) lineman Mitch Hyatt, who is not only ranked as the country's best offensive lineman by 247Sports.com's composite feature, but the nation's best player, period. Hyatt made a trip to Ohio State over the summer and very impressed by what the Buckeyes have to offer facilities and personnel-wise. If Ohio State can continue to stay in this race, the longer he holds out, the better. I'm not saying there's a good chance Hyatt would end up in Columbus, but he's got roots in Ohio and isn't hell-bent on staying south, although that is always a major concern for a player in the middle of SEC country.
Moving towards the interior line, the Buckeyes have made a big impression on recently offered guards Richie Petibon and Steven Gonzalez, from Washington (D.C.) and New Jersey, respectively. Ed Warinner's reputation has made some serious in-roads along the eastern seaboard and the Buckeyes are hoping to find success in a number of the region's most prodigious football factories. Matthew Burrell, from Woodbridge (Va.) is another guard prospect that has the Buckeyes very high on his list and holds an offer from Ohio State. 
With no offers out to Ohio lineman, let's not think for a moment that there are not players inside Ohio State's own borders that don't warrant closer consideration. The big two, Westerville South's Rob Dowdy and Hubbard's Matt Jones, are each very high on the Buckeyes and the interest is being reciprocated by Ohio State. Dowdy has offers from a number of BCS programs — Kentucky, Arkansas, Georgia Tech, Illinois, Louisville and West Virginia among them — and will continue to get evaluated by the Buckeyes heading into the spring. Jones, high school teammate's with running Larry Scott, has offers currently from West Virginia, Toledo and Kentucky. Each of them possess ideal size and will be heavily recruited prospects as they enter their senior summers if they put in the work on the camp circuit. I suspect that both players will do that and end up pulling in Buckeye offers.
There are a handful of other very interesting prospects in the Buckeye state, but none more interesting than a pair of lineman at Cincinnati Winton Woods. George Brown, Jr. transferred to Winton Woods from powerhouse Colerain prior to his junior season and the versatile athlete continued to pick up offers like they were candy. Brown, a 6-foot-6, 253 pounds looks more like a defensive end at this point in his career — and could play there — but will eventually put on weight that will make him a very intriguing offensive line prospect. Clearly schools around the country are noticing that as Brown, who's brother Aaron played at Virginia Tech, already has offers from Florida, Georgia, Oklahoma, Michigan State, West Virginia, Kentucky, Missouri, North Caroina, Virginia Tech and dozens more.
Brown's cohort along the line at Winton Woods, Noah Listerman, is a 6-foot-7, 270-pound project, but he's got the frame and the natural athletic ability to stand out in camp settings and if he applies himself to the craft, he'll catch some eyeballs this upcoming summer. Will Ohio State be one of them? That's a bit above my pay grade. He's currently got one offer, from the hometown Bearcats, but I think it's safe to assume he'll pick up many more over the next year.
Way Too Early Prediction: Drew Richmond (Tennessee) Steven Gonzalez (New Jersey) Rob Dowdy (Ohio) Matt Jones (Ohio) and what the heck, Urban knows how to reel in a big fish - Mitchell Hyatt (Georgia)
---
Next Tuesday night we'll take a much too early look at defensive line and linebackers for the 2015 Ohio State recruiting class as the Buckeyes will hope to keep reloading their silver bullets.