Urban Meyer has been here before. No, not the winning, although that's become the norm during his dozen seasons as a head coach. What's once again imminent, and by some accounts already taking place, is a revolving door of athletic directors inquiring about his assistant coaches.
Ohio State is the lone school Meyer's led where one of his staff members hasn't become a head coach. That is all but guaranteed to change this offseason, and it could be a mass exodus. Reports surfaced last week that defensive coordinator Luke Fickell interviewed for the vacant Florida Atlantic job, but Meyer disputed those claims.
Whether it happened on Nov. 5 or occurs on Dec. 21, a Buckeye assistant will interview, be offered and accept a head-coaching job. In the process, he'll become the 11th branch on Meyer's coaching tree, which is quickly evolving into a California Redwood.
The success of Meyer-coached teams is one attraction for schools seeking a head coach – two national championships and two undefeated seasons will do that – but the number of wins those 10 former assistants have compiled is another factor in the pillaging of coaching talent from Bowling Green, Utah, Florida and, eventually, Ohio State.
"Continuity is a high priority, but I also understand the profession," Meyer said. "I understand guys taking care of their families, and it is that part of the game that's a business."
So far, Meyer's protégées – Steve Addazio, Gary Andersen, Tim Beckman, Gregg Brandon, Doc Holliday, Dan McCarney, Dan Mullen, Mike Sanford, Charlie Strong and Kyle Whittingham – are responsible for 318 wins, four conference titles, three division titles and 15 bowl victories.
The lone outliers of the group are Beckman and Sanford who sport a combined record of 43-84. Meyer will see Beckman Saturday, as the Illinois head coach attempts to end a 19-game Big Ten losing streak.  
At the conclusion of the 2013 season, the two-year commitments Ohio State's nine assistants pledged to Meyer will be fulfilled. Following last season's undefeated run, four coaches – Fickell, Tom Herman, Stan Drayton and Everett Withers – became top candidates for head coaching gigs. Some were finalists, while others declined the overtures.
"I hope [opportunities] happen for some of them, but I'm kind of glad it doesn't happen after just one year," Meyer said in the spring. "I always ask for just a two-year commitment. I think that's fair."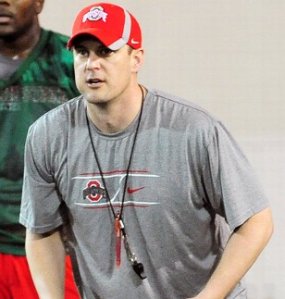 Herman pointed to the two-year commitment as the reason why he elected to stay in Columbus, according to Sports Illustrated's Pete Thamel. The group can add more wins, production and possibly conference and national championships to resumes that could be delivered in December and January. Fickell, Herman, Drayton, Withers and Ed Warinner are the five most realistic candidates.
Fickell's Rodney Dangerfield status with fans – no respect – makes the possibility of leaving a curious subject. When the Sun Sentinel first reported Fickell interviewed with FAU, 50 percent of fans were happy. After all, Fickell only guided the Buckeyes during the ill-fated 2011 season and has since molded the defense into the ninth-ranked unit in the country.
Luke Fickell's contract runs through April 2015 and contains these terms regarding other potential coaching jobs:

"Coach agrees that he shall not, under any circumstances, discuss or negotiate directly or indirectly his prospective employment with any other institution of higher learning except between the final day of the regular football season and January 15th of each year in which this agreement is in effect. Coach agrees to provide the Head Coach and Director with written notice prior to engaging in such discussions or negotiations. It is particularly understood that on-going rumors or media reports of such negotiations are damaging to Team morale and recruiting, and therefore the parties expressly agree that time is of the essence as to the provisions of this Section 4.5, and that the same shall be strictly construed.

Coach shall not, under any circumstances accept employment as a coach at any other institution of higher learning or with any professional athletic team, requiring duties prior to the expiration of this agreement, without the prior written approval of the Director."

Note: Fickell's buyout is $30,000.
He seems destined to be a head coach. The main question is when? The same logic applies to Herman, the baby-faced offensive coordinator who's taken Ohio State's offense from 107th to eighth in a span on 21 games. Aside from his already notable work at Rice and Iowa State, Herman's ability to shape Braxton Miller from inconsistent and erratic freshman to Heisman Trophy candidate is akin to bolding, highlighting and underlining an important passage in a book. It won't go unnoticed when ADs are jotting down names on a shortlist.
The creativity, flair and accumulation of eye-popping stats are all indicative of the new-age style in college football, making Herman a coveted asset.
Drayton was interviewed by Temple last season and believed to be presented with an opportunity to leave Ohio State, though the position or school is not known. He stayed and earned a new title – assistant head coach for offense. Drayton is a longtime Meyer assistant who's seen many co-workers go on and excel as head coaches. The mental notes he's prepared bode well for his own coaching future.
The lone assistant without Ohio connections, Withers, does have prior head coaching experience. In the same 2011 season that Fickell was thrust into the top spot at Ohio State, Withers undertook the same role at North Carolina, leading the Tar Heels to a 7-6 record. His resume is littered with positive stints on defense in both college and the NFL. Twenty-five years of experience make Withers an obvious contender to be a head coach.
Perhaps the coach who's generated the most encouraging results at Ohio State is Warinner. He's doubled as the least appreciated and most under the radar. Warinner turned a mediocre and sometimes below average offensive line into the best in the Big Ten. For two seasons, the line has been a catalyst in the Buckeyes' offensive growth. Warinner has familiarity at different levels and in various offensive systems, which could make him an appealing candidate.
"The one negative thing about success and hiring good coaches is that they're hot items."
Staff continuity is a big source in team success. It's a formula that all coaches would like to achieve, but good programs turn out prosperous assistants. It's college football's circle of life. Meyer would prefer not to fiddle with what's perfectly intact, but it will be broken eventually.
When silly season arrives, dominoes will fall.
"I had a turnstile down at Florida of guys leaving, going to become head coaches," Meyer said. "I'd like to think at a place like Ohio State, you would only leave here to become a head football coach. If a guy is leaving here to become an assistant somewhere, I'd kind of look and say, 'What the hell are you doing?'"
At his introductory press conference, Meyer promised Ohio State fans that he'd build the best coaching staff in the nation. It can be debated on end who has the best collection of coaches. But what's known is for 22 months the Buckeyes' gang of nine has bonded and over time solidified into a group that gets the most out of its players and enters each Saturday having won the previous game.
The decision will be theirs on if a certain job fits or if it's the right time to go. So when is it appropriate to chat with potential employers?
"The AD calls the head football coach, the assistant comes in and says they have an interest in me, when would be the right time," Meyer explained. "My answer is, don't do anything to disrupt this team. I get the whole thing. But there's absolutely no interviewing going on during this time. No chance."
But the questions won't stop. Ohio State's national brand and Meyer's capacity at manufacturing coaches will continue the chatter. Then there's the fact that two former longtime Ohio State administrators are athletic directors searching for head coaches – FAU's Pat Chun and Eastern Michigan's Heather Lyke.
In fact, on Monday Meyer revealed he and Chun had conversation last week about a profile for what Florida Atlantic should look for as a head coach. Their talks included names of current Buckeye assistants.
"The one negative thing about success and hiring good coaches is that they're hot items," Meyer said. "If I had five guys that people never call me and want to hire them, that means I've probably got bad coaches."