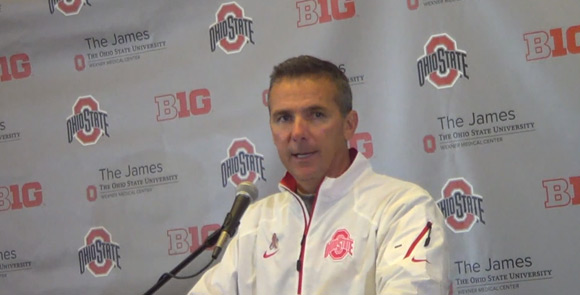 The Illibuck is up for grabs this week, not that anyone cares – or is aware. It's an irrelevant trophy that means virtually nothing to both Ohio State and Illinois, no matter what those schools players and coaches tell you.
What is on the mind of every member of the Buckeyes is a trophy of a different sort – the crystal football awarded to the national champion. As November came into focus, the sights of a national title in Columbus looked dim and verged on unrealistic. But after Oregon's loss last Thursday, Ohio State is one Alabama or Florida State slipup away from playing in the Rose Bowl the week after the Rose Bowl.
"The goal of this team is to come back faster and stronger than they went into the bye week," head coach Urban Meyer said. "I've got to make sure we're not worried about anything like that."
A majority of the week was spent getting healthy. The rigors of the Big Ten means bumps and bruises come November. Now it's clear sailing until the Big Ten Championship Game, a likely date with Michigan State.
Meyer's Coaches Poll ballot: 1. Alabama 2. Ohio State 3. Florida State. He said Baylor and Stanford are fourth and fifth but he doesn't know what order. Meyer's rationale for the Buckeyes' place is their playing like one of the best teams in the country. He said he's had them second all season.
Meyer admitted that Ohio State is on the outside looking in when it comes to the BCS title game. He said it's used as motivation for the team. The message to the team is win the game but look great doing it. Meyer said practices are at a very high level.
Braxton Miller only completed one pass the last team he was at Illinois. It was partly due to wind and the performance of the offense. Meyer said you always have to prepare for wind, but added that Miller's a completely different quarterback. "Night and day."
Meyer said Jack Mewhort has turned himself into high-level pro prospect. He called Mewhort one of best leaders he's been around, a benchmark.
Curtis Grant has been hampered by an ankle sprain and lower back injury. Meyer said he will practice tomorrow.
Meyer said he's still worried about depth and production at linebacker. He said OSU's linebacking corps was arguably the best in the country over the past decade but he hasn't seen that group the last two seasons. Meyer lauded Ryan Shazier, said Grant still isn't at the level they would like and that Joshua Perry is developing better than expected. 
Overlooking Illinois or any other opponent is an impossibility, according to Meyer. He said the team has invested too much into the season to screw it up.
"We're a better functioning team."
Meyer said he spoke to Florida Atlantic AD Pat Chun about the vacant head-coaching job. Meyer said they talked about a profile of what type of guy they need to hire, qualities, etc. and that he gave Chun names of OSU assistants that would be a good fit.