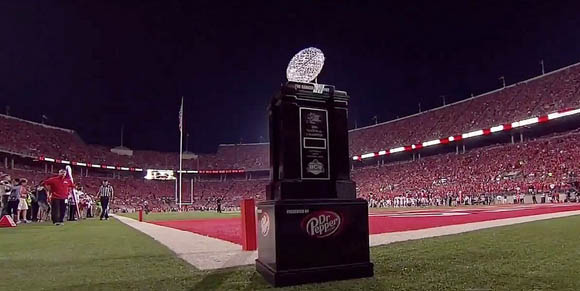 | RK | Team | BCS |
| --- | --- | --- |
| 1 | Alabama | .996 |
| 2 | Florida State | .962 |
| 3 | Ohio State | .893 |
| 4 | Stanford | .869 |
| 5 | Baylor | .862 |
| 6 | Oregon | .767 |
| 7 | Auburn | .721 |
| 8 | Clemson | .720 |
| 9 | Missouri | .712 |
| 10 | South Carolina | .558 |
The weekly release of the Bowl Championship Series rankings has become dramatic theater. The No. 1 team has yet to change – Alabama has a stranglehold on the top spot – but the second- and third-place teams have been modified on a non-stop basis.
Stanford's upset of Oregon on Thursday night was the latest wrench tossed in the vicinity of the BCS. It thrust Ohio State into a spot at the table, and while the Buckeyes aren't enjoying fine wine just yet, they're on the dinner list.
The No. 2 Seminoles lead by nearly seven hundredths of a point over third-ranked Ohio State, but more important for the Buckeyes is their two hundredths of a point advantage over one-loss Stanford and three-hundredths lead on Baylor.
A possible boost for Ohio State in December awaits as Michigan State sits at No. 16. An 11-1 Spartan squad would almost certainly be positioned in the Top 10. Wisconsin is ranked 22nd.
Despite its loss to five-loss Utah, Stanford is still ranked in front of the undefeated Baylor Bears. The Cardinal is buoyed by computer-heavy wins over Oregon, UCLA, Arizona State and Washington. Baylor is ranked ahead of Stanford in both human polls, but an average computer rating of 5.5 is holding the Bears back.
However, strength of schedule could start to be an asset to Baylor. It's computer rating jumped four spots this week after a win over Oklahoma. Remaining on the schedule is Texas Tech, Oklahoma State and Texas.
The hunt for the national championship is officially a five-team race unless the havoc that enveloped the 2007 season reappears.
Fresno State may have been the biggest winner of the week. The Bulldogs are a near lock for the Fiesta Bowl if they win out. They're all the way up to 14th in the standings, three spots clear of AAC leader Central Florida.
Northern Illinois, vying for its second consecutive BCS bowl, is 15th.