You probably don't know this about me, but I'm kind of a laid-back dude. I don't let much bother me. I don't spend my time lamenting the inanities of the universe or nitpicking people for the idiosyncratic tendencies that usually drive others batty. Nope, not me. Cool as a cucumber, almost always. 
Unless you're late.
I really don't understand how so many people struggle with the basic function of punctuality. If you tell someone, "Hey, Jeremy, I'll be there at 6 p.m.," and then show up a half-hour late on the reg, then I can't view it as anything other than directly disrespectful to me. #TheMoreYouKnowAboutBirm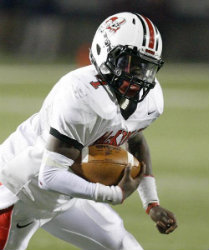 With that basic thought in mind, I wanted to take tonight's column to peer way into the future, to be way too early and start breaking down what you could see for Ohio State's 2015 recruiting class, a class that could be close to the maximum allowed 25 players. This is not prognostication, this should not be viewed as a gospel, but rather as guideline for what might happen based on what we know way too early in the game.
Tonight we'll focus on quarterback, running backs and wide receivers. These are guys that you will be looking to as the Buckeyes try to replace the key components a burgeoning offensive juggernaut.
Let's start with quarterback, where I think the Buckeyes will try and double their pleasure for 2015.
QUARTERBACK (2)
Whether or not Braxton Miller leaves Ohio State after this season doesn't matter, it makes sense for the Buckeyes to try and nab two signal callers in 2015. With Cardale Jones, JT Barrett and Stephen Collier (presumably) on the roster, the Buckeyes will have talent but inexperience and they will look to supplement that in 2015. 
The big battle at present is for the top spot, and with New Jersey star Brandon Wimbush wanting to make a decision as early as next month, it stands to reason he's the most likely to get this party started. Yes, Lorenzo Nunez has the Buckeyes at the top of his list as well, but he's further away from a decision than Wimbush and I don't think the Buckeyes can convince them to compete against each other (as well as three other quarterbacks,) so the chances of landing them both is somewhere between slim and none. 
After the "big two," I'd imagine Ohio State will look to add an athlete like Tennessee's Jauan Jennings, but if they look at another pure quarterback, I personally would love for it to be Kentucky prospect Elijah Sindelar, a 6-foot-4, 200 pound gunslinger from Caldwell county.
Way Too Early Prediction: Brandon Wimbush (New Jersey), Elijah Sindelar (Kentucky)
RUNNING BACK (2)
In a conversation I had the other day with Rivals.com analyst Marc Givler, he commented that 2015 might the "the year of the national running back," and the more I consider it, the more I see it to be true. One of the Buckeyes' top targets (Kentucky's Damien Harris) has already committed to Michigan, so Ohio State turns to other big names across the country. They have already twice hosted Orlando star Jacques Patrick (he of almost fifty offers) and while they're working uphill, they continue to be one of Patrick's top schools. Ideally they'd love to land a pair of studs from across the country — a task made easier by the wild success of the football team's current ground game — or one national and one regional star.
I think when it's all said and done the Buckeyes will land big names at running back, but as with the quarterbacks, it's unlikely that they'll be able to grab the dream haul of Patrick and Soso Jamabo. That shouldn't be considered a letdown though, because this is Ohio State football and Urban Meyer we're talking about, they know what they are doing. Remember the hullabaloo when Derrick Green was told "no thanks" so an all-purpose back from Missouri could commit?
Ohio State will try and make to sure get one of Jamabo and Patrick, and right now it's Jamabo who I think is the more realistic option. Yes, Patrick's repeat visits to Columbus and relationship with Urban Meyer but they could also look into Missouri again at Nate Strong (who's high school teammate, Terry Beckner, is one of the nation's premiere defensive tackles) and another Lone Star stud, Chris Warren III (recovering from an ACL injury), is also a real possibility.
If Ohio State is forced to look closer to home, that may not necessarily be a "bad" thing, because local guys like Cass Tech's Mike Weber and Hubbard (Ohio) bruiser L.J. Scott are not going be a huge drop-off in talent and could conceivably be more likely to commit to Ohio State early. Weber, long thought to be a Michigan lean, seems to be favoring Michigan State, Wisconsin and Ohio State. The Buckeyes become the runaway favorite for Scott if he's offered, but rumors of grade issues continue to plague the Hubbard tailback. After Scott, it's not much of a leap talent-wise to Lakewood St. Ed's tailback Andrew Dowell. In fact Dowell, when all is said and done, might end up the best prospect at the position inside Ohio's borders for 2015.
Way Too Early Prediction: Soso Jamabo (Texas), Andrew Dowell (Ohio)
WIDE RECEIVER (3)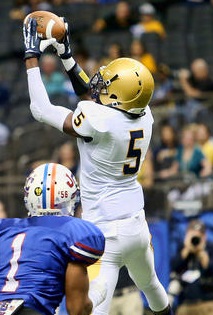 The Buckeyes only current 2015 recruit, Canton McKinley Superman Eric Glover-Williams gets penciled in at this position for Ohio State, despite being listed as a cornerback across recruiting databases due to his height. EGW is too fast, too quick, too explosive and too dynamic to not get his first collegiate look on offense. EGW will arrive on campus to find Dontre Wilson, Curtis Samuel, Terry Mclaurin, Parris Campbell, Noah Brown and a host of other explosive offensive options, so it stands to reason the Buckeyes would look for the "big" wide receivers they missed out on in 2014, right? Let's operate under that assumption.
There are two primary targets that are hard to ignore if their interest in Ohio State is legitimate (which they insist, it is) and they both hail from the Sunshine State, which ironically (considering Urban Meyer's track record at Florida) has seen a bit of a slip in terms of recruiting success for the Buckeyes. Devante Peete and Torrance Gibson at wide receiver is a dream duo, it's not entirely unrealistic if you can get them on campus, which is always easier said than done for Florida prospects. Gibson has never wavered during his recruitment, he wants to be a quarterback, so that could potentially eliminate him from the discussion unless Ohio State is going to agree to give him a shot there first.
Perhaps the country's most dynamic 2015 playmaker is Scottsdale (Ariz.) product Christian Kirk, and he continues to talk positive about the Buckeyes, recently sharing that he's grown close with Ohio State wide receiver coach Zach Smith. Kirk's game is similar to Buckeye legacy C.J Sanders from Brentwood, Tennessee; although Kirk might be a bit more polished and physical at this point. Long story short? It's going be a challenge to pick just two players from a country full of players now anxious to be a part of the offense in Columbus.
It's a down year in 2015 for Ohio-born wide receivers (and the best in the state, David Dowell, is more likely a defensive back in college), so it would seem likely the Buckeyes will head out of town to land their future pass-catchers.
Way Too Early Prediction: Eric Glover-Williams (Ohio), Devante Peete (Florida), C.J. Sanders (Tennessee)
---
Next Tuesday night we'll take a much too early look at tight end and the offensive line for the 2015 Ohio State recruiting class. 7:30 p.m. sharp. Don't be late.