HanAnother home football game meant the basketball staff also had a chance to showcase the university and host a few more recruits before the start of the season.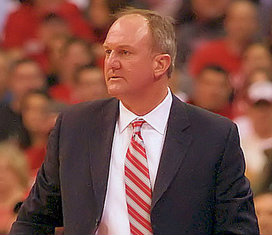 The only official visitor from last weekend committed well before his trip, while the other two are from the class of 2016.
One of Ohio's top 2015 targets adds another offer from an elite program, while the Buckeyes keep a close eye on him.
They have another two weeks before the first dead period of the academic year, which neatly coincides with the beginning of the regular season.
Visitor News
Jae'Sean Tate committed to the Buckeyes almost a year ago, and has remained a dedicated pledge. The Pickerington, Ohio native can take up to five official visits, but he'll only take one.
This past weekend, Tate made a short trip to the Ohio State campus for his official visit. Among the highlights of his trip:
I've meet and shook 3 millionaire hands today

— AlmightyBody (@o_tate_) October 26, 2013
Of course, he may be referring to the hands of Thad Matta, which bring in over $3 million a year.
Tate also played one day of the Nike City Series event, featuring some of the top in-state players from Columbus, Cleveland, Cincinnati, Akron, Toledo and Dayton. He would have played in the event, Saturday, but his visit and witnessing Penn State get annihilated took precedence.
Lakewood St. Edward big Derek Funderburk Jr. also participated in the Nike City Series, which was held in Reynoldsburg. During the course of the weekend, Funderburk had the chance to take an unofficial visit to the Ohio State campus.
Derek's father, Derek Funderburk Sr. – who isn't Lawrence Funderburke, nor is he related to the former Buckeye forward – told Eleven Warriors they enjoyed the visit.
"OSU is a great school and one of the best," Funderburk Sr. said. "The visit and the game were great."
Funderburk Sr. also pointed out St. Edward will face St. Vincent St. Mary, Dec. 14, in Lakewood. For the 11W readers in the Northeast Ohio, that matchup will feature two of the top 2016 prospects in Ohio: Funderburk Jr. and SVSM's V.J. King.
St. Edward will also play Detroit St. Jesuit, a squad with 2016 recruit Cassius Winston. The four-star point guard also made an unofficial visit to Columbus for the Penn State game.
Neither Funderburk Jr. nor Winston currently have offers from Ohio State.
Pursuing Carlton Bragg
Louisville and Iowa now join Ohio State in the recruitment of Cleveland VASJ recruit Carlton Bragg.
According to SNY.tv, the Cardinals and Hawkeyes offered Bragg recently. The five-star forward remains one of the Buckeyes' top targets in the class of 2015, but they're not the only one prioritizing his recruitment.
Kentucky coach John Calipari and his staff remain in constant contact with Bragg. The OSU staff has an advantage of traveling a short distance to visit him, however.
According to SNY.tv, Ohio State assistant Dave Dickerson traveled to Cleveland, Wednesday, to watch one of Bragg's workouts.
In September, Bragg visited to Columbus, Lexington and Louisville. As basketball practice ramps up, he isn't expected to make any other unofficial trips.
Matta addresses hand-checking rule
The most publicized rule change is the newfound emphasis on hand-checking. Here is the rule, in its entirety: 
"To curtail hand-checking, officials must address it at the beginning of the game,
and related personal fouls must be called consistently throughout the game. Some
guidelines for officials to use when officiating hand-checking:
a. When a defensive player keeps a hand or forearm on an opponent, it is a
personal foul.
b. When a defensive player puts two hands on an opponent, it is a personal foul.
c. When a defensive player continually jabs by extending his arm(s) and placing
a hand or forearm on the opponent, it is a personal foul.
d. When a defensive player uses an arm bar to impede the progress of a dribbler,
it is a personal foul."

- NCAA men's basketball rule book, appendix III, page 106
Matta believes his team is capable of adjusting to the rule, although he hasn't thought about the implications it might have on the type of player he recruits. 
"If the higher powers above believe this is going to help the game, I'm all for it. I'd love to score 90 points a game on average," Matta said, at Big Ten media day. "If that was the case, then I'm going to need some offensive firepower, I guess, in recruiting."