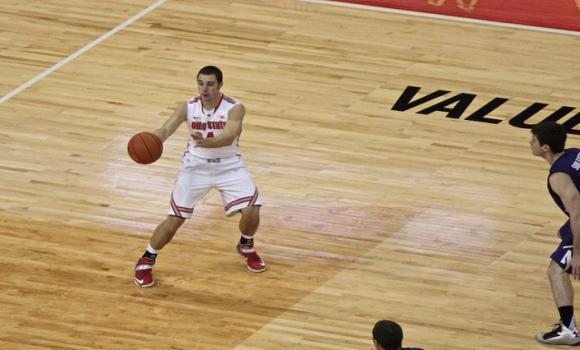 ROSEMONT, Ill. – Aaron Craft overhauled his shot, Sam Thompson put the basketball up "a lot" and Lenzelle Smith Jr. worked on becoming a more consistent three-point shooter. In all, Thompson estimates the team shot the ball 15,000 times per week during the offseason.
Suddenly, a lot seems like an understatement.
The hallmark of Matta-coached teams has long been defense. But last season's offensive output – minus Deshaun Thomas – left much to be desired. If Thomas had an off night, which was few and far between, Ohio State struggled to create offense. The Buckeyes shot 45 percent from the field, by far the worst showing in Matta's nine seasons.
Still, they were ranked in the top 20 the entire season, beat several highly ranked teams and came within a Michigan meltdown against Indiana at winning a sixth Big Ten regular-season season title during the Matta era. But poor shooting eventually plagued the team in its loss to Wichita State. The Buckeyes only lost by four points after shooting 31 percent from the field and making just five of their 25 three-point attempts.
Matta said shooting has been a priority in practice. Ohio State is able to put a premium on getting shots up since the team defense is so stout. 
"Literally the day after the Wichita State game, we had a meeting and we talked about what we needed to do," Sam Thompson said. "Shooting is something we addressed heavily this offseason."
No one addressed it more than Craft. His shot went under the knife, so to speak, and came out fully healthy. Chris Jent and Greg Paulus worked with Craft with reshape a shot that went kaput during the 2012-13 season, despite a dramatic game-winner over Iowa State in the NCAA Tournament. He averaged 10 points a game, but his field-goal percentage hovered near 40 percent while he only made 30 percent of his shots beyond the arc.
It was an intense spring and summer, Craft admitted. Confidence is of the utmost importance, though, and Craft said he's regained that part of his game when it comes to shooting the basketball. During his first two season, Craft made nearly 50 percent of his shots from the field and about 4 out of every 10 three-pointers.
"Coach had a massive emphasis on shooting, not just for myself but for everybody," Craft said of the offseason. "The first few times we worked out individually, it was all shooting, trying to have us understand how important it is. When you make shots, it changes a lot of things in the game.
"I put in the work, so I'm trying to relax and let the work take over. As humans we want instant gratification, and that's something that didn't come right away. It takes a lot of frustrating days and nights in the gym."
Thomas make shots with regularity last season. He averaged 20 points per game and while his style is similar to that of LaQuinton Ross, Thomas' overall value is somewhat irreplaceable. That doesn't mean it's a lost cause for the Buckeyes.
Matta confessed that he'll miss Thomas' production, but at times his presence made the offense stagnant. Instead of being active and creating open shots, the team seemed to lean on Thomas too much and just wait until the ball got in his hands.
"The one thing I think we've got going right now is a little bit more of a flow to our offense," Matta said. "Now, would I trade that for him? I don't know about that.' I think it's more some different variables to our offense. You'll see that guys have gotten better offensively."
Said Smith: "Deshaun did some great things for us. He came through for us in the clutch, so its kind of hard to tell him what not to do. But sometimes you're like, no, and you have a moment of silence in the locker room."
With little more than a week until the regular season begins, Matta is happy with the direction of the offense but cautioned that satisfaction is not his DNA.
"I believe we're a better shooting basketball team," he said. "The percentages say we're a better shooting basketball team with what we're doing right now. In practice it's that double-edge sword. When the percentages are high, I'm mad at the defense. When the percentages aren't, I'm mad at the guy shooting. 
"But I like the way we're shooting the ball. Now obviously you have to do it when the lights are on. But I think guys have a different demeanor, different approach in terms of how important shooting is to me and the welfare of this team's success."
If you coach it, they will learn.