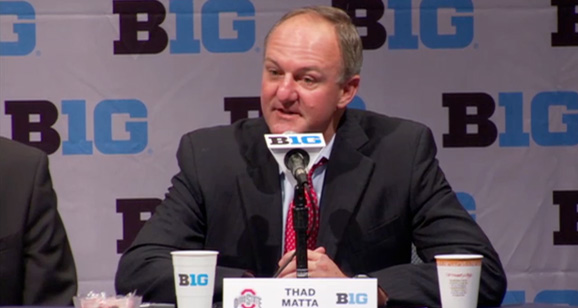 ROSEMONT, Ill. — The past four seasons have ended in heartbreaking defeat for the Ohio State Buckeyes. The team had Final Four and national championship aspirations in each, but only has one Final Four to show for it. That's the wacky world of college basketball.
But what each season exhibited was the expertness of head coach Thad Matta. For four straight seasons, Ohio State has dealt with major roster turnover with every year's roster looking very different from the previous year. Still, the Buckeyes have persevered under Matta.
The same story is unfolding for the coming season. Ohio State lost the conference's leading scorer in Deshaun Thomas and a reliable backup in forward Evan Ravenel. But here come the Buckeyes, predicted to finish third in the uber-competitive Big Ten. Aaron Craft and Lenzelle Smith Jr. say one guy doesn't have to provide the bulk of the offense for Ohio State to reach its potential.
Matta agrees.
"We put a big premium on shooting, offense, passing, probably more so than we have in the past," he said. "I'd like to have that great balance."
At Big Ten media day Thursday, Matta expounded on his 2013-14 Buckeyes.
Notes:
As the season nears, Matta said there's nervous anticipation.
The NCAA has instituted new rules regarding hand-checking. Matta doesn't believe it will bother Craft. Matta said it's a bigger issue for bad defenders who don't move their feet. He believes they'll be exposed. Matta said he has to see the officiating and style of play for a couple weeks to determine what the short- and long-term effects will be. He said there could possible be big changes both offensively and defensively.
Matta likes where the shooting percentages are in practice so far. But he said the team has to do it when lights come on. He's happy with the approach on offense, though. Matta said everyone has made significant strides when it comes to the offense. He believes ball movement and athleticism are strengths. 
Jeff Boals' knowledge of the game and passion for Ohio State makes him an invaluable assistant coach, Matta said. He called Boals a tireless worker.
"The ability to take care of the basketball is a huge priority. We need to do a good job at that." –Matta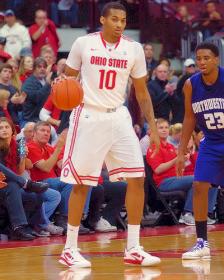 The Q is Can Ross Deliver?
The success LaQuinton Ross enjoyed during the NCAA Tournament wasn't a mirage. He was a hyped high school recruit that was destined for stardom. Many thought he'd be one of the top freshman scorers in the country until academic problems derailed his first season. During Ohio State's run to the Elite Eight, Ross finally flashed the potential that's been talked about for years.
The game-winning shot against Arizona is what most will remember. But don't forget Ross averaged 18 points per game and connected on half his shots in the tournament. It was quite the reversal after an uneven regular season that saw him average fewer than 10 points per game.
Ross' tournament performance was enough of a bright spot that he led him to ponder his NBA future before ultimately decided to return for his junior season. The intrigue surrounding Ross comes because his consistency isn't quite known and he could be the X-factor on a team vying for another deep NCAA Tournament run. 
"His entire playing career been based on potential," Matta said. "He and I have had that discussion. It's time for Q to be productive. But probably most important, it's time to be consistent. That, to me, would supersede any expectations that anybody on the outside could possibly put on him."
The first month of practice has given way to a more well-rounded Ross. He's cut from the reckless mold of Thomas. Untimely mistakes, quick shots early in the possession and fickle defense is part of the package. But Matta is noticing Ross took off-season suggestions to heart.
"I approach it like I approach every other season. Just come in and do what I have to do to help my teammates," Ross said. "I know a big part of that is scoring the ball and that's what I do the best. I'm just going to try and do what I do the best."
Craft's belief is the team will be more balanced with several players playing the role of scorer. He also envisions a high shooting percentage meaning a more efficient offense. Smith sees a team that doesn't need Ross to replace Thomas' nearly 20 points per game.
"I think that if guys just recognize that we do have some scorers on this team and if we play team basketball and keep playing the type of defense that we play, we'll be OK," Smith said. "I think we'll slowly start to figure out that we don't need guys that need 20 points a game because that means we're going to have other guys that only score six. If everyone is getting 12 or 13, it's going to be hard for defenses to stop that."
"This year, I think everybody is going to have to pitch in," added Matta. "It's going to have to be a group effort."
Shocking Losses Still Resonate
Ohio State had won 11 consecutive games with the Final Four looking like a foregone conclusion. Matta rarely loses games he shouldn't, so the entire country believed the Buckeyes would be Wichita State's midnight in a Cinderella story.
Not so fast.
Ohio State dug itself a big hole that proved too large in size to emerge from, losing to the Shockers and ending a season in abrupt, stunning fashion. Seven months later, the hurt from being denied back-to-back trips to the Final Four is still raw.
"It was heartbreaking," Smith said. "The flight back was silent. It was a reflection point, and it was all bad for us."
It was a similarly painful loss that spurred the Buckeyes to their late-season win streak. On Feb. 17, Ohio State was humiliated at Wisconsin to the tune of 71-49. It left the team exasperated post-game with Matta searching for answers. Clearly, he found some considering the Buckeyes didn't lose again for six weeks.
That game is still dissected by players and used as fuel. Smith said the public humiliation hurt, but the motivating elixir that was emitted was far more beneficial than any good practice or run-of-the-mill victory.
"We're still talking about the Wisconsin game," Smith said. "You try to make sure those types of things never happen again. As good as you get the next year, as much success as you have, you still have to be humbled and grounded by those type of games."
So much so that Smith keeps a box score from the loss to Kansas in the Final Four nearby. He'll glance at it just to remember how close Ohio State was to accomplishing the No. 1 goal. The pain is added fuel, motivation for a summer day when Zoombezi Bay is more alluring than the practice gym at the Schott.
Smith said a look of the Wichita State game plays in his head. Craft said he's watched the game plenty over the summer, not the heroics against Iowa State and Arizona. There's excitement about the start of a new season, but the team still holds on to a piece of how the previous year ended, Smith said.
Losing is a bad feeling, which is why Ohio State wants to remember how it feels and prevent heartache once again. When the team returned to Columbus, some members watched the national championship game, others didn't. But they sat together in April and discussed their exit.
"We made a point of emphasis that we all had to get back in the gym and make sure those types of things never happen again," center Amir Williams said.
Matta is another member of the Buckeyes familiar with March sorrow. As an assistant at Western Carolina, the 16th-seeded Catamounts nearly knocked off No. 1 seed Purdue in 1994. Then Matta experienced a buzzer-beating loss at the hands of Florida while he was an assistant at Butler. His next job was Xavier, and once again a tough loss in March accompanied his tenure, this time to Duke. At Ohio State, tournament losses to Tennessee, Kentucky, Kansas and Wichita State – all in succession – have been gut wrenching for coaches, players and fans.
Said Matta: "I don't know if you ever get over it completely."